Melaninful Blog
Black-owned Bakeries That Will Make You Mouth-watering
Dec 30, 2021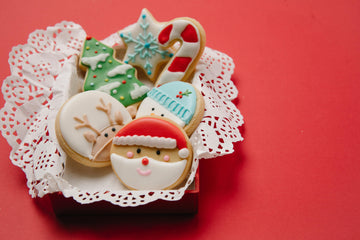 If you are a fan of sweets, you can't skip it! Especially when Christmas is coming, you can't forget to bring some sweets to gather with your family and your beloved persons. I have a long list of Black-owned bakeries across the US for sweet teeth.
Alabama
K & J's Elegant Pastries
🍰 236 1st St S #300 Alabaster, AL 35007
K & J's Elegant Pastries is a custom cake shop that specializes in custom cakes for all occasions. While offering many other sweet treats such as cupcakes, pastries, cookies and so much more, they pride themselves on their unique designs that are custom made for you to order. They bake with the freshest ingredients and offer the best quality product for the best price. They are committed to creating the best cakes that will definitely make your event unforgettable.
Emily's Heirloom Pound Cakes
🍰 195 Vulcan Road Homewood, AL, US 35209
A pound cake so light and moist, it brings back precious memories of a simpler time. Inspired by my Big Mama, this fabulous cake represents everything good about family.
Wilson Cakes
🍰 Huntsville, Alabama
Creating beautiful and delicious custom cakes and cupcakes for Huntsville, AL, Madison, and surrounding areas.
Arkansas
BatchLife Bakery
🍰 Mabelvale, AR, US 72103
This bakery is black woman owned, home-based bakery. Vegan options available. Email your order in today! Life's a batch, eat dessert first!
Shuney's Cakes
🍰 Searchy, Arkansas
Shuney's Cakes is a home baker in Searchy. They make a lot of fantastic, customized cake with vegan option available.
Instagram: https://www.instagram.com/bakerinme1980/
Arizona
Eb's Delites
🍰 Phoenix, AZ
Eb's Delites was founded in November 2004 by Ebonni Davis as a dessert business.  The clientele for this young business increased rapidly through word-of-mouth in providing delicious cakes, pies, cobblers, and more.  The inaugural sale occurred during the holiday season of 2004.  Popularity for the desserts demanded these products be sold on a continuous basis thereafter.  The success of Eb's Delites has continuously inclined through being a part of celebrations such as weddings, birthdays, engagements, corporate events, baby showers and more.
California
Marbles Cakes
🍰 Compton, CA 90222
Marbles Cakes specializes in custom cakes, cupcakes, pies, popcorn, dipped strawberries, and more! As a great granddaughter, Leanne Monique recreate her traditional recipe to keep memory of her grandmother.
27th Street Bakery
🍰 2700 South Central Avenue Los Angeles, CA, US 90011
German Chocolate Cake, Red Velvet Cake, Sock it 2 Me Cake, Pineapple Coconut Cake, Pecan Pie, Sweet Potato Pecan Pie, Peach Cobbler, Pumpkin Pecan Pie....All made from scratch! Let them bake your favorite Southern Desserts for the Holidays!
Big Man Bakes
🍰 413 S Main Street Los Angeles, CA 90013
Big Man Bakes is located in the downtown Los Angeles area.
They offer 10 Daily Flavors, 12 Special Flavors (Friend us to find out what's cooking!) such as Heath Bar, Reese's Peanut Butter, Pumpkin Spice, Oreo, Strawberry, Chocolate Mint, and more.
Cupcakin' Bake Shop
🍰 501 9th Street, OAK
🍰 1690 Shattuck Ave, BERK
🍰 1388 N. Main St, WC
Artisan cupcakes baked fresh everyday using premium and local ingredients: a little Heart and Soul goes into each and every batch. Taste the difference :)
Claires Crunch Cakes
🍰 San Mateo, CA
Claire's Crunch Cake is a locally owned cake business located in San Mateo, CA. Come down to enjoy the Bay Area's Finest Crunch crunch cake and more!
Connecticut
Edible Couture
🍰 129 Court St New Haven CT
Edible Couture is a "made to order" bakery who specialize in small desserts. Everything is made fresh. They use great quality ingredients that helps to achieve the best taste.
Edible Couture is about love, passion and commitment to give their clients the best dessert experience your mouth has ever tasted. No boring desserts in their kitchen.
Delaware
Monty's Neighborhood Snacks
🍰 Central Delaware
Monty's Neighborhood Snacks Bringing Sweets to the Streets! Making Neighborhoods Better One Cupcake and Smile at a time!!
Florida
Café Sweets Bakery
🍰 519 25th Street West Palm Beach 33407
Cafe Sweets Bakery is a home-based full-service bakery owned and operated by Sharlyn Davis.
Sharlyn discovered her love of baking from her grandmother. Her grandmother Emma Lewis is from Hemingway, South Carolina and is known for baking incredible southern desserts.
Pretty Little Berries & Sweets
🍰 Tampa, Florida
Their luxe gourmet chocolate covered strawberries are recommended as gifts for your beloved persons. Your dear love will going to love it!
Nikki Moore
🍰 West Palm Beach, FL
Nikki's Jazzy Sweets (NJS) designs its products to satisfy your taste buds and your occasion. Whether you are having a wedding, birthday party, office function, or just want a sweet treat, they have what you need. NJS offers an assortment of banana pudding, cupcakes, birthday and wedding cakes, cookies, and select pastries.
Sweet Delight Cheesecakes
🍰 1550 NE 165TH Miami, Fl 33162
With endless flavors and creativity of products, Sweet Delights Cheesecakes is set to serve everyone delight by giving them a precious treat in every bite.
Georgia
Cami Cakes
🍰 Smyrna,FL
🍰 Camp Creek, FL
CamiCakes specializes in yummy gourmet cupcakes to enjoy daily or for birthdays, weddings, showers, and many other special celebrations. They pride themselves in coming up with unique alternatives to the boring old standard. Wouldn't it be more interesting to do a whimsical milk and cupcake bar at your next meeting instead of the traditional cookies or doughnuts? They use the freshest ingredients to create their cupcakes and their delectably smooth buttercream or cream cheese frosting adds the finishing touch.
Sublime Doughnuts
🍰 535 10th St NW
🍰 2566 Briarcliff Rd NE
"At Sublime, we present flavors and textures from around the world on a doughnut canvas," – Kamal Grant, founder of Sublime Doughnuts.
Bomb Biscuit Co.
🍰 660 Irwin Street NE Atlanta GA 30312
Bomb Biscuits started in 2016 as part of a pop-up Sunday Supper dinner series Erika Council hosted around the city of Atlanta. Eventually she collaborated with Bryan Furman of B's Cracklin BBQ to serve breakfast at his then newly opened Riverside neighborhood restaurant. Everything was a big hit with their fried chicken biscuits, country ham and pimento cheese, and beignets. From there they started catering for events and businesses around the Atlanta area. Bomb Biscuits now offers home delivery service in the Metro Atlanta Area. Also catch them on Saturdays in the Summerhill neighborhood.
823 Treats
🍰 Charlotte, NC, US 28214
Cakes at 823 Treats are made of stunning custom crafted pieces of edible art that are eye-catching and delicious.
Hawaii
Short N Sweet Bakery & Cafe
🍰 374 Kinoole St Hilo, HI, US 96720
Short N Sweet Bakery features fresh, quality baked goods, custom cakes and fast, casual cafe items in the heart of downtown Hilo. Their cafe serves up fresh, made from scratch paninis, salads, breakfast bowls and bagels and cream cheese spreads. Their bakery is known island wide for serving a wide selection of the freshest, most unique treats like their silvanas, banana roulade, Nutella mousse cake and coffee cream clouds. And of course, you can't forget their custom cakes! They made any event memorable with amazing flavors and designs! If you can dream it, they can make it!
Illinois
SaVor V
🍰 Chicago, Illinois.
Savor V has been baking up some of the most delicious cake jars you can find. Try a classic favorite like Wondrous Red Velvet or one of their specialty flavors of the month. These jars make the perfect social distancing dessert.
Brown Sugar Bakery
🍰 328 E 75th Street Chicago, IL 60619
🍰 600 E Grand Ave Chicago, IL 60611
Southern-style bakeshop specializing in traditional sweet treats & custom cakes. In December of 2020, Brown Sugar Bakery Bakery acquired the Cupid Candies Factory, established in 1936, to continue the tradition of creating hand-crafted chocolates. In addition to her award-winning cakes, Stephanie Hart has curated a line of gourmet hand-crafted chocolates, perfect for any occasion.
Justice of The Pies
🍰 Chicago, IL
Justice of the Pies is committed to delivering amazing pies, quiches and tarts while positively impacting the lives of those who work with them.
Indiana
Black Rose Pastries
🍰 Indianapolis
Chicagoland and Northwest Indiana's premier online bakery specializing in custom cakes, cupcakes, cookies, pastries and other confections; "Simply Delicious Incredible Edibles!"
Kentucky
Cakes by Julie
🍰 Lexington, KY, US 40509
Cakes by Julie specializes in custom designed and made cakes. Julie is working on Christmas designs which makes Christmas day more special. Check on it now!
Louisiana
UniKakes Bakery
🍰 434 Belle Terre Blvd Suite D LaPlace La 70068
Specialty treats personalized to fit any occasion.  They tailor products to make your event unforgettable. They have a wide range of products such as cupcakes, cakesicles, cake pops and tiered cakes.
Hailey Cakes
🍰 Gonzales, Louisiana
Hailey Cakes LLC is a home-based bakery located in Gonzales, Louisiana. They specialize in cakes, cupcakes and the occasional pie!
The Buttermilk Drop
🍰 1781 N. Dorgenois St New Orleans, LA, US 70119
Did you know that the idea for Buttermilk Drop Bakery existed long before they opened their doors? The seed was planted with the opening of Canal Street Bakery and Deli in 2001, but development was shortly put on hold with the impact of hurricane Katrina in 2005. A few years later, the owners of the original bakery came together in collaboration with a local baker to bring a new twist to an old favorite pastry, the buttermilk drop. After the recipe was perfected, they opened the doors of the Buttermilk Drop Bakery located in the historical neighborhood of Treme in 2008.
Maryland
Smallcakes MD
🍰 2641 Riva Rd Annapolis, MD, US 21401
And 4 Dessert
🍰 3425 Sinclair Lane, Baltimore MD 21213
And 4 Dessert is an appointment only confectionery studio that provides elegant pastries, hand-painted chocolates and custom confections. They curate beautifully detailed creations using their own distinctive style of art meets sweet.
Violeta Gluten Free Sweets
🍰 Baltimore, MD
Violeta Gluten Free Sweets produces amazing desserts that just happen to not contain wheat. Their desserts aren't "good for gluten free". They're just really good.
Sweet Elevations Cakes & More
🍰 Fort Washington, MD
Specializing in custom cakes, cupcakes, and desserts for all occasions. From intimate gatherings to a fabulous cake for your upcoming wedding, Sweet Elevations provides personalized options to "elevate" your dessert table and wow your guests!
Sweet Treats Couture
🍰 Brandywine, Maryland
Sweet Treats Couture is a home-based baking business in Southern Maryland. They love to create stylish cakes and desserts for special occasions and events.  From decorative cakes to gorgeous "sweet" tables, they do it all. They aim to wow the client by bringing their creative ideas to life.
Massachusetts
French Press Bakery & Cafe
🍰 74 Chapel St Needham, MA, US 02492
Made from scratch French bakery and cafe. Serving all day food and coffee, tea, craft beer and wine. A team of artisan bakers turns out brioche, croissants, macarons, and more, all in small batches that are generally sold out by day's end.
Petsi Pies
🍰 285 Beacon Street Somerville. MA 02143
Petsi Pies (pronounced "peet-see") is a bakery and coffee bar serving up handmade pies and pastries in Somerville, Massachusetts since 2003.  Founder Renee "Petsi" McLeod grew up baking pies in her grandmother's kitchen and hasn't stopped since. Everything is baked fresh daily using only all natural ingredients and no fillers or mixes of any kind. Stop by their bakery to enjoy some of their creations - there's always something new coming out of the oven and can't wait to share it with you!
Michigan
April's Famous Bakes
🍰 3542 Pontiac Lake rd Waterford Township, MI, US 48328
April's Famous Bakes is a from scratch baking company known for Cake Loaves, Cookies and Bars. Originally founded in 2010 under the name The Cakeria.
Cakedup Kitchen
🍰 Online Store
Home Based cake business. Specializes in all baked goods from cakes, cupcakes, brownies, cheesecake, strawberries, chocolate covered goodies!
Sugar and Shenanigans
🍰 Online store
Specializing in custom cakes and confections. All treats are made to order.
Missouri
De la Crème Creative Studio
🍰 1709 Washington Ave, Ste 402 St. Louis, MO, US 63103
They create stunning wedding cakes and 'center-of-attention' special occasion cakes that are beautiful, contemporary, and always delicious!
La Patisserie Chouquette
🍰 1626 Tower Grove / St. Louis Mo, 63110
Boutique Bakery located in Saint Louis, specializing in French Pastry, New Orleans Desserts and Couture Cakes.
SweetArt Bakeshop
🍰 2203 S. 39th Street STL, MO 63110
SweetArt is a locally-owned St. Louis gem established in 2008. They create the best tasting traditional, vegan and gluten-free cakes, cupcakes, bars, and cookies in the area. Specializing in #loveandmagic, their desserts are remarkable and memorable.
Instagram: https://www.instagram.com/sweetartstlouis/
New Hampshire
Ooo La La Creative Cakes
🍰 62 Canal st Laconia, NH, US 03246
Chef Allen believes Ooo La La customers do this, not because she is the least expensive, or because her cakes "ok," but because their renowned artistry is coupled with her delicious scratch recipes. Chef Allen's passion for excellence on all levels is what differentiates her business from her competitors, it is who she is….. the gift God blessed her hands to do, and it is what drives her to continue to develop and grow.
New Jersey
Judith's Dessert Boutique
🍰 46 Dover Avenue Ewing, NJ, US 08618
Judith's Dessert Boutique specializes in baked from scratch desserts. They are committed to using only the freshest ingredients. They do not use any additives or preservatives in their baked goods.
Pink CupCakes
🍰 555 Valley Rd, West Orange Nj, 07052
Pink CupCakes is focused on providing high-quality service and customer satisfaction. They will do everything to meet your expectations. Pink CupCakes offers Customized and Specialized Cakes, Cupcakes, and other baked goods for all occasions.  With a variety of offerings to choose from, they're sure you'll be happy working with them.
New Mexico
Revolution Bakery
🍰 418 Cerrillos Rd #6 Santa Fe, NM 87501
They make all their breads by hand, in small batches using the finest organic, non-GMO ingredient's and sourcing locally whenever possible.
Wild Leaven Bakery
🍰 130 N Guadalupe St., Santa Fe, NM 87501  
Wild Leaven Bakery is a small family-owned and operated business that specializes in long fermentation sourdough bread using organic, local grains and ingredients.
Q's Cakes and Sweets Boutique
🍰 2720 ​​Central Avenue SE STE D, Albuquerque, NM 87106
Q's Cakes is owned and operated by a veteran and started as just a hobby. The popularity of Q's Cakes grew rapidly, and within 5 years, a storefront was needed to support the demand! All of Q's products are make from scratch with lots of love! There are treats for every budget!
New York
Make My Cake
🍰 121 Saint Nicholas Ave (116th St), Harlem, NY
Evolving from a home-based business, over 22 years ago, that baked for all occasions, they were compelled to address their customer demand by expanding the business to several full service retail and wholesale bakeries. Their family has managed to set the baking world on fire growing Make My Cake into a global sensation which draws thousands of worldwide visitors seeking the ultimate "red velvet cake" and various other heavenly desserts to Harlem. At Make My Cake, they serve their sweet creations like Food Network favorite - German Chocolate Cake, New York Times pick - Red Velvet Cake, and local favorite - Sweet Potato Cheesecake to the fans which flock to their bakeries daily.
Sydney's Sweets
🍰 465 Hempstead Ave West Hempstead, NY 11552
At Sydney's Sweets they pride themselves on baking all their desserts from scratch using delicious family recipes. Their cakes are then stunningly decorated to be the perfect centerpiece at any wedding, party, or event.
Cake Crazy Bakery & Catering
🍰 2525 William Street, Cheektowaga, NY 14206
They provide amazing wedding and all occasion cakes, along with delicious American sweets to the Buffalo and Western New York area. They use real butter in their baked goods, as well as fresh fruit in their cake fillings. They focus on making their cakes taste as good as they look, and look as good as they taste!  Their home style cookies, sweet potato tarts, fudgy brownies, lemon bars and extensive variety of scratch made cupcakes are must haves! 
North Carolina
August June Desserts
🍰 Charlotte, North Carolina, US 28269
August June Desserts is a Charlotte, North Carolina based cake studio specializing in made from scratch custom cakes and gourmet cupcakes for all occasions. All of their desserts use the freshest and finest quality ingredients. They feel that quality desserts add so much more to special moments and milestones in life, whether it's a baby shower, birthday party, wedding, or a 50th anniversary celebration.
Bake Me A Cake Charlotte LLC
🍰 6152 Prosperity Church Rd Charlotte, North Carolina, US 28269
Their goal is to provide all of their customers with an unparalleled product and experience. Their talented team uses the purest of ingredients and cutting-edge techniques to create a product that is truly superior in quality. They are best known for outstanding customer service and believe that customer satisfaction is their ultimate goal. They provide birthday and wedding cakes. Also, they provide cupcakes, cake pops, and other sweet treats.
Bake Mohr Sweets
🍰 4416 Monroe Rd Unit D Charlotte, NC, US 28205
Their goal at Bake Mohr Sweets is to delight your taste-buds with their sweet treats. They design fruit bouquets, custom cakes, cake pops, cookies, and many other treats.
Ohio
The Sweet Place Bakery
🍰 2910 Short Vine Street Cincinnati, Ohio, US  45219
The Sweet Place is a wide-variety bakery specializing in satisfying every sweet tooth! Their goal is to bring not only the comfort of hand-made delicious desserts to Cincinnati, but also to introduce exciting new and trendy treats — and put a smile on as many faces as they can in the process.
Lindsey Moffitt
🍰 Pine Bluff Rd. Columbus, Ohio, US 43229
A home-based baker located in the North end of Columbus, Ohio. She bakes gourmet cupcakes, specialty small cakes, and other goodies for all occasions.
The Sweet Fix Bakery
🍰 2307 Lee Road Cleveland Heights, Ohio 44118
The Sweet Fix Bakery is a charming and cozy bakery nestled in the beautiful suburb of Cleveland Heights, Ohio. The Sweet Fix Bakery was originally started as a licensed, home-based bakery under the name of Craig's Divine Desserts in 2014. All of their baked goods are prepared on site. They specialize in a variety of sweet treats in the form of cupcakes, cookies, cakes and pies.
Oklahoma
Not Cho Cheesecake
🍰 3933 N College Ave BETHANY, Oklahoma 73008
Not Cho Cheesecake is a one-of-a-kind cheesecake bakery that makes unique cakes from scratch that you can't find anywhere else but heaven... the cakes are made with care and filled with love and are guaranteed to make your smile smile for a while.
Oregon
DB Dessert Company
🍰 2624 NE Alberta ST Portland, Oregon, Oregon, US 97211
DB Dessert Company is a committed to providing superior quality desserts, pastries and custom cakes. Their goal is to provide all of their customers with an unparalleled product and experience. They use quality ingredients and cutting-edge techniques to create a product that is truly superior in quality and taste. They constantly provide outstanding customer service and believe that customer satisfaction is their ultimate goal. They are dedicated to their community and will continue to provide a quality experience to all.
Pennsylvania
Cupcake Chromatography CakeLab
🍰 By Appointment Only
They combine sweets with science! Cupcake Chromatography, through careful experimentation, creates decadent desserts and fun learning experiences to feed your sweettooth, while making STEM education more palatable!
Sweet Confections Cakes
🍰 4702 Fritchey Street, Harrisburg Pa 17109
Sweet Confections Cakes, Where your only limit is your imagination!
South Carolina
Carolima's Dessert Boutique
🍰 Ladson, SC, US 29456
They are now bringing their delicious treats to Charleston, SC. They offer gourmet cupcakes, red velvet cheesecake brownies, 14 karat personal cakes, pound cakes, and drinks to name a few. They also offer custom cakes for all occasions.
Sweet Success Bakery
🍰 Online Store
Sweet Success Bakery, LLC aspires to give their customers a black-owned, woman-owned destination in which to enjoy fresh brunch and lunch items alongside artisan baked goods like brownies, cookies, and incomparable cake flavors. Sweet Success Bakery offers custom cakes, cupcakes, wedding cakes, and other sweet treats in the Sumter and Columbia, South Carolina areas.
Tennessee
Gramma's Hands Sweetery
🍰 Murfreesboro, Tennessee 37127, United States
Taking care not to forget the main ingredient: love. Monique has refined her baking skill to perfection. "I can tell from touching the dough whether it's going to be a good batch." 
Beautiful cakes, delicious cookies, and cinnamon rolls that are truly a must-have. She has donated countless pastries to numerous churches and other community-sponsored events.  While others are focused on the monetary aspect, she is elated just to share Grandma's love for baking and the joy it brings. One day soon, Monique wants to teac aspiring bakers the techniques necessary for baking the perfect, eye-closing, lip-smacking sweet treats.
Texas
Kessler Baking Studio
🍰 Dallas, Texas
The Kessler Baking Studio offers a wide selection of cookies, brownies, specialty treats, packaged nuts, and confections. Visit their website to learn about their monthly off-menu cookie subscription!
Come visit them in person Wednesday through Sunday,10:00AM-6:00PM. We also offer same-day delivery via #Favor or #QuickDish and nationwide shipping via @Goldbelly.
Jazzy Cakes Bake Shop
🍰 Online Store
Jazzy Cakes Bake Shop is a online based bakery focused on providing fresh, delicious, homemade treats and fantastic customer service.
Designs By Cake Daddy
🍰 3155 S Lancaster Road Suite 130 Dallas, TX, US 75216
Designs By Cake Daddy (Ms. Alice's Shop) was founded in 1992. They are a home-based business specializing in custom wedding cakes, celebration cakes and cupcakes for all occasions! 
Virginia
Kimberly's Confections
🍰 Online Store
Sweets and Treats for any occasion including birthdays, bridal showers, anniversaries, dessert tables and Valentines Day!
Cake Man's Sweets Bakery
🍰 1108 N. Irving Street Arlington Virginia 22201
The amazing team of passionate, talented bakers at Cake Man's Sweets Bakery have dedicated their lives to making spirits, and dough rise. From rye bread to focaccia, cakes to brownies – whatever you require, their bakery will be able to provide. They can cater for everything from families to businesses – so whether you're a large hotel chain looking for a reliable and consistent baked good provider, or a family looking for quality bread and cakes for your growing brood
Website: https://cake-man-s-sweets-bakery.ueniweb.com/
Creatiff Cakepops
🍰 Virginia Beach,VA
With an eye for detail and a palette crafted from love and stories, Creatiff is sure to create cake memories for you, coated in delicious chocolate.
Every order is custom, hand-crafted, and made to order for any and all occasions you can think of. With almost any holiday comes specials featuring fun designs, exclusive products, and highlighted flavors.
Washington
Bite Me, Inc
🍰 Lakewood, WA
The bread at Bite Me is handcrafted and 100% natural, made with whole wheat. The finest shortbread cookies on the planet.
Gotti Sweets
🍰 422 Legion Way SE, Olympia, WA 98501
Decorated custom cakes are Lauren's specialty. She is extremely detailed when creating cakes for your special occasion. She focuses on having the highest quality ingredients, and cater to each customer's needs, special requests, and style.
Wisconsin
Kimberly Sweets
🍰 3801 N Oakland Avenue Shorewood, WI, US 53211
Specialty cake and dessert shop with something to fit any occasion. They are known for customized cakes from the traditional torte to a 3-D scultped masterpiece. You bring the ideas and Kimberly Sweets bring them to life. Let them make your event special with their sweet creations!
--------------------------
I bet you are getting ready for Christmas now. Some of these bakeries have specialized cakes depending on your ideas. Find the nearest Black-owned bakery in your areas and bring some sweets to home. It would make your day more special.