Melaninful Blog
Martin Luther King III: 3rd Generation of Greatest Civil Rights Activist Family 
Dec 30, 2021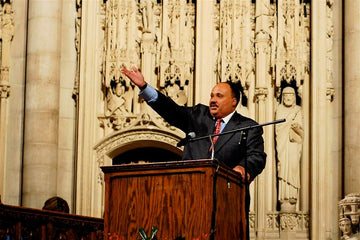 Martin Luther King's legacy to mankind is indisputable. But have those efforts been cherished and continued by the following generations, by his children - to be more specific? 
Martin Luther King III, the eldest son of Martin Luther King Jr, follows his parents' career as a civil rights activist. Over the years he has worked hard to maintain the good legacy of his family as well as fight non-violently for modern problems in society. 
The Childhood of Martin Luther King III 
Martin Luther King III was born on October 23, 1957. As the first son of two famous civil rights activists Martin Luther King Jr. and Coretta Scott King, he was named after his father. This worried his mother because of the burdens that might be placed on his shoulders due to his father's reputation. On the contrary, Martin Luther King III believes that his name represents the mission and legacy of the family that he is the 3rd generation to shoulder. 
King was born when his father was speaking to members of the Southern Christian Leadership Conference. After learning of his son's birth, Pastor Martin Luther King immediately revealed his son's name. Giving birth took much of his mother's time away from her civil rights work, and she spent the rest of his birth year caring for him and his sister Yolanda. 
Martin Luther King grew up with three siblings Yolanda Denise King, Dexter Scott King, and Rev. Bernice Albertine King at Vine City, Atlanta, Georgia. Despite being born into a prominent family of renowned civil rights activists, he was subjected to stigma and racism from an early age. This also revealed his ability to pursue nonviolence from an early age. 
When King was in 3rd grade at the local school, he was bullied and humiliated by a white boy in his class. After learning that this classmate had a passion for painting, whenever he was bullied, instead of protesting vindictively, he softly complimented his friend's paintings. The bullying and insults disappeared, and the young King learned his first lesson in nonviolence. 
When his father was murdered, King was ten years old. Harry Belafonte created a trust for King and his siblings years before his father's death. After graduating from Galloway School, King went on to Morehouse College, where his father, grandpa, and great-grandfather all went. King, like his father, is a member of the fraternity Alpha Phi Alpha. Morehouse College awarded him a BA in political science in 1979. Throughout his infancy and into adulthood, King decided to stay home with his mother. 
The Adulthood of Martin Luther King III 
Continuation of family legacies 
As the oldest son of the late Dr. Martin Luther King, Jr. and Mrs. Coretta Scott King, Martin Luther King III serves as an ambassador of his parent's legacy of nonviolent social change. As a man of nonviolence, he has spent his whole life advocating for the ideas he acquired from his parents. King II opted to follow in the footsteps of his father to become a member of the Southern Christian Leadership Conference (SCLC). Furthermore, as president of the SCLC decades after his father, King III was instrumental in convincing Georgia to remove a big Confederate flag from its official flag. 
After graduating from Morehouse College, Mr. King has devoted his life to working in the non-profit sector to promote civil rights and global human rights and to eradicate the "triple evils" of racism, militarism, and poverty his father identified as the scourges of humankind. As a high school student, he serves as a Page to Senator Edward Kennedy, and continued his public service, supporting social change movements through speaking engagements, appearances, and his writing. He was later elected as a member of the Fulton County, FA Board of commissioners, representing over 700,000 residents. 
As the elected president of the Southern Christian Leadership Conference (SCLC), the organization co-founded by his father, Mr. King reinvigorated SCLC by stabilizing the governance, program, and development components. As founder and president of Realizing the Dream, Inc., he took his father's message to a global audience, spearheading nonviolence training in Bosnia Herzegovina, India, Israel & Palestine, Kenya, Sri Lanka, and the United States. 
A former President and CEO of the Atlanta-based King Center, Mr. King remains a member of its Board of Directors. In addition, he serves as a board member of Southern Christian Leadership Conference, Drum Major Institute, a New York-based Think-Tank, and the Metropolitan West Management Asset Corporation. 
Mr. King has also served as an election monitor and observer in South Africa, Nigeria, and Kenya. In addition, Mr. King has conducted nearly 40 Poverty Study Tours in a groundbreaking initiative, which has sparked public debate and law enforcement advocacy on the issue of poverty. 
In conjunction with Ambassador Andrew Young and other partners, Mr. King co-founded Bounce TV, the first independently owned and operated TV network featuring African-Americans. The network's content includes movies, sports, documentaries, and original programming. 
King treasures his father's namesake's famous "I Have a Dream" speech, which he believes will help him realize his father's dream of a better society where equality is the right of all. Although it has been a long time since his father led the March on Washington, it is clear that the desire to strive for freedom, equal rights, and a united America persists. 
When the world begins to be going backward on the problems that his father has struggled with for centuries, King looks to youngsters for inspiration. King is hopeful that his efforts, like the attempts he's made to build communities and alleviate poverty through his organization, Realizing the Dream, will be shared by other activists. 
"I have enormous optimism in the future because of what young people are accomplishing"  
Martin Luther King III 
Inheritance dispute 
Martin Luther King III and Bernice King sued their brother, Dexter King, in July 2008, accusing him of fraudulently obtaining money from their late mother's estate and transferring it to the Estate of Martin Luther King Jr. Inc. Dexter King responded by accusing his brothers of constantly utilizing their parents' assets for their own gain and to "advance their own personal and religious objectives." On August 18, 2008, Dexter filed a similar complaint against Martin and Bernice, saying that they breached their commitments to the King Center and their father's estate. Dexter accuses King of misappropriating the center's assets and hoarding the money as personal property. 
Two years later, when tensions had risen, King's children reached an agreement. Three brothers released a unified statement on April 6, 2010, announcing Martin Luther King III's re-election as president and CEO of The King Center. As president of The King Center, King is recognized for spearheading an innovative "King Center Image Project" in collaboration with JPMorgan Chase. This effort intends to scan and photograph an estimated 200,000 historical documents, including speeches, lectures, letters, and other works by his forebears, and make them available online.
In addition, in collaboration with Syracuse University, King developed the "King Center Audio and Video Digitization Project" to "save and digitize over 3,500 hours of audio and video cassettes" of his father. He also devised a $100 million remodeling plan for the King Center Freedom Hall Complex, the first significant enhancement to the center's site and amenities in its 30 years existence. 
As thousands of people across the United States and the world celebrate their 50th anniversary in honor of the Washington March on Jobs and Freedoms on August 28, 2013, attorneys for Dexter King and Martin Luther King III filed a lawsuit in the Georgia Court. They tried to remove Bernice King from the position of President of the Martin Luther King Center for Social Reform by Nonviolent Struggle (King Center III). Dexter and Martin Luther King III also want to remove the captain close to their father Andrew Young and cousin, Alvada King (her father Alveda King - AD King is the brother of pastor Martin Luther King) from the board of directors. Governor. 
In the August 2013 lawsuit, even Dexter and Martin Luther King III threatened to cancel the agreement to license the Martin Luther King Center to use his name and likeness. Surprisingly, Dexter immediately put aside family ties, suing his sister Bernice and brother Martin Luther III for an estimated fortune of $1.4 million. At that moment, Martin Luther King III's intrigues are complex. He once aligned with his sister Bernice against his youngest brother Dexter to protect his entire father's legacy - including portraits and photographs of the Reverend Martin Luther King. But then Martin Luther III suddenly turned the spear back and stabbed sister Bernice King. 
Martin Luther King III and Dexter King filed a lawsuit against Bernice on January 31 for the relics of Martin Luther King Jr. This is the second time Dexter and Martin Luther King III have filed a lawsuit against Bernice. The latest fight broke out on February 5 when Bernice King announced her vehement opposition to Marin Luther King's entire sale of the Nobel Peace Prize and the Protestant Bible. 
"On January 20, when we were celebrating my father's 85th birthday… my brothers and sisters Dexter Scott King and Martin Luther King III informed me that they wanted to sell their precious relics. my father's price tag, the Nobel Peace Prize Medal, and his Bible, which was used by President Barack Obama when he was sworn in for a second term and has his signature on the bottom." 
Bernice King 
Martin Luther King III Legacies 
Throughout his life, despite losses and struggles, the question is: Has Martin Luther King III acted up to the expectations given to his name? He surely is. The greatest legacy Martin Luther King II inherited was undoubtedly his father's ideology of nonviolence. 
"My father's dream remains unfulfilled, but it is still very much alive." 
And it's alive in the next generation. 
"You're never too young. Change begins with the first steps."