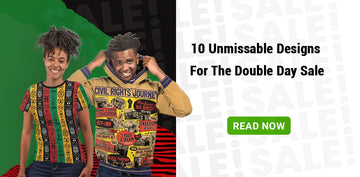 Big news! Our Private Double Day Sale on August 8th is here and it's full of surprises.
We've got 10 extraordinary designs that are simply too good to miss. My advice? Start adding them to your cart right now! That way, as soon as the deal goes live, you're all set to hit "buy." Trust me, you don't want to miss out on these fantastic finds!
But first, did you sign up for the deal? If you did not, you better sign up right now as the promotion is going to be exclusive for pre-registered customers.
7 Melaninful's Best Sellers Of All Time
Civil Rights Leaders
First up is our "Civil Rights Leader" design. Think of it as a love letter to the fearless fighters of our past. It's a beautiful collage of Black activists and civil rights leaders who stood tall for our rights and freedoms.
Every glance at this design is like stepping into a history lesson, reminding us of the battles fought and victories won. A perfect blend of fashion and history, don't you think? Go on, add it to your cart and wear your pride!
Dashiki Black Color
Next on our list is the "Dashiki Black Color" design. It's inspired by the ever-popular Dashiki pattern, but with a fresh, modern twist.
Just imagine yourself wearing this stunning design, turning heads wherever you go! It's more than just a piece of clothing, it's a statement that pays homage to our rich heritage. Ready to rock the modern Dashiki look? Go ahead, add it to your cart. I'm sure you'll love it!
'68 Olympics
Moving on to our next gem, the "'68 Olympics" design!
This one takes its inspiration from a powerful moment in history. Let's go back to the 1968 Olympics. Picture this: Tommie Smith and John Carlos on the winners' podium, their fists raised high in the Black Power salute. It was a bold, brave stand for Black rights and equality.
Our design captures that spirit. When you wear it, you're carrying a piece of this brave legacy with you. How cool is that?
African Roots
Up next is the "African Roots" design, and oh boy, it's a stunner!
This design celebrates Africa, the very heart of human existence. Picture this: the grand African continent forming the roots of a sprawling tree symbolizing humankind. It's our shout-out to the motherland, a proud acknowledgment of our African heritage.
Wearing this design is like saying, "Hey world, these are my roots!" A must-have for those proud of their ancestry, don't you think?
Anubis In Red
Ever heard of Anubis? He's an Egyptian God, known for guiding souls in the afterlife. Pretty cool, right? We've brought Anubis to life against a backdrop of fiery red patterns that are just...dope!
Not only does this design take your style up a notch, but it also connects you with the mystique of our ancient roots. Now, isn't that a conversation starter? So, why wait? Add this piece of ancient cool to your cart now!
Black Inventors
It's like a walk through a museum of innovation! We've got famous Black inventors and their brilliant creations, all packed into one fashionable design. It's a testament to the creativity and ingenuity of our community.
When you rock this, you're celebrating the minds that have shaped our world. Now that's what I call making a statement with style!
Civil Rights Events
Our "Civil Rights Event" design is like a movie poster from the 1950s, but with a twist. It showcases key events from the Civil Rights Movement.
Each time you wear it, you're sharing a piece of our history. It's not just a fashion statement—it's a story of courage and perseverance, a tribute to those who dared to dream of equality and fought to make it real.
So, why not wear your pride and history in style? Add this retro chic design to your cart right now!
African Symbols in Pan-African Colors
Imagine the most recognized ancient African symbols, all coming together in a riot of Pan African colors - red for the blood that unites all people of African ancestry, black for the Black people whose existence it acknowledges, and green for the rich land of Africa.
This design isn't just about making a fashion statement, it's about proudly embracing and showcasing our shared roots. Now that's a history lesson woven into a design! Ready to wear your heritage with pride?
Pan African Ankh
Now, let's take a journey back to ancient Egypt. The Ankh symbol, also known as "the key of life," takes center stage in this design. Accompanied by the Pan African colors - red, black, and green - it's a striking combination of history and style.
By rocking this design, you're carrying the essence of life and an enduring symbol of our heritage. Ready to unlock a new level of style and pride? Get this design in your cart, and you're on your way!
Hip Hop Graffiti Art
I'm super excited about this one - the "Hip Hop Graffiti Art" design. Here's a shoutout to our community's creative soul, the one that gave birth to the vibrant hip hop culture. This design is a riot of colors, beats, and rhymes, all blended into one chic package.
So, if you're ready to take a deep dive into the artistic side of our culture, this design is for you.
Excited yet? How about getting these with 30% OFF on 08.08?
Join our Private Double Day Sale and claim your discount. It's as easy as ABC. All you need to do is to sign up with your email address via the form below.
And remember, only 5 fastest customers get the deal on 08.08. So, add your favorite items to cart in advance and set your alarm.