Melaninful Blog
70 African Tattoos That You Want To Get It Immediately
Dec 02, 2021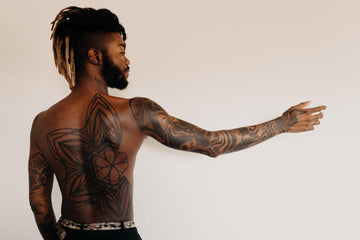 Each tattoo tells a story, and so do the African tattoos. The amounts of ink in their melanin body will share the meaningful stories behind theirs. Through this blog, Melaninful wants to share with you some impressive tattoo design ideas, with the best stories about African-American history.
Black Lives Matter Tattoos / BLM Tattoos
Black Lives Matter (BLM) is a decentralized political and social movement that protests police brutality and all forms of racially motivated violence against African-Americans. One aspect of the Black Lives Matter movement is to encourage people from all over the world to attend protests and rallies, as well as to spend time reading and learning about racism and how we can refuse to participate in its horrible conduct.
There are many ways to show your support for the cause, for example, tattooing is also a special way.
Source: @sacredtattoooakland 
Source: Inkbox Tattoos 
Source: 
Inkbox Tattoos
Source: @
edson_tattooart
Source: Inkbox Tattoos
Source: Inkbox Tattoos
Black History Tattoos
Black History Month, also known as African-American History Month, is an annual commemoration that began in the United States. Governments in the United States and Canada have recognized it, and it has also been observed in Ireland and the United Kingdom more recently. It began as a way of remembering important people and events in the history of the African diaspora. It is celebrated in February in the United States and Canada, while in Ireland, and the United Kingdom it is observed in October.
Take a look at the incredible tattoo designs created by multi-talented tattoo artists.
Source: Andre Gray
Source: @artworkbylv
Source: @vinvegatattoo
Source: @crea8tive_director
Source: @crea8tive_director
Source: @saudade_tattoo_bcn
Ankh Tattoos
In Ancient Egypt, the ankh symbol—also known as the key of life or the key of the Nile—represented endless life. The ankh is thought to be the first—or original—cross, having been created by Africans many years ago. The ankh is frequently shown in the hands of prominent Egyptian figures. A significant symbol would also be appropriate for a tattoo worth tattooing.
Source: @daliftkid
@texastattoomoney
Source: @chi_thehealer
Source: @andrea_loveink

Source: @electrum_ink
Source: Candytattoo
Source: @devilsowntattoos

Source: @aosisanyatattoo
Source: @its_yo_tats

Source: @waldoink
Source: @andrea_loveink
Ancient Egypt Tattoos
Ancient Egypt was a North African civilization that flourished in the lower banks of the Nile River, in what is now the country of Egypt. The political unification of Upper and Lower Egypt under Menes circa 3100 BC (according to standard Egyptian chronology) marked the beginning of ancient Egyptian civilization (often identified with Narmer). We think you'll undoubtedly stand out if you get an Egyptian tattoo.
Source: tattoosboygirl.com
Source: @@_sakshi__panwar_
Source: @mmart.tattooandpiercing
Source: @tattooedgods
Source: @tat2s_by_rooster
Malcolm X Tattoos
Malcolm X was a well-known African-American Muslim minister and civil rights leader during the civil rights movement. He was a passionate advocate for Black emancipation and the promotion of Islam within the Black community until 1964, when he became the Nation of Islam's spokesman. These are works with complicated designs but extremely meticulous and honest.
Source: @david_vega83

Source: @tedflintstxne

Source: @ali.cheikh.tattoos_

Source: @magneticislandtattoo
Source: @sarantattooist

Source: @tno_ink

Source: @pstrokes_tattoos
Source: @dexterkay
Martin Luther King Tattoos
Martin Luther King Jr. was an American Baptist clergyman and activist who became the most recognizable voice and leader in the American civil rights movement. King advanced civil rights through nonviolence and civil disobedience, inspired by his Christian beliefs and the nonviolent activism of Mahatma Gandhi. He was the son of early civil rights activist and minister Martin Luther King Sr. What's great about these tattoos is that they inspire communication because we do find tributes to inspiring figures.
Source: @valerioart
Source: @roguetattoo1050
Source: @monicashtattoosupply
Source: @kiloinc_
Source: @darthmanos666
Source: @obj
------------
Tattoos are a way of expressing meaning or a desire to preserve important memories and events, which makes us appreciate tattoos even more. We hope that this post has provided you with more information and ideas for your new tattoo.