Melaninful Blog
10 Black Christmas Movies to Binge-Watch This Holiday Season
Nov 29, 2021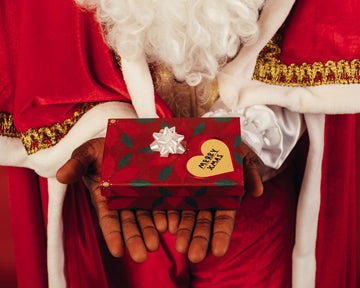 The upcoming Christmas season is also the time when we gather with our families to enjoy the typical Christmas dishes and can't miss watching movies together. Here are 10 movies suitable for the Christmas season revolving around the themes of love and family together. 
1. Jingle Jangle
David E. Talbert wrote and directed Jingle Jangle: A Christmas Journey, a 2020 American Christmas musical fantasy film. Jingle Jangle is a narrative about forgiveness, family reunification, and the power of faith. Forest Whitaker and Madelen Mills feature in the picture. The series was released on Netflix on November 13, 2020. 
2. Last Holiday
Last Holiday is a romantic comedy-drama film directed by Wayne Wang that was released in 2006. Queen Latifah plays Georgia in the film, and LL Cool J, Timothy Hutton, Gérard Depardieu, Alicia Witt, and Giancarlo Esposito all contribute significantly to the film's success. A film about a department store employee who is told she has a rare brain condition and only has a few weeks to live. Before she died, she quickly decided to spend the balance of her money on a lavish vacation in Europe. 
3. Almost Christmas
In 2016, David E. Talbert released the film Almost Christmas. The film enlists various stars such as Kimberly Elise, Mo'Nique, Nicole Ari Parker, Gabrielle Union, Keri Hilson, Jessie Usher, Danny Glover, Omar Epps, John Michael Higgins, DC Young Fly, and Romany Malco. The story follows a dysfunctional family reunited for the first time since their mother passed away during vacation. 
4. Holiday Rush
Holiday Rush was released on November 28, 2019, is a comedy-drama film. This Christmas movie starring Romany Malco, Sonequa Martin-Green, Deon Cole, Amarr M. Wooten, La La Anthony, Alysia Livingston, Andrea-Marie Alphonse, Selena-Marie Alphonse, Roscoe Orman, Malika Samuel, Deysha Nelson, Tamala Jones, Darlene Love. During the holidays, a widowed radio DJ and his children must give up their lavish lifestyle and learn to live less during the holidays. 
 5. Friday After Next
An American comedy-drama film released on November 22, 2002, titled Friday After Next, directed by Marcus Raboy and written by Ice Cube, Mike Epps. The movie actors and actresses are Ice Cube, Mike Epps, John Witherspoon, Don "D.C." Curry, Anna Maria Horsford, Clifton Powell. Craig and Day-Day, who work as security guards, run across the criminal who stole their Christmas presents. Craig battles the robber, damaging their apartment while frantically attempting but failing to wake up Day-Day.
6. Black Nativity
Kasi Lemmons is the director of Black Nativity, the film was released on November 27, 2013 with a main cast including Forest Whitaker, Angela Bassett, Tyrese Gibson, Jennifer Hudson, Mary J. Blige, Jacob Latimore, Vondie Curtis - Hall and rapper Nas. The Christmas drama Black Nativity by poet Langston Hughes and directed by Kasi Lemmons. A single mother faces eviction from her Baltimore home just before Christmas, so she sends her 15-year-old son Langston on a bus to Manhattan to live with his estranged parents, Pastor Cornell Cobbs and his wife, Aretha. Langston was robbed, mistaken for a thief, and held before meeting his grandparents. When he finally met his grandparents, he was confused and intrigued by their lack of communication. Langston began supporting his mother in earning finances to keep their house, but he learned that it was fully achievable through a Christmas tournament at his grandfather's church, and from then on, he realizes that family and religion have always been the most important things to him. 
7. Christmas Miracle
Christmas Miracle, starring Aleksei Kravchenko and Chulpan Khamatova, was released on December 21, 2000, by directors Yury Feting and Andrei Kravchuk. It is a fairy tale about a married couple reunited at Christmas after many years apart. 
8. A Gingerbread Romance
A film starring Tia Mowry-Hardrict and Duane Henry called A Gingerbread Romance directed by Richard Gabai. With just a few weeks until Christmas, Taylor's owners put her in a competition in which teams had to design and build life-sized gingerbread houses. Taylor will most likely be promoted to another city after the contest. Taylor pairs up with Isabelle, a famous French pastry chef, with whom she quickly clashes. When Isabelle left, Taylor went to a neighborhood bakery, where she met Adam, a baker, and single father. Taylor desperately convinces Adam to join the tournament with her, claiming that winning will help the bakery and his designs are in dire need of publicity. Taylor has resisted calling somewhere 'home' for fear for years. And now, decorating for the holidays and exploring the town for Christmas has her yearning to call home. 
9. The Kid Who Loved Christmas
The Kid Who Loved Christmas is the film featuring the final performance of Sammy Davis, Jr. before dying. It was filmed in Chicago in 1990 and is run by Eddie Murphy's production company and starring actors: Michael Warren, Trent Cameron, Cicely Tyson, Della Reese, Esther Rolle, Ben Vereen, Vanessa Williams, Ray Parker.  The film about a family is torn apart over Christmas when a couple is killed in a car accident by a drunk driver while trying to adopt a son. The aftermath of the accident is the husband, a musician, deemed incapable of raising a child. 
Source: imdb.com
10. Operation Christmas Drop
A romantic comedy suitable to watch during the Christmas season is the film directed by Martin Wood called Operation Christmas Drop. In this film, it is impossible not to mention the participation of Kat Graham and Alexander Ludwig. A film about Erica, a congressional aide, skips Christmas with her family to travel at her boss's request. She fights with Capt. Andrew Jantz at a seaside Air Force post, where she knows her mission is to find reasons to defund the facility. 
---------
Christmas Eve is an opportunity for family, friends and loved ones to gather. We hope that our "early Christmas gifts" will bring your family moments of warmth and enjoyment.