Melaninful Blog
Wearing Our Legacy: The 'Black Inventors' Design Story
Jul 30, 2023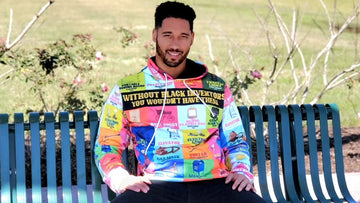 I've got something amazing to share with you today. Ever heard of our top-notch "Black Inventors" design? Oh, it's a sight to behold!
This design isn't merely a tribute to these incredible inventors. It's a celebration of how their genius has shaped the world we live in. Imagine the world without their groundbreaking contributions... hard, isn't it?
So, buckle up, my friend. We're about to embark on a journey to delve deeper into the creation of this inspiring design. It's an experience you won't forget! Ready? Let's go.
The Impact of Black Inventors
Picture this: No traffic lights at bustling intersections. Doesn't that sound like a wild, chaotic world? We can thank Garrett Morgan for giving us those life-saving traffic signals. And his genius didn't stop there. Nope. He also invented the gas mask, saving countless lives during emergencies.
Now, think about this. The soft glow of the electric lamp that lights up your room every evening? That's thanks to the genius of Lewis Latimer. He created the carbon filament, a vital component in the long-lasting, affordable electric lamps that we rely on today. Can you imagine a world without his light? Neither can we.
These are just a couple of our brilliant Black inventors. There are many, many more.
They've shown us the power of a brilliant mind. They've shown us that the color of our skin does not define our potential. They've painted a picture of a world where Black intellect is respected, cherished, celebrated.
These inventors are the driving force behind our "Black Inventors" design. They've inspired us, guided us, and sparked a fire in us. A fire to create a design that encapsulates their spirit, their genius, and their lasting impact. And boy, are we proud of it!
The "Black Inventors" Design
Ok, folks, now it's time for the grand reveal! Are you ready to explore our "Black Inventors" design in detail? Trust me, it's not just a design, it's a story that unfolds with each inventor.
As you look at it, you'll see a beautiful collage of some of the greatest Black inventions and the minds behind them.
So, who are these inventors and what did they create, you ask? Well, here comes the most exciting part! They are:
Benjamin Banneker - Almanac (1791)

William H. Richardson - Baby Buggy (1889)

Charles Richard Drew - Blood Plasma Bag (1941)

Henry Blair - Corn Planter (1834)

Alexander Miles - Elevator Door (1887)

Lewis Latimer - Electric Lamp (1881)

James E. Huntley - Emergency Fire Escape Mechanism (1975)

Thomas J. Martin - Fire Extinguisher (1872)

Garrett Morgan - Gas Mask (1914)

Robert F. Fleming Jr - Guitar (1886)

Augustus Jackson - Ice Cream (1832)

George E. Alcorn - Imaging X-Ray (1984)

John A. Burr - Lawn Mover (1899)

Philip B. Downing - Mailbox (1891)

Thomas B. Stewart - MOP (1893)

Elijah McCoy - Portable Ironing Board (1874)

George Crum - Potato Chips (1853)

Garrett Morgan - Traffic Light (1923)

Frederick McKinley Jones - Mobile Refrigeration (1949)
Paying Tribute
Friends, it's not just about a beautiful design. Wearing our "Black Inventors" outfit is like wearing a badge of honor. It's a statement, a declaration that says, "Yes, I'm Black, and I'm incredibly proud of it!"
But it goes even deeper than that. By wearing this design, we're not just celebrating our past, we're inspiring our future. We're telling every little Black boy and girl that they too can invent, create, and make a lasting impact on the world.
Every time we pull on this design, we remember that our Blackness isn't just our skin color. It's our strength, our resilience, our creativity. It's a powerful reminder that we stand on the shoulders of giants, and that we too, can reach for the stars.
So, go ahead, put on that "Black Inventors" design. Wear it with pride. It's more than just a fashion statement. It's a declaration of pride, of history, and of legacy. It's our salute to the past and our hope for the future!
Check out the collection