Masks have long been a part of human history, serving various purposes across different cultures and regions. In many Asian countries, mask-wearing is deeply ingrained in cultural traditions and everyday life. In contrast, the African continent boasts a vibrant tapestry of mask traditions, where masks hold deep cultural and spiritual significance. In this blog, we embark on a deep journey into the heart of African culture, unveiling the secrets hidden within these ancient masks.
1. Why do Africa's people use masks?
Across the centuries, African masks have beguiled and fascinated their beholders. Behind their carved faces, they hold enigmatic tales whispered only to those who truly seek to understand. Today, we'll journey deep into the heart of African culture, unveiling the secrets hidden within these ancient emblems.
In the Western world, masks often serve a purely decorative or functional purpose, be it for Halloween celebrations or protection against a pandemic. In Africa, however, they extend far beyond the ornamental or pragmatic. They are spiritual bridges, connecting realms otherwise deemed unconnected - the earthly and the supernatural, the living and the ancestral.
"The people of Africa use masks in rites of passage, ceremonies, initiations, crop harvesting festivals, and war preparations, among others. They are vital conduits through which communities communicate with spirits, ancestors, and deities. Masks provide an opportunity for African people to express their respect and fear, to seek guidance, or to appease those in the spiritual realm."
2. The Meaning of The African Masks
African masks hold a deep and profound significance within the hearts of Black people worldwide. These mesmerizing artworks transcend their physical forms, becoming powerful symbols that embody cultural identity, ancestral connections, and a shared history. In this exploration, we delve into the meaning of African masks and their enduring importance to the Black community.

To comprehend the meaning of African masks, one must dive into the intricate, often abstract designs that each tell a story of its own. In some cultures, masks depict animals, signifying various traits attributed to those creatures.

The spirit of a revered elephant may signify strength and wisdom, while a cunning hare mask may represent resourcefulness and survival. Human masks, often adorned with exaggerated features, symbolize characteristics esteemed in the community.
An elongated face could denote respect and honor, broad smiles evoke happiness and fertility, while an imposing, stern look may represent power and authority. Importantly, each mask's meaning isn't static, but evolves, resonating with the specific circumstances of its use.
3. The Many Faces of African Mask Designs
Africa, in its vast cultural expanse, boasts an array of mask designs as diverse as its people. To categorize them all would be a Herculean task. However, broadly speaking, African masks can be grouped into three main types:
These are mostly used in ancestral veneration and spiritual ceremonies.
They often bear idealized human features. These are mostly used in ancestral veneration and spiritual ceremonies.
Used in hunting or agricultural ceremonies.

These masks portray animals believed to possess certain desirable traits.
Representing spirits, deities, or concepts.

These are less recognizable and more symbolic.
Different regions and tribes have their characteristic mask designs, adding a rich tapestry of variety within these broader categories.
4. The Inspiration of African Mask to Melaninful T-Shirts
The world of African masks is a treasure trove of hidden meanings and cultural significance. Through this exploration, we gain a deeper appreciation for the artistry and spirituality intertwined within these remarkable creations.
We celebrate the inspiration derived from African masks, we invite you to embrace their profound significance and wear our Melaninful t-shirts as a vibrant expression of cultural pride.
The Spirit Of Africa All-over Hoodie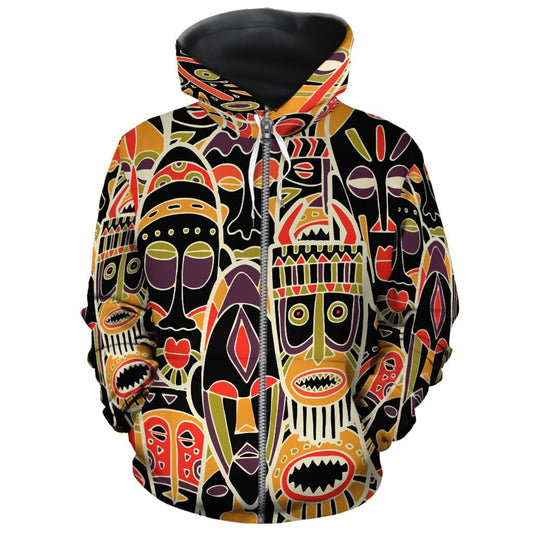 The Spirit Of Africa All-over Hoodie
Regular price
From $59.75
Sale price
From $59.75
Regular price
The Spirit Of Africa T-Shirt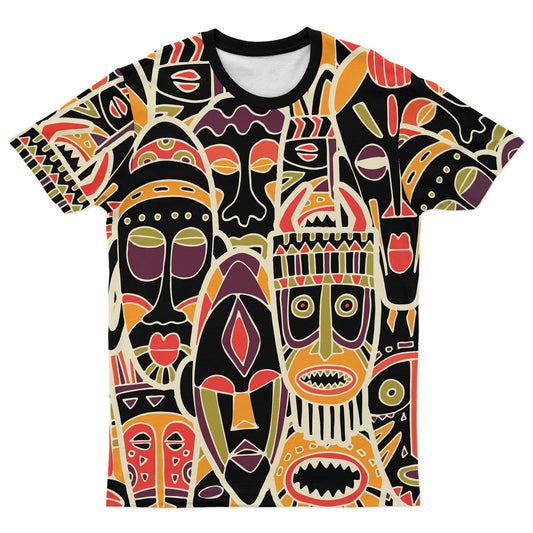 The Spirit Of Africa T-Shirt
Regular price
From $34.45
Sale price
From $34.45
Regular price
African Mask Printed Mudcloth All-over Hoodie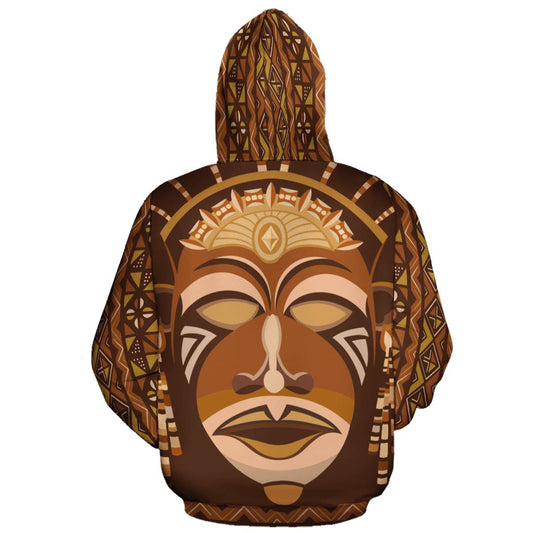 African Mask Printed Mudcloth All-over Hoodie
Regular price
From $59.75
Sale price
From $59.75
Regular price