Melaninful Blog
Black History Bulletin Board Ideas to Observe Black History Month 2022
Feb 13, 2022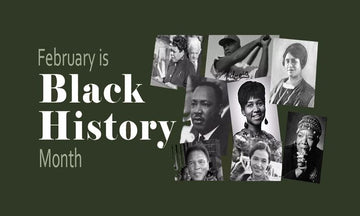 Black History Month provides an opportunity to throw a light on some of the most important African American voices, as well as lesser-known individuals who advocated for equality for everyone. What better approach to enlighten pupils than by using a Black History Month theme to decorate classroom or school bulletin boards? 
Students and staff in many schools spent time in the early weeks of February creating posters and bulletin board displays honoring African-Americans who have made lasting and impactful contributions to the world in their respective fields and areas of expertise, as part of the school's ongoing Black History Month celebrations. 
Famous people such as Frederick Douglass, Harriet Tubman, George Washington Carver, Mary McLeod Bethune, Mahalia Jackson, Rosa Parks, Jackie Robinson, and Dr. Martin Luther King, Jr. are featured in some of the exhibits. Several additional exhibits centered on Dr. King's work, with some pupils expressing their own goals in an activity inspired by the late, great Civil Rights leader's renowned address during the 1963 March on Washington. 
If you're looking for some innovative ideas, MELANINFUL Blog has put up a list of amazing Black History Month bulletin board ideas for you and your children. 

Briefly about Black History Month 2022
Black History Month is a commemoration of black people's achievements in the United States and acknowledgement of their enormous contribution to the country. It is observed not just in the United States, but also in Canada, the United Kingdom, and other nations. 
In 1915, 50 years after the Thirteenth Amendment ended slavery in the United States, Black History Month was informally established. The Association for the Study of Negro Life and History (ASALH) was founded to research and promote the achievement of Black Americans and other people of African descent. 
Fast-forward to 1926, the second week of February — which coincides with the birthdays of Abraham Lincoln and Frederick Douglass — the ASALH launched national Negro History Week. Over time, this week evolved into what we know today as Black History Month.
Some impressive Black History Month bulletin board designs
A bulletin board is designed to deliver information on a certain topic; in this example, it is Black History Month. Different classes concentrate on different parts of African-American history. Below are some inspiring ideas for your bulletin board. 
Here are some tips for your perfect Black History Month bulletin board: 
Colorful, artsy, and fun

 

Simple to remember

 

It's both educational and interactive

 

A project that can be joined by the entire class

 

It's memorable and catchy

 

Decorate in a poetic and enjoyable way

 

Black culture at its finest

 

It's a doable notion that's a lot of fun
Still lack of some intriguing topics to give a shot? Try them out.
#1 We Have a Dream
What an eye-catching board. Even if the reader is unable to read the full board, the highlighted words will remain in their minds: "We have a dream: EQUALITY". 
#2 Civil Rights Movement Board
Ruby Bridges Hall, who faced horrible racism as a 6-year-old when all she wanted to do was go to school and learn like other white kids her age, is probably the most inspiring for these kids on the list.
#3 Dare to Dream
Another of Black History bulletin board celebrates the accomplishments of African-American educators and teachers like as Booker T. Washington, Nikki Giovanni, Carter Thomas, and Alma Woodson. And this bulletin board was created by teachers – that encouraged children to "Challenge like Rosa; Dream like Martin; Speak like Frederick; Lead like Harriet; Write like Maya." 
#4 Civil Rights Movement Board 2
The bulletin board honors American civil rights activist Rosa Parks, who protested bus segregation in Montgomery, Ala. in 1955, world champion Canadian runner Donovan Bailey, Martin Luther King Jr.'s 1963 "I Have a Dream" speech, Nova Scotia poet and author Shauntay Grant, and American abolitionist Harriet Tubman, who helped dozens of slaves escape to Canada via the Underground Railroad network in the mid-nineteenth century.
#5 Fall in love with Black History board
This board looks at past heroes who worked to free slaves, end oppression, and provide equal rights to black people. It's simple, but it conveys the message of hope. 
#6 Civil Rights Movement Board 3
This lengthy list includes Kobe Bryant, the Lakers' all-time top scorer, who tragically passed away. Like Jackie Robinson, who became the first black American professional baseball player despite bigots obstructing his career at every turn. 
#7 I can change the world with my words
This board has a lot of messages from students, those executed very simple yet interactive. Despite the fact that this racist episode awakened the minds of those who previously rejected the existence of racism, America still has a long way to go in terms of racial reconciliation. That's why, all Black people want are: Justice, Freedom, Equality, and Acceptance.
#8 Black artist's board
This first board has a lot of information of Black artists. William Johnson, Romare Bearden, Jacob Lawrence, Alma Thomas Kara Walker, Lorna Simpson, Kehinde Wiley, and finally Jean-Michel Basquiat, are icons of today.  
#9 Prompts about Black History board
Another of Black History bulletin board celebrates the accomplishments of African-American educators and teachers. And this bulletin board was created by teachers – that encouraged children to "Challenge like Rosa; Dream like Martin; Speak like Frederick; Lead like Harriet; Write like Maya." 
#10 Black History with enormous Afro people in center
With a gorgeous collage at the enormous afro's in center, this proposal features practically all inspiring black people. Instead of using digital pictures, this Black History Month bulletin board uses hand-drawn portraits of the people they wish to honor. There are certain names that we don't generally hear during BHM, yet they continue to have an impact on black culture today.
-----------------------------------------
We hope you find these Black history bulletin board designs helpful in your classroom! It's essential to identify African Americans' accomplishments and to shine light on their successes and tragedies throughout history as you commemorate Black History Month.