Melaninful Blog
Carter G. Woodson Quotes to Memorialize Black History Month 2022
Feb 13, 2022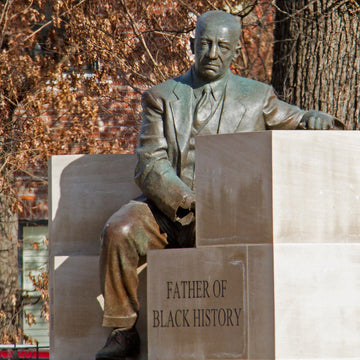 February is Black History Month, a commemoration of African Americans' accomplishments and contributions to history. However, lack of people know that, there is the man behind Black History Month: Dr. Carter G. Woodson (1875-1950). In other to honor this month and "Father of Black History" for his contributions, we has compiled a list of Carter G. Woodson Quotes to help challenge your thinking and motivate you to overcome whatever obstacles may come your way. 
Wiki of Carter G. Woodson
Woodson, full name Carter Godwin Woodson, was an American historian who popularized the long-ignored field of black studies in black schools and institutions. He was born December 19, 1875, in New Canton, Virginia, and died April 3, 1950, in Washington, D.C. 
Carter G. Woodson came from Washington, D.C. to Chicago in 1915 to participate in a national commemoration of the 50th anniversary of emancipation.

 

Before departing Chicago, he helped found the Association for the Study of Negro Life and History (ASNLH).

 

A year later, Woodson founded the Journal of Negro History, in which he and other researchers drew attention to African-American achievements.

 

He earned only the second African American (after W.E.B. DuBois) to receive a doctorate from the ASNLH in 1912, three years before it was founded.

 

Woodson issued a press statement in February 1926 declaring the first Negro History Week.

 

The ASNLH established branches across the country, but its national headquarters remained at Woodson's Washington, D.C. row house on Ninth Street. The Associated Publishers Press, which Woodson started in 1921, was also based out of the house.

 
Why did Woodson create Black History Month?
Woodson placed a high value on education. He struggled to get a good education because of his poor upbringing, but he eventually received a Ph.D. in history from Harvard University. 
Young African Americans in the early twentieth century, according to Woodson, were not being educated enough about their own past and forefathers' accomplishments. Woodson turned to his fraternity, Omega Psi Phi, to get his word out, which founded Negro History and Literature Week in 1924. On the other hand, Woodson wanted a bigger celebration and decided that the ASNLH would be in charge. 
Carter G. Woodson began the inaugural celebration of Negro History Week, which grew to Black History Month, on February 7, 1926, with the goal of extending and deepening the study and scholarship of African American history throughout the year. 
Carter G. Woodson Quotes
Carter G. Woodson Quotes 
from The Mis-Education of The Negro Book (Published in 1933)
Here are a few quotes from Carter G Woodson's book that were inspired by his own life experiences and knowledge.
"If you can control a man's thinking you do not have to worry about his action. When you determine what a man shall think you do not have to concern yourself about what he will do."

"... If you make a man think he is justly an outcast, you do not have to order him to the back door. He will go without being told and if there is no back door, his very nature will demand one." - Carter G. Woodson,' The Mis-Education of The Negro' 

"...If you make a man feel that he is inferior, you do not have to compel him to accept an inferior status, for he will seek it himself."

"Philosophers have long conceded, however, that every man has two educators: that which is given to him, and the other that which he gives himself. Of the two kinds, the latter is by far the most desirable..."

"It is that which constitutes our real and best nourishment. What we are merely taught seldom nourishes the mind like that which we teach ourselves."

"Indeed all that is most worthy in man he must work out and conquer for himself. "

"It may be well to repeat here the saying that old men talk of what they have done, young men of what they are doing, and fools of what they expect to do..."

"History shows that it does not matter who is in power or what revolutionary forces take over the government, those who have not learned to do for themselves and have to depend solely on others never obtain any more rights or privileges in the end than they had in the beginning."

"When you control a man's thinking you do not have to worry about his actions. You do not have to tell him not to stand here or go yonder. He will find his proper place and will stay in it...His education makes it necessary."
Carter G. Woodson Quotes
On Education
Carter G Woodson worked hard to bring African American history instruction into the curriculum in order to highlight African Americans' significant achievements and role in American history. Here are some educational quotes by Carter G Woodson. 
"For me education means to inspire people to live more abundantly, to learn to begin, to learn to begin with life as they find it and make it better."

"Those who have no record of what their forebears have accomplished lose their inspiration which comes from teaching biography and history."

"The mere imparting of information is not education. Above all things, the effort must result in making a man think and do for himself." 

"The large majority of the negroes who have put on the finishing touches of our best colleges are all but worthless in the development of their people."

"This crusade is more important than the anti-lynching movement because there would be no lynching if it did not start in the classroom." 

"The thought of the inferiority of the negro is drilled into him in almost every class he enters and in almost every book he studies."

"In our so-called democracy, we are accustomed to give the majority what they want rather than educate them to understand what is best for them."

"Our most widely known scholars have been trained in universities outside of the South."

"As another has well said, to handicap a student by teaching him that his black face is a curse and that his struggle to change his condition is hopeless is the worst sort of lynching."
Carter G. Woodson Quotes about Black History
Because African Americans have faced discrimination on a variety of grounds throughout history, Woodson believes it is critical for all Americans to be aware of their history. Here are some race quotes from Carter G Woodson. 
"The oppressor has always indoctrinated the weak with his interpretation of the crimes of the strong."

"If a race has no history, if it has no worthwhile tradition, it becomes a negligible factor in the thought of the world, and it stands in the danger of being exterminated."

"In the long run, there is not much discrimination against superior talent."

"The differentness of races moreover is no evidence of superiority or of inferiority. This merely indicates that each race has certain gifts which the others do not possess."

"If the negro in the ghetto must eternally be fed by the hand that pushes him into the ghetto, he will never become strong enough to get out of the ghetto."

"In fact, the confidence of people is worth more than money."

"I'm ready to act if I can brave men to help me."

"Let us banish fear."

"No man knows what he can do until he tries." 

"The author takes the position that the consumer pays the tax, and as such every individual of the social order should be given unlimited opportunity to make the most of himself."

"If a white man wants to hold on to it, let him do so; but the Negro, so far as he is able, should develop and carry out a program of his own."

"The real servant of the people must live among them, think with them, feel for them, and die for them."

"The race needs workers, not leaders."

"At this moment, then, the Negroes must begin to do the very thing which they have been taught they cannot do."

"Truth comes to us from the past, then, like gold washed down from the mountains."

"You must give your own story to the world."

"What we need is a history of selected races or nations of the world void of national bias, race, hate, and religious prejudice."
----------------------------
Here are the famous Carter G. Woodson Quotes for you to enjoy on the Black History Month. If you liked our suggestions for Carter G Woodson quotes then why not take a look at Rosa Parks Quotes, or Melanin Quotes.