Melaninful Blog
Sneakers, Style, and Statements: 5 Outfit Ideas for Your Black Pride Sneakers
Jul 24, 2023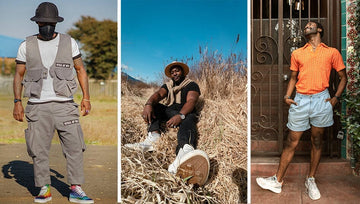 Can you picture your wardrobe minus shoes? Hard, right? 
They're the unsung heroes that complete our looks. For the style-conscious, a statement shoe isn't just an option, it's a must-have. Enter Black American Sneakers - not mere shoes, but an embodiment of identity, a nod to fashion, and a thrilling display of personal style.
1. Five Unforgettable Outfits That Bring Your Black American Sneakers to Life
Outfit One: The Sporty Edge - Shorts
Give your style a sporty edge by pairing your Black American Sneakers with shorts. This look is casual, comfortable, and effortlessly cool. The shorts provide a relaxed vibe while the sneakers add a pop of personality.
Outfit Two: The Suave Summer Look - Vest Pants
A pair of vest pants with your Black American Sneakers creates a suave summer look that's undeniably attractive. This combination balances comfort with chic, offering a modern and stylish way to beat the heat.
Outfit Three: The Timeless Classic - Jeans
Pairing men's Black American Sneakers with jeans is a timeless classic. This combination oozes a casual yet stylish charm that's hard to resist. The familiarity of jeans mixed with the statement sneakers creates an outfit that speaks to every occasion.
Outfit Four: The Trendsetter - Jogger Pants
Combine your Black American Sneakers with jogger pants, and you're set to be a trendsetter. This outfit is the perfect nod to the streetwear trend, blending functionality with style. The sneakers sync harmoniously with the joggers, creating a look that's both comfortable and high-fashion.
Outfit Five: Urban Femininity - The Midi Dress Magic
Elevate the elegance of a flowy midi dress by pairing it with the sneakers. This fusion captures both the delicate femininity of the dress and the bold urbanity of the sneakers. 
Whether the dress is floral, solid, or patterned, your sneakers add an unexpected twist, making it perfect for brunches, city outings, or a stylish day at the office. 
2. The Final Strut: Unleashing Your Style
Mastering Color with Confidence
Pairing your Black American Sneakers is an art, and color is your palette. Bold colors contrast, neutrals complement, and patterns intrigue. Balance is the secret ingredient. Play, mix, and master your color game.
Ready-Made Style Matchups
Struggling to find the perfect outfit? Melaninful eases your quest with matching sets tailored to celebrate your Black American Sneakers. You're always stylishly ready with our curated sets.
Every fashion choice is a celebration of your Black Pride. The outfits, tips, tricks - they all blend to showcase your identity in your unique style narrative.
3. The Style Runway Finale
We encourage you to tweak these ideas, make them your own. Your style is as unique as your story. Celebrate it, show it off, wear your Black Pride with unabashed joy.
Remember, Melaninful is more than a fashion brand; we're a style community. We celebrate, uplift, and inspire each other, one fashion statement at a time. So, go ahead, experiment, let your Black Pride shine!