Melaninful Blog
Greatest Black Female Authors of the 20th - 21st Century
Dec 09, 2021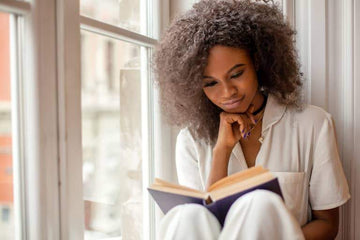 Black female authors have brought the African-American woman's experience to millions of readers. They wrote about what it was like to live in captivity, what Jim Crow was like in America, and how black women can adapt to 20th and 21st centuries. 
In this Melaninful blog post, you will have a chance to get to know about these female novelists, poets, journalists, and feminist theorists in a nutshell. They are powerful women who made black history turn into a bright future. 
Table of Contents
Daisy Bates (1914-1999) 
Daisy Bates is a black American journalist and civil rights activist. She was best known for her contribution to the 1957 merger of Central High School in Little Rock, Arkansas. 
Born in the tiny sawmill town of Huttig, Arkansas in 1914, Daisy Bates grew up in a foster home. Her mother was raped and murdered by three white men when she was only three years old. When she was eight years old, she knew that no one would ever be prosecuted for her mother's murder and that the police had ignored the case. At the time, Bates vowed to dedicate her life to ending racial injustice. After settling in Little Rock, Arkansas, in 1914, she founded the Arkansas State Press, one of the few black American newspapers dedicated to the Civil Rights Movement. Along with working as an editor, Bates regularly wrote for the newspaper. 
When the United States Supreme Court declared segregated public schools unconstitutional in 1954, Bates rallied black American students. She encouraged them to enroll in white schools throughout the South, including those in Little Rock. When white schools refused to accept Black students, Bates revealed them in her Arkansas State Press. 
In 1957, as president of the Arkansas chapter of the NAACP, Bates selected nine Black students to enroll at All-White Central High School in Little Rock. She often drove them to school herself, she protected and advised nine students, known as Little Rock Nine. Bates' work for school integration brought her national fame. The Long Shadow of Little Rock", her autobiography, received the American Book Award in 1988. 
Gwendolyn Brooks (1917-2000) 
The poet Gwendolyn Brooks holds a unique place in African-American literature. Not only did she combine a strong commitment to racial identity and equality with proficient poetic technique, but she also bridged the gap between academic poets of her generation in the 1940s and folk writers of her generation. Young Negro Army of the 1960s.
Brooks was best remembered for poems like "We Real Cool" and "The Ballad of Rudolph Reed." Through her poetry, Brooks revealed her political consciousness and love of African-American culture. All her poetry and prose reflected the severe consequences of the Jim Crow Act and the ideas of the Civil Rights Movement of the time. 
Brooks' major career accomplishments included becoming the first African-American author to win a Pulitzer Prize in 1950. At the same time, she was also appointed Poet of the State of Illinois. Then this black female author was awarded the title of Distinguished Professor of Arts in the City College of New York City College in 1971. After that, she became the first black American woman to serve as a poetry consultant to the Library of Congress in 1985. The National Women's Hall of Fame also enrolled her in 1988. 
Tony Morrison (1931-2019) 
Tony Morrison is one of the most famous and important writers in the Americas today. In 1970 when "The Bluest Eye" appeared, Toni Morrison was only recognized as a "black" female novelist. However, after the release of "Sula" (1973), "Song of Solomon" (Song of Solomon, 1977), and "Tar Baby" (1981), her talent became widely recognized by the literary community of America. 
Toni Morrison's real name is Chloe Anthony Wofford, born on February 18, 1931. The second child in a family of four, she grew up in the town of Lorain near Cleveland, Ohio. At primary school, Toni Morrison always wanted to excel by studying hard and reading books. She was fascinated by the works of Gustave Flaubert and Jane Austen as well as by Russian novelists of the 19th century. 
It was at Howard University that Toni Morrison changed her name from Chloe Anthony to Toni and studied with black advocates such as poet Sterling Brown, philosopher Alain Locke - the editor of the newspaper "The New Negro." At Howard University, which specialized in educating black students, Toni Morrison studied the literature of famous writers such as Shakespeare, Hawthorne, Melville, and Wordsworth.
She also joined the Howard Unity Players theater troupe that performed in Southern states in the pre-black Civil Rights movement. Toni Morrison then graduated from college with a BA in 1953. 2 years later, in 1955, she completed her Master of English Literature at Cornell University, focusing on the works of Virginia Woolf and William Faulkner. 
During the 1960s and 1970s, the market for black storybooks also began to grow in the United States. In 1968, Toni Morrison completed the story "The Bluest Eyes", describing a pregnant victim, an unloved child, a young girl living on the sidelines of family and society. This little black girl wants to correct her flaws by asking God to give her blue eyes. Four years later, Toni Morrison finished writing a second book called "Sula" in which the author describes the limits of the black woman. Her work "Sula" was published in 1973 and earned her the National Book Award and recognition as national talent. 
Tony Morrison served as Visiting Professor at Yale University from 1975 to 1977 and at Bard College from 1979 to 80. At school, Ms. Morrison taught creative writing and African-American literature. Her "Song of Solomon" became the best-selling novel of its time. This success earned Toni Morrison the National Book Critics Circle Award as well as The American Academy and Institute of Arts and Letters Award. Released in 1977, "Song of Solomon" focused on portraying the lives of black slaves. President Jimmy Carter then invited her to be a member of the National Council on the Arts. 
Toni Morrison's fourth work, "Tar Baby" (1981), described a black man and a woman who had failed to maintain an emotional connection because of the difference between the two. classes. This novel led Newsweek to hail Morrison as America's "leading black writer". 
In 1987, the novel "Beloved" was considered by many to be Toni Morrison's most successful work. This is the story of Sethe, a mother who killed her daughter rather than let her grow up as a slave. This novel won the author the "Pulitzer Prize" for fiction. Toni Morrison's next works include two novels "Jazz" (1992) and "Paradise" (1998). 
Audre Lorde (1934-2000) 
Audre Lorde is a black American poet, writer, and civil rights activist. Lorde's writings exposed and condemned the wrongs of society in terms of racism, sexism, classism, and homophobia. 
Born to immigrant parents in New York City, Lorde published her first poem in Seventeen magazine while in high school. She then earned her bachelor's degree from Hunter College and her MLS degree from Columbia University. After working as a librarian in New York public schools during the 1960s, she transitioned to teaching as a poet at the historic Black Tougaloo College in Mississippi. While teaching English at John Jay College and Hunter College in the 1990s, Lorde won the New York Poet Prize. 
Published between 1968 and 1978, Lorde's early poetry anthologies, such as "Cables to Rage" and "The Black Unicorn" reflected discontent with the performance of what she called "forced duty". First published in 1978, "Power" expresses her outrage over the 1973 murder of Clifford Glover, a ten-year-old black boy killed by a racist cop. The officer was later acquitted, what Lorde later described as "so infuriating that the sky turned red before my eyes". 
The novel collection "Burst of Light" won this female writer the National Book Award. In this work, she argues that fear of discrimination is a catalyst to be able to act courageously for a better change. 
Alice Walker (1944-) 
Alice Walker is an American poet, essayist, novelist, and social activist who focuses on issues of racism, gender prejudice, classism, and sexual oppression. An outspoken feminist, Walker coined the term womanist to refer to "A black feminist or feminist of color" in 1983. 
Alice Walker was born in 1944 in Eatonton, Georgia, as a general crop farmer. When she was 8 years old, she was involved in a BB gun accident that left her permanently blind in her left eye. She poignantly described the emotional trauma that resulted from scar tissue in her 1983 essay "Beauty: When Another Dancer Was You". As the valedictorian of her class, Walker received a scholarship to Spelman, a college for black women in Atlanta. 
After transferring to Sarah Lawrence College in New York, she studied abroad as an exchange student in Africa and received her Bachelor's degree in 1965. From 1968 to 1971, Walker wrote as an author at Jackson State University and Tougaloo College. In 1970, she published her first novel, "The Third Life of Grange Copeland", the story of a black tenant farmer who is driven by a vain life in the far South. 
One of America's best-selling writers, Walker cemented her literary status with the 1982 Pulitzer Prize-winning novel "The Color Purple". Adapted into a hit film by Steven Spielberg, the book told the story of a 14-year-old black girl in rural Georgia who was sexually abused by her own father and got pregnant at a very young age. Walker's poetry collections included "Hard Times Request Furious Dancing," "Take the Arrow Out of the Heart," and "Her Blue Body Everything We Know: Earthling Poems." Along with the Pulitzer Prize and the National Book Award, she also won the O. Henry Award in the same year. 
Ntozake Shange (1948-2018) 
Ntozake Shange was an American black playwright, poet, and feminist whose work is recognized for its candid treatment of the black race, gender, and power. Ntozake Shange whose real name was Paulette Linda Williams was born into an upper-middle-class family in Trenton, New Jersey. Her family then moved to St. Louis, where Missouri suffered racial discrimination when she was 8 years old. Caught in forced discrimination by the Brown verdict and sued by the Supreme Court Board of Education in 1954, Shange was sent to a white school. Here, she was subjected to overt racism and physical harassment. 
Shortly after earning her Bachelor's and Master's degrees in American Studies from Barnard College and the University of Southern California, she divorced her first husband. During this time, she suffered from severe psychological trauma and had suicidal thoughts. Determined to regain her strength and identity, she took her African name back: Ntozake - separate identity and Shange - lion warrior. 
A successful writer, Shange focuses on her experiences as a Black woman in America. Her 1975 Obie Award-winning play for girls of color. In the play, she portrayed the painful fate of black girls who contemplated suicide and expressed deep faith.
"When the Rainbow" is a combination of imagery and poetry, song, and dance to tell the story of seven women with the seven colors of the rainbow. With brutal honesty and emotion, Shange told the story of each woman struggling to survive the dual oppression of sexism and racism in America dominated by white people. Shange's awards included scholarships from the Guggenheim Foundation and the Lila Wallace Reader's Digest Announcement Foundation and the Trolley Award. 
Bell Hook (1952-) 
Gloria Jean Watkins is an American writer, activist, and scholar. Her works focus on exploring the relationships between race, gender, and social class from the perspective of black women. 
Born into a working-class family in the secluded small town of Hopkinsville, Kentucky, hooks wrote his first book, "Ain't I a Woman at 19". She then decided to write under her pseudonym Bell Hooks - named after her grandmother. She earned a bachelor's degree in English literature from Stanford University in 1973, a master's degree from the University of Wisconsin in 1976, and a doctorate from the University of California, Santa Cruz in 1983. 
Since 1983, Hooks has published dozens of books while teaching at four major universities. In 2004, she became a professor at Berea College, a tuition-free, liberal arts college in Kentucky. In 2014, she founded the Bell Hook Institute. In her books Talking Back: Thinking Feminist, Thinking Black (1989), Black Look: Race and University (1992), and Where We Stand: Class Matters (2000), the stories convey her beliefs. According to Hooks, a woman's true worth is determined by a combination of her race, political beliefs, and economic value to society. 
Final Thoughts 
It's sorrowful to find out how many black female authors and their accomplishments are forgotten by history. These female writers vividly conveyed the harsh and squalid nature of life for African-Americans, especially women. 
Women have always been marginalized in literature as well as in life. From the humiliation of slavery to the inequalities that persisted for more than a century, after slavery was abolished, women's voices have always been underestimated. They are here to raise their voice, to convey great hopes for the prospect of true equality. 
"We die. That may be the meaning of life. But we do language. That may be the measure of our lives." 
Toni Morrison