Melaninful Blog
Most Inspiring Civil Rights Movies That Everyone Should Watch (Part 2)
Apr 25, 2022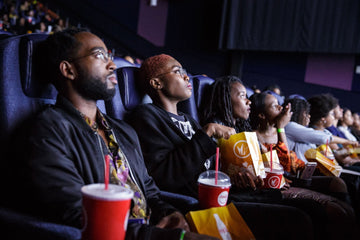 The Civil Rights Movement is an ongoing process that we're still struggling with to this day. Over several decades, many films and TV shows have worked to capture the emotions and messages of equality.  
We've put together a list that we think is a great jumping-off point for anyone interested in learning more about race, equality, and America.  
Table of Contents
Grab a bag of popcorn and put your feet up to enjoy our list! (Spoil Alert!!)  
Intruder In The Dust 
Year of manufacture: 1949 
Film studio: Robert Kern 
Directed by: Clarence Brown 
Actors: David Brian, Claude Jarman Jr., Juano Hernández 
Intruder in the Dust is a 1949 crime drama film produced and directed by Clarence Brown and starring David Brian, Claude Jarman Jr., and Juano Hernandez. The film is based on the 1948 novel Intruder in the Dust by William Faulkner. 
Based on a William Faulkner novel, the film tells the story of Lucas Beauchamp (portrayed by the remarkable Juano Hernandez), a respectable and independent Black man, who is unjustly accused of the murder of a white man Vincent Gowrie. Through the help of two teenage boys, the town lawyer, and an elderly lady, he can prove his innocence. 
A Raisin In The Sun 
Year of manufacture: 1961 
Film studio: Columbia Pictures 
Directed by: Daniel Petrie 
Actors: Sidney Poitier, Ruby Dee, Claudia McNeil, Diana Sands, Stephen Perry 
A Raisin in the Sun is a 1961 American drama film directed by Daniel Petrie adapted from the 1959 play of the same name by Lorraine Hansberry. It follows a black family that wants a better life away from the city. A Raisin in the Sun was released by Columbia Pictures on May 29, 1961. 
The film version of Lorraine Hansberry's pathbreaking play, starring Sidney Poitier, Claudia McNeil, and Ruby Dee, describes the struggles of a Black family trying to survive in Chicago and striving for a better way of life. Trying to find a home in a white neighborhood, they confront the racist practices of the real estate industry and the prejudices of local homeowners. 
One Potato, Two Potato 
Year of manufacture: 1964 
Film studio: Cinema V 
Directed by: Larry Peerce 
Actors: Barbara Barrie, Bernie Hamilton 
One Potato, Two Potato is a 1964 black-and-white American drama film directed by Larry Peerce and starring Barbara Barrie and Bernie Hamilton. The film centers on an interracial romance and was produced and released at a time when such was very rarely openly conducted in the United States, and violated the prevailing social norms of the time. 
A white divorcee (played by Barbara Cullen) falls in love with and marries a Black man (Bernie Hamilton), despite the objection of his parents. When her ex-husband sues for custody of her children, because a racially mixed household is an improper place to raise the girl, the new husband contests his parental rights in court, fighting against a racist judge. This depiction of an inter-racial romance between two everyday people is more realistic and more poignant than "Guess Who's Coming to Dinner?" which came out three years later. 
Guess Who's Coming To Dinner? 
Year of manufacture: 1967 
Film studio: Columbia Pictures 
Directed by: Stanley Kramer 
Actors: Spencer Tracy, Sidney Poitier, Katharine Hepburn, Katharine Houghton 
Guess Who's Coming to Dinner is a 1967 American romantic comedy-drama film produced and directed by Stanley Kramer and written by William Rose. It stars Spencer Tracy (in his final role), Sidney Poitier, and Katharine Hepburn, and features Hepburn's niece Katharine Houghton. 
Tepid by today's standards, the film's all-star cast (Spencer Tracy, Sidney Poitier, and Katharine Hepburn) depicts the anxieties of a liberal white middle-class couple when their daughter introduces them to her African American fiancé. The film was one of the few films of the time to depict interracial marriage in a positive light, as interracial marriage historically had been illegal in many states of the United States. 
In The Heat Of The Night 
Year of manufacture: 1967 
Film studio: United Artists 
Directed by: Norman Jewison 
Actors: Sidney Poitier, Rod Steiger, Warren Oates, Lee Grant 
In the Heat of the Night is a 1967 American mystery drama film directed by Norman Jewison. It is based on John Ball's 1965 novel of the same name. It stars Sidney Poitier and Rod Steiger and was produced by Walter Mirisch. The screenplay was written by Stirling Silliphant  
An African American police detective from Philadelphia, PA (played by Sidney Poitier) is asked to investigate a murder in a racially hostile Mississippi town under the guidance of a skeptical white sheriff (played by Rod Steiger). 
At the 40th Academy Awards, the film was nominated for seven Oscars, winning five including Best Picture and Best Actor for Steiger. The quote "They call me Mister Tibbs!" was listed as number 16 on the American Film Institute's 100 Years...100 Movie Quotes, a list of top film quotes. The film also appears on AFI's 100 Years...100 Movies, a list of the 100 greatest movies in American cinema. In 2002, the film was selected for preservation in the United States National Film Registry by the Library of Congress as being "culturally, historically, or aesthetically significant". 
The Long Walk Home 
Year of manufacture: 1990 
Film studio: Richard Pearce 
Directed by: Miramax Films 
Actors: Sissy Space, Whoopi Goldberg, Dwight Schultz, Ving Rhames, Dylan Baker 
The Long Walk Home is a 1990 American historical drama film starring Sissy Spacek and Whoopi Goldberg and directed by Richard Pearce. Set in Alabama, it is based on a screenplay about the Montgomery bus boycott (1955–1956) by John Cork and a short film by the same name, produced by students at the University of Southern California in 1988. 
The feature film is based on a short screenplay and film of the same name, written by John Cork, then a graduate student in directing at USC. He had submitted his script to the Cinema Department for consideration, hoping also to direct it. While USC selected Cork's script for production, the department assigned Beverlyn E. Fray, another student, to direct it. The scenario on which the film is based actually happened to Cork and his maid, Elizabeth Gregory Taylor, in his hometown of Montgomery, Alabama. The short film won several awards, including first place at the Black American Cinema Society. Cork, however, was unhappy with the finished project and unsuccessfully tried to block screenings of the short film. 
Get On The Bus 
Year of manufacture: 1996  
Film studio: Sony Pictures Releasing 
Directed by: Spike Lee 
Actors: Richard Belzer, De'aundre Bonds, Andre Braugher, Thomas Jefferson Byrd, Gabriel Casseus, Albert Hall, Hill Harper, Harry Lennix, Bernie Mac, Wendell Pierce, Roger Guenveur Smith, Isaiah Washington, Steve White, Ossie Davis, Charles S. Dutton 
Fifteen disparate Black men from Los Angeles take a cross-country bus trip to participate in the Million Man March in Washington, D.C. The film, directed by Spike Lee, portrays the different ways that each of them has dealt with racism in their lives, revealing their different views about politics, race, religion, and gender.  
The remarkable cast includes Charles Dutton, Andre Braugher, Roger Guenveur Smith, Bernie Mac, Albert Hall, etc but the film's highlight is Ossie Davis as an 80-year-old recovering alcoholic who lost his job and family but found new meaning in life by embracing his African heritage. His stories about the African and African American experiences help to ease tensions among the men on the bus. 
Ghosts Of Mississippi 
Year of manufacture: 1996 
Film studio: Sony Pictures Releasing 
Directed by: Rob Reiner 
Actors: Alec Baldwin, Whoopi Goldberg, James Woods, Craig T. Nelson 
Ghosts of Mississippi is a 1996 American biographical courtroom drama film directed by Rob Reiner and starring Alec Baldwin, Whoopi Goldberg, and James Woods. The plot is based on the true story of the 1994 trial of Byron De La Beckwith, the white supremacist accused of the 1963 assassination of civil rights activist Medgar Evers. 
Ghosts of Mississippi depicts the real-life efforts of a Mississippi district attorney (played by Alec Baldwin) and the widow (Whoopi Goldberg) of Medgar Evers to finally bring a white racist to justice for the 1963 murder of the civil rights leader. 
Freedom Song 
Year of manufacture: 2000 
Film studio: Turner Network Television 
Directed by: Phil Alden Robinson 
Actors: Danny Glover, Vicellous Reon Shannon, Vondie Curtis-Hall, Loretta Devine, Glynn Turman 
Freedom Song is a 2000 biographical drama is a made-for-television film based on true stories of the Civil Rights Movement in Mississippi in the 1960s. The film describes the efforts of the young activists in the Student Non-Violent Coordinating Committee (SNCC) to register voters and change minds in a small town in Mississippi (based on the actual town of McComb) in 1961, starring Danny Glover. 
Amid the Freedom Summer, a group of high school students in the small town is eager to make grassroots changes in their own community. The young activists meet resistance not only from white southerners but from their parents, who have experienced firsthand the violence that can result from speaking out. As high school students band together with the support of the Student Nonviolent Coordinating Committee, they make strides in registering African American voters and gaining awareness for their cause. 
10,000 Black Men Named George  
Year of manufacture: 2002  
Film studio: Paramount Television 
Directed by: Robert Townsend 
Actors: Andre Braugher, Charles S. Dutton, Mario Van Peebles 
10,000 Black Men Named George is a 2002 Showtime TV movie about A. Philip Randolph and his coworkers Milton Webster and Ashley Totten. The title refers to the custom of the time when Pullman porters, all of whom were black, were addressed as "George". 
10,000 Black Men Named George depicts union activist A. Philip Randolph's efforts to organize the Black porters of the Pullman Rail Company into a labor union in the 1920s. 
The film was nominated for multiple awards, including the NAACP Image Award for Outstanding Television Movie, Mini-Series, or Dramatic Special. Charles S. Dutton won the NAACP Image Award for Outstanding Actor in a Television Movie, Mini-Series or Dramatic Special. Andre Braugher was also nominated in the same category. 
The Visitor 
Year of manufacture: 2007  
Film studio: Overture Films 
Directed by: Tom McCarthy 
Actors: Richard Jenkins, Hiam Abbass, Haaz Sleiman, Danai Gurira 
The Visitor is a 2007 American drama film written and directed by Tom McCarthy and produced by Michael London and Mary Jane Skalski. Executive producers were Jeff Skoll and Omar Amanat. The screenplay focuses on a lonely man in late middle age whose life changes when a chance encounter with an immigrant couple forces him to face issues relating to identity, immigration, and cross-cultural communication in post-9/11 New York City. 
The Visitor is the tale of an unlikely friendship between Walter Vale, a listless college professor who travels to New York City for a lecture, and the immigrant couple that he finds to be occupying his apartment — a Syrian musician named Tarek and his Senegalese girlfriend Zainab. It turns out the foreign pair were swindled, and Vale begrudgingly demonstrates empathy by allowing them to stay. To show his appreciation, Tarek offers to teach the elderly professor how to play the African drum.  
What follows is Vale's rediscovered passion for life and Tarek's possible deportation. The film is not only a powerful reminder of the forces that can bind us and also tear us apart but also a portrait of the challenges faced by immigrants in a country changed by the tragic events of 9/11. 
The Help 
Year of manufacture: 2011 
Film studio: Walt Disney Studios Motion Pictures 
Directed by: Tate Taylor 
Actors: Jessica Chastain, Viola Davis, Bryce Dallas Howard, Allison Janney, Octavia Spencer, Emma Stone 
The Help is a 2011 period comedy-drama film written and directed by Tate Taylor and based on Kathryn Stockett's 2009 novel of the same name. The story focuses on her relationship with two black maids, Aibileen Clark and Minny Jackson, during the Civil Rights Movement in 1963 in Jackson, Mississippi. To become a legitimate journalist and writer, Skeeter decides to write a book from the point of view of the maids, exposing the racism they face as they work for white families. Black domestic workers in 1960s America were referred to as "the help", hence the title of the journalistic exposé, the novel, and the film. 
Looks at life in the 1960s South from the perspective of African American maids, the daily hardships they endure, and their participation in the civil rights movement despite retaliation from their white employers, starring Viola Davis, Octavia Spencer, and Emma Stone. 
Fences 
Year of manufacture: 2016  
Film studio: Paramount Pictures 
Directed by: Denzel Washington 
Actors: Denzel Washington, Viola Davis, Stephen McKinley Henderson, Jovan Adepo, Russell Hornsby, Mykelti Williamson, Saniyya Sidney 
Fences is a 2016 American period drama film starring, produced, and directed by Denzel Washington and written by August Wilson, based on his Pulitzer Prize-winning 1985 play of the same name. In this film version of August Wilson's play, a working-class African American father (played by Denzel Washington) tries to raise his family in the Pittsburgh in the 1950s, while coming to terms with his troubled past, the racism he confronts every day, and his son's hopes that the world is changing for the better. 
Fences received positive reviews from critics, with praise directed at Washington's performance and direction, Davis's performance, the screenplay, pacing, cinematography, and emotional tone, though some criticized the transfer from stage to screen for its lack of a cinematic feel. It was also a commercial success, grossing $64 million against a $24 million production budget. 
Mudbound 
Year of manufacture: 2017 
Film studio: Netflix  
Directed by: Dee Rees 
Actors: Carey Mulligan, Garrett Hedlund, Jason Clarke, Jason Mitchell, Mary J. Blige, Rob Morgan, Jonathan Banks 
Set in the rural American South during World War 2, the film tells the story of two families pitted against one another by Jim Crow segregation and culture, but still bound together by the shared farmland of the Mississippi Delta. The movie follows the white McAllan family, newly transplanted from the quiet civility of Memphis and unprepared for the harsh demands of farming.  
Despite the grandiose dreams of Henry Jackson, his wife Laura struggles to keep her faith in her husband's losing venture. Meanwhile, Hap and Florence Jackson – Black sharecroppers who have worked the land for generations — struggle bravely to build a small dream of their own despite the rigidly enforced social barriers they face. The war upends both families' plans as their returning loved ones, Jamie McAllan and Ronsel Jackson, develop an uneasy friendship that challenges the Jim Crow rules while also being trapped by the rigid mores. 
Green Book 
Year of manufacture: 2018 
Film studio: Universal Pictures 
Directed by: Peter Farrelly 
Actors: Viggo Mortensen, Mahershala Ali, Linda Cardellini 
Set in 1962, the film is inspired by the true story of a tour of the Deep South by Don Shirley (Mahershala Ali), a Black classical and jazz pianist, who hires an Italian American nightclub bouncer, Frank "Tony Lip" Vallelonga (Viggo Mortensen), as his driver and bodyguard. The film is named for The Negro Motorist Green Book, a mid-20th century guidebook for Black tourists to help them identify restaurants and hotels in the Jim Crow South.  
Some critics objected to the portrayal of Shirley as a politically and socially naïve snob alienated from mainstream Black culture, but others found the evolution of the two characters' relationship a realistic depiction of two men learning from each other. The film's representation of the harsh realities of Jim Crow segregation is one of its strongest features. 
Judas And The Black Messiah 
Year of manufacture: 2021 
Film studio: Warner Bros Pictures 
Directed by: Shaka King 
Actors: Daniel Kaluuya, Lakeith Stanfield, Jesse Plemons, Dominique Fishback, Ashton Sanders, Darrell Britt-Gibson, Lil Rel Howery, Algee Smith, Dominique Thorne, Martin Sheen 
Depicts the betrayal of Fred Hampton (Daniel Kaluuya), leader of the Illinois chapter of the Black Panthers in the late 1960s, by William O'Neal (Lakeith Stanfield), an FBI informant. The film reveals the Black Panthers' appeal to Black Americans as well as the group's internal tensions and efforts by law enforcement agencies to infiltrate and disrupt its efforts to organize the movement. 
------------  
Although in 1865, after the tireless efforts of President Abraham Lincoln, Congress passed the abolition of slavery, until this day, racial discrimination is still a pain in America. 
Set in the context of a world where authoritarian power dominates in many places, the vivid history of the civil rights of black Americans half a century ago can be a lesson in human rights movements for the rest of the world.