Melaninful Blog
Stunning African Tattoo Ideas and Their Meanings
Dec 30, 2021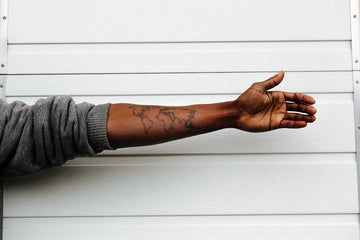 The African continent is widely recognized as the "cradle of humanity," but a little-known fact is that it is also the origin of tattooing!  
In today's world, everyone would like to get an art piece on our body to stand out and fascinate others. There are certain special tattoo designs, but African tattoo ideas seem to be the idea that tempts and attracts men and women of all ages.
If you're finding a brand-new tattoo idea, our list may definitely help! 
African Tattoo's Origin
The earliest evidence of tattooing was found on two Egyptian mummy bodies, which are considered to be over 5,000 years old. Thousands of years later, Africans started to ink their bodies with spiritual symbols in order to protect them from disease, show tribe loyalty, and denote social class.  
Tattoos were also used by ancient people to illustrate personality characteristics, which are likely to resemble the present culture.
The map of the African land, often with a heart or significant symbol imprinted within, and also images of Africa's famous habitat, including zebras, lions, elephants, and giraffes, are the most popular designs. Some other choice is to have the beautiful savanna background, accentuated by the setting sun, inked across your back or forearm. Some may want to integrate a portrait of a loved one or a favorite actor into their tattoo scenery. 
1. Adinkra Tattoo 
Adinkra tattoos are believed to have started with Gyaaman tribes who came from West Africa. These tattoo symbols were only used by important spiritual leaders, as well as people in royalty. Among 122 known Adinkra symbol tattoos, these are the most common. 
Adinkrahene
The symbol stands out as the most important of the Adinkra symbols, representing charisma, leadership, and greatness. According to legend, it laid the groundwork for the development of other Adinkra symbols. So that this symbol represents the respectable qualities of a great leader. 
Dwennimmen Adinkra
The Dwennimmen symbol describes two rams butting heads, with the rams' horns representing power and humility. This reminds us of how many Africans were taken from their homelands, enslaved, and still fought for freedom.
Sankofa Adinkra
Like Griffin and Unicorn, the Sankofa is a mythical creature. This symbol has deep spiritual significance in the African-American community and is derived from the Akan people of West Africa, specifically Ghana. It is popular among clothing and jewelry designers, as well as tattoo enthusiasts looking for something out of the ordinary. 
Duafe Andikra 
Duafe is a "wooden comb" that is used to preserve women's hair as a symbol of beauty and cleanliness. This symbol represents desirable feminine qualities. 
2. African Tribal Tattoos
Tribal-style tattoos were traditionally worn in Africa to share stories of suffering as well as triumphs. The African style of tribal tattooing is more focused on shading than other types of tribal work, leading to increased designs that are rich in meaning and depth. 
Ankh Cross
Ankh tattoo symbols seem so to be quite distinctive, mystical, and also have a vintage feel to them! The ankh was a symbol in Egyptian Civilization that represented life.
Funtunfunefu (Siamese Crocodiles)
This symbol illustrates two Siamese crocodiles share only one stomach; they fight together for nutrition. This highlights the fact that internal fighting and tribalism are detrimental to all participants. Funtunfunefu is the symbol of democracy and unity. 
Aya (Fern) 
This is a symbol of tenacity and ingenuity. The fern is a special plant that develop in extreme conditions. An individual who wears this symbol suggests that he has endured many adversities and outlasted much difficulty. 
Nyame Nti (by God's grace)
In many cultures, this stalk is regarded as the staff of life. It expresses the Akan's thought that food is the source of life and that people would disappear if it were not for the food that God has created on Earth for their nourishment.
Ananse ntontan (Spider's web)
The spider, Ananse, is a well-known character in African folklore. This is also a symbol of intelligence, creativity, and life's complexities.
Source: 
trustmeimpremed
3. African Warrior Tattoos
African warrior tattoos are typically used by various tribes and people from all around the world to show love and respect for the tribe.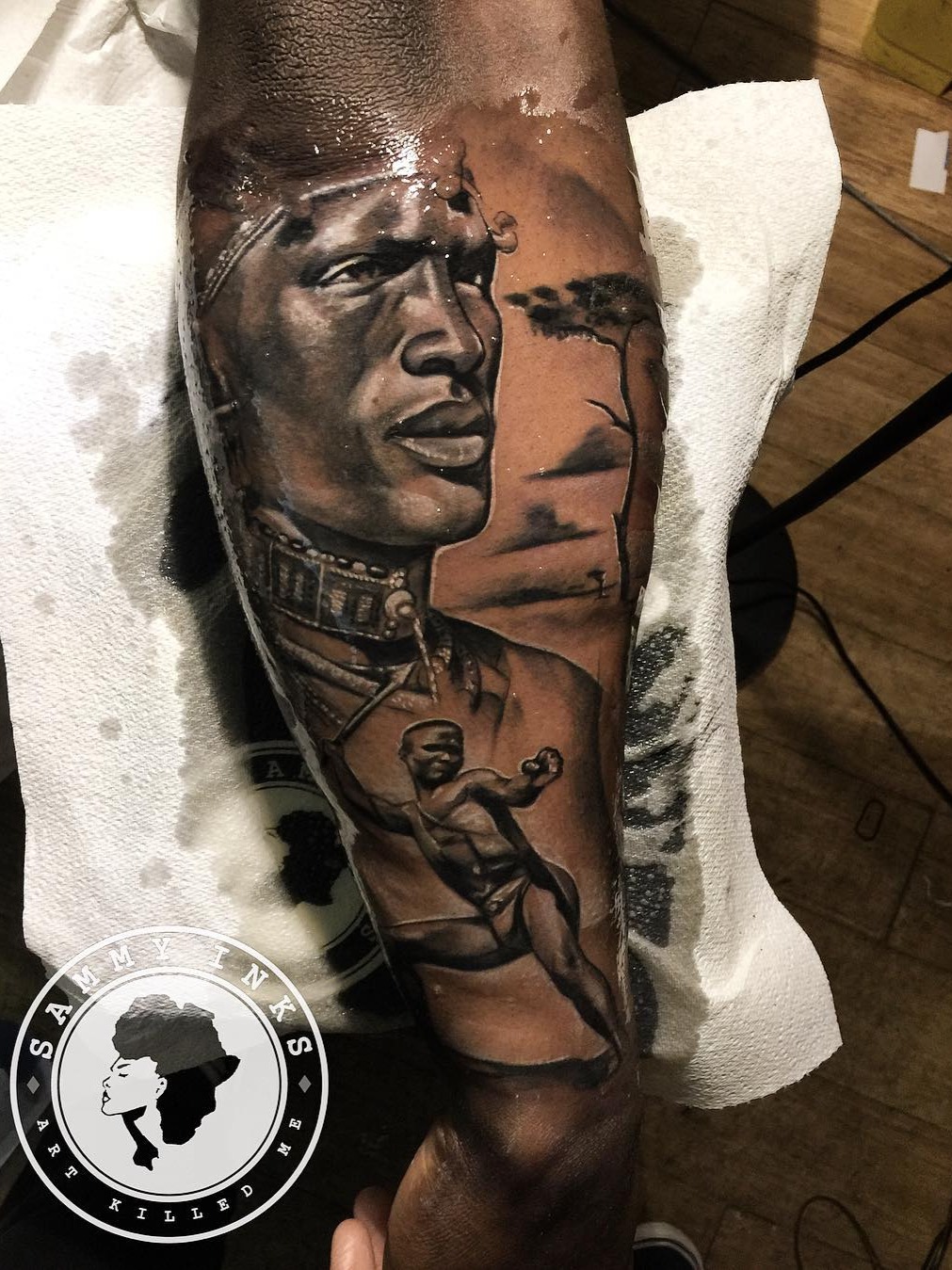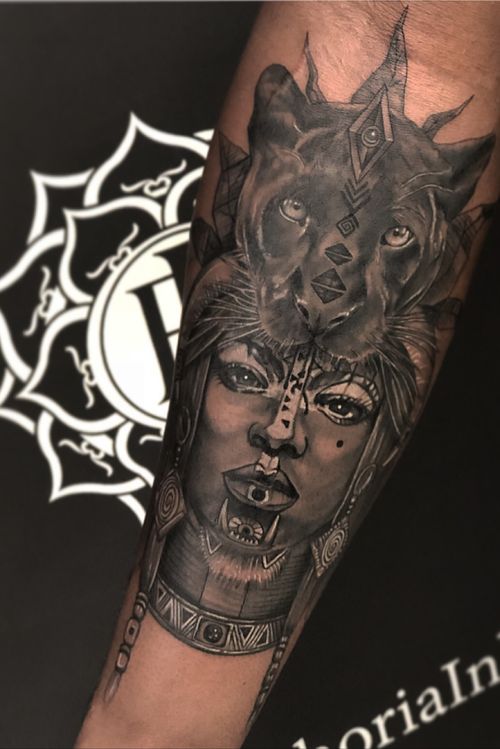 4. African Mask Tattoo
African masks have a hidden meaning and represent a form of transition or the acquirement of a new entity. African people believed that by wearing masks, they could influence or appeal to spirits.
Source: goluputtar
5. African Flag and Map Tattoo
Many people have chosen to ink their regional symbols to express their pride and connect with their ancestors or origins.
----------------------------------- 
African tattoo ideas, like other types of tattoos, have varying symbolic meanings depending on the designs and symbols. We hope that this blog about African tattoo ideas would inspire you to pick the one that suits your needs and style.