Melaninful Blog
The Best 10 TED Talks For Black People That May Change Your Life Forever
Oct 14, 2021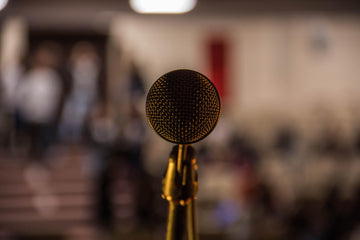 No one finishes a TED Talk without having been influenced in some manner. And one by a black person unquestionably amplified the impact. If you're seeking for something to get you empowered, inspired, or just grateful for your melanin, the 10 TED talks videos we've picked below never let you down.
1. The Great Migration and the power of a single decision | Isabel Wilkerson
Isabel Wilkerson, a journalist and author, speaks about the Great Migration, the narrative of 6 million Black People who migrated from Jim Grow South to cities in the North and West between World War I and the 1970s.
2. The danger of a single story | Chimamanda Ngozi Adichie
Having faced a critical misunderstanding, novelist Chimamanda Adichie shares the narrative of how she discovered her own cultural voice. 
3. We need to talk about an injustice | Bryan Stevenson
With this degree of candor, knowledge, and persuasion, Bryan Stevenson presents some painful truths about America's judicial system, beginning with a major racial imbalance. 
4. The racial politics of time | Brittney Cooper
Past, present, and future, cultural theorist Brittney Cooper will demonstrate how history was stolen by people of color, allowing you to explore and get a fresh view on historical past and race. 
5. Color blind or color brave? | Mellody Hobson
Mellody Hobson, a financial executive, has bravely expressed her emotions on the issue of racism, which is a touchy subject. This wonderful discussion has made it easier to discuss race more freely in the recruiting process. 
6. A musical that examines black identity in the 1901 World's Fair | Amma Y. Ghartey-Tagoe Kootin
To experience and learn from those who lived in a bygone era buried deep within the past's secrets, Amma Y. Ghartey-Tagoe Kootin, an artist and TED Fellow, will revive historical and emphasize connections between American culture at the beginning of the century and nowadays in the discussion.   
7. How art gives shape to cultural change | Thelma Golden 
Thelma Golden is a curator at the Studio Museum in Harlem, where she works with "post-black" artists who utilize their work to spark a fresh conversation about race, society, and the meaning of art. 
8. The symbols of systemic racism — and how to take away their power | Paul Rucker 
Paul Rucker, a collector of objects related to slavery's history, talks about how he made his own Ku Klux Klan robe for his collection. "If we as a people look at these items collectively and recognize that they are part of our past, we can find a method to eliminate their influence over us," Rucker believes. 
9. The most powerful woman you've never heard of | T. Morgan Dixon and Vanessa Garrison
Morgan Dixon and Vanessa Garrison, co-founders of GirlTrek, are using a page from Septima Clark's playbook to begin a health revolution in the United States. Septima Clark was labeled "the architect of the civil rights movement" by Martin Luther King Jr. The Audacious Project, TED's campaign to inspire and fund global change. 
10. The urgency of intersectionality | Kimberlé Crenshaw
It is true that the public's impression of the extent of police violence faced by women of color is exceedingly low. As a result, Kimberlé Crenshaw would  like to speak up on behalf of others who have been victimized by prejudice and gender bias.
---
Through engaging and inspiring talks, you might understand more about Black Culture & History. Not only that, you can have come to know many talented, powerful people who are shown through their every word.
So what were some of your favorite videos? Share with us! ✊🏾✊🏾.