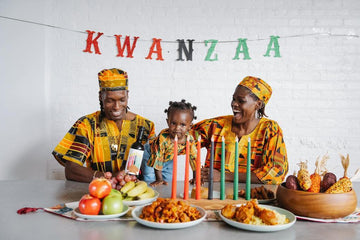 Kwanzaa is a Swahili word that means "first" and refers to the harvest's first fruits. Many people of African heritage in America celebrate Kwanzaa from December 26 to January 1. During the holiday, African-Americans spend time with their families and exchange Kwanzaa Gifts.
Here we have collected some awesome gifts that you may want to send to your loved one.
Happy shopping! 🛒
The nightly lighting of the Kinara is a major feature of the festival. Burn these dripless red, black, and green Kwanzaa candles with your family to commemorate the 7 days of Kwanzaa (Nguzo Saba). In addition to incense, crystals, and aura mists, Heritage Apothecary carries all you need for spiritual well-being.
Buy now

Our Kwanzaa tapestry can help you create a festive environment in your home. Grab one and brighten up your home this holiday season! This super affordable and creative gift will be perfect for you to give to everyone. Shop now on MELANINFUL.
Buy now

Kwanzaa's Seven Principles poster is printed on high-quality resin-coated photo paper with vibrant colors, and we think it will look fantastic in your home. This would be the perfect gift to give your friend as a hostess gift. Check out our store.

There's nothing better than having a gorgeous rug as soon as you step into the room with super soft material that feels soft, resilient and comfortable. ​​The best Kwanzaa gifts are now on MELANINFUL to help you enjoy the season in style and this Kwanzaa decorative mat is a suitable choice.

Wooden cups can also be a terrific gift for anniversaries, holidays, and showing family and community unity, such as the natural and eco-friendly Kikomba Cha Umoja Cup for Kwanzaa Celebrations.

Feeling annoyed by spilling water from your coffee on the table? You might need a RBG Africa Coasters on MERCIA MOORE with 3 colors: black, red, green and gold trim.

Let the book 150 Kwanzaa Recipes inspire you to prepare excellent holiday meals with your family.

These Kwanzaa silver striking earrings for ladies come packaged in a gift-ready black fabric pouch and make a wonderful present for yourself or someone special. Let's give it to great friends to have a memorable holiday.

Scarves are inexpensive, making for a sassy yet classy accessory that any woman can wear, and come in a variety of colors and styles so you'll never be bored with the same one. African Kente Scarf- the month's best-selling item, can let you switch up your look on a daily basis.

Give your child a meaningful gift to stay gorgeous on Kwanzaa with 4-color Kwanzaa outfit.
This shirt was made Gildan Soft-Style 100% Cotton. It will provide you a sense of relaxation and comfort in your daily activities.

Who doesn't love this pretty mug, Kwanzaa mug was made from high-quality white ceramic with the print will never fade no matter how many times it is washed so you don't have to worry about it.
This will be a good gift for children because the illustrated picture book makes it easy for children to understand when reading Kwanzaa stories.

Karen Katz's great collection of picture books for children offers an easy and enjoyable way to learn about Kwanzaa.
Each Lantern can be customized to include your own text or a special photo so you can unleash your creativity. You can buy and see more details on ETSY.
It will be a great gift for the lover of African fabric art. Celebrate Kwanzaa with this beautiful thing.
This is a hand painted stone. It's a one-of-a-kind piece of art, perfect for your home, office or as a gift. Your beloved friends will love it if they are received.

They'd make a wonderful present for the jewelry lover in your life!

Show your pride and support for the movement to make Kwanzaa a public holiday.
Kwanzaa Bingo Cards and Markers
This is the traditional party game, but made for Kwanzaa. Everyone in your family will have a great time playing this.
-----
We hope you enjoy the product recommendations we've made, and that you have a wonderful Kwanzaa holiday with meaningful gifts for family and friends.