Melaninful Blog
20 Kwanzaa Decorations To Style Up Your House This Holiday
Nov 04, 2021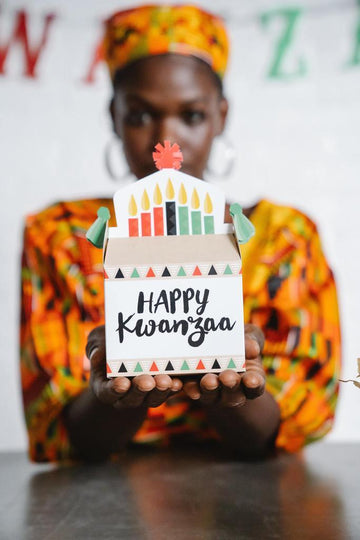 Kwanzaa is a celebration that begins the day after Christmas and lasts until January 1st, embracing African history and the 7 principles. During the holiday, Kwanzaa decoration products are must-have.
Check out the following Kwanzaa decoration ideas and fill your home with festive Pan-African vibe.

This tapestry can help you create a festive environment in your home. Grab one and brighten up your home this holiday season!
Buy now
Kwanzaa's Seven Principles poster is printed on high-quality resin-coated photo paper with vibrant colors, and we think it will look fantastic in your home.
Buy now

Personalized Happy Kwanzaa Decorative Mat
There's nothing better than having a gorgeous rug as soon as you step into the room with super soft material that feels soft, resilient and comfortable.
A perfect flag for indoor and outdoor use, you can customize your family's name on it and don't worry as they are made from fade resistant fabric so there will be no discoloration due to UV rays.
Buy now
This Kwanzaa holiday, add to your holiday home decor collection with this happy Kwanzaa set of 8 wood ornaments.
Buy now

Decorate your door with a personalized Happy Kwanzaa Wood Sign, which is exceptionally eco-friendly because every piece of wood is sourced from the farm's timber stock.
Buy now
Another option for home decor is to replace each day's poster with a different sort of poster to keep your space from becoming monotonous.
Buy now

This blanket is unique in that it is really soft and sumptuous, and has a large 50x60 inch area. Ideal for usage at home or for taking with you wherever you go.
Buy now
As a fruit bowl, as a globally inspired storage container, or as a stunning table centerpiece, it is safe to use with food with a permanent loop connected to the back, this eye-catching hanging woven basket for wall decor is simple to hang.
Buy now

This beautiful, colorful wreath, constructed of 2 yards each of red, black, and green cotton fabric, is a great way to show off your ethnic pride.
Buy now
Your living area will stand out with a few green throw pillows on each sofa.
Buy now
The Kwanzaa bucket is rather deep, it's ideal for storing gifts or family mementos.
Buy now
You can use the Pine Cone Cultural Pride Door if you don't want to hang anything too large or visible on your door. A decorative piece that is both small and lovely.
Buy now

The colors of the product are mainly red, orange and yellow tones, evoking the splendor of the sunset on the African savanna. Here are the dramatic colors that we think will look good on your table.
Buy now

Feel free to decorate the African Baobab tree with colorful accessories that make the perfect centerpiece or entryway decoration.
Buy now

This Kwanzaa holiday party would not be complete without it. You can find more information on AMAZON.
Buy now
The Happy Kwanzaa Paper String Decoration Set will be flat and easy enough for the whole family to assemble and is suitable for decorating in the living room or parties. Let the Kwanzaa holiday be filled with vibrant colors.
Buy now
If your dining table is too plain, try an African American family tablecloth; we believe you will be pleased.
Buy now
Jiudungs 40'' Kwanzaa Flag Decorative Wind Sock is made of waterproof without fading, reusable, you don't have to worry about hanging it outdoors. This Hanging Windsock Kwanzaa Flag makes a great Kwanzaa decoration for anyone looking for festive accent decor.
Buy now
These ornaments have a variety of meanings  on the occasions; they can be used to embellish your tree for the holidays or to bring some African print to your automobile, or living/work place all yea.
Buy now