Melaninful Blog
Top 30 Huey P Newton Quotes That Fully Demonstrated His Ideology
Apr 05, 2022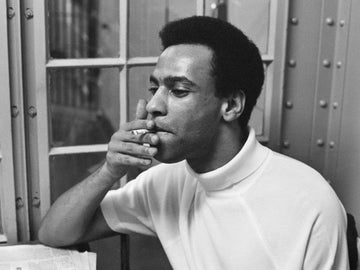 The Black Panther Party was co-founded by Dr. Huey P. Newton in 1966. Newton rose to become the Party's major leader and Minister of Defense. The party's Ten-Point Program, written by Newton and Bobby Seale, advocated that Black people have the "authority to choose the fate of our Black community." Blacks would be able to get "land, bread, shelter, education, clothes, justice, and peace" with this authority.  
Despite the fact that Newton was assassinated more than 30 years ago, his legacy continues on. We have compiled a collection of Huey P Newton Quotes that are most notable for your enjoyment. 
Biography of Huey P Newton 
Huey Percy Newton was born in Monroe, Louisiana on February 17, 1942 and died on August 22, 1989. During his education he became aware of his illness. of his colleagues, interested in the civil rights movements, from which he made his hopes come true. Huey Percy Newton is an African-American political activist and revolutionary who founded the "Black Panther Party" with Bobby Seale in 1966. 
He is also an inspiration, a writer and an orator who has left words and thoughts etched in the hearts of listeners and readers on issues related to racism, politics, equality. society and was even printed on his shirt because his words and thoughts changed many aspects of the world. 
30 Beautiful Huey P Newton Quotes 
"My fear was not of death itself, but a death without meaning." 
"You can only die once, so do not die a thousand times worrying about it." 
"Power is the ability to define phenomena, and make it act in a desired manner." 
"During those long years in Oakland public schools, I did not have one teacher who taught me anything relevant to my own life or experience. Not one instructor ever awoke in me a desire to learn more or to question or to explore the worlds of literature, science, and history. All they did was try to rob me of the sense of my own uniqueness and worth, and in the process nearly killed my urge to inquire." 
"I do not expect the white media to create positive black male images." 
"Sometimes if you want to get rid of the gun, you have to pick the gun up." 
"I have the people behind me and the people are my strength." 
"We have two evils to fight, capitalism and racism. We must destroy both racism and capitalism." 
The opening page of The Black Panther Party: A Graphic Novel History depicts party leaders Huey P. Newton, Bobby Seale and Kathleen Cleaver. 
"Revolutionary suicide does not mean that i and my comrades have a death wish; it means just the opposite. We have such a strong desire to live with hope and human dignity that existence without them is impossible. when reactionary forces crush us, we must move against these forces, even at the risk of death." 
"As we all know, sometimes our first instinct is to want to hit a homosexual in the mouth and want a woman to be quiet. We want to hit a homosexual in the mouth because we're afraid we might be homosexual; and we want to hit the woman or shut her up because we're afraid that she might castrate us. The remedy is to gain security in ourselves and therefore have respect and feelings for all oppressed people." 
"While life will always be filled with sound and fury, it can be more than a tale signifying nothing." 
"I began to read. What I discovered in books led me to think, to question, to explore, and finally redirect my life." 
"...After the Black Panther Party was formed, I nearly fell into this error, I could not understand why people were blind to what they saw so clearly. Then I realized that their understanding had to be developed." 
"The first lesson a revolutionary must learn is that he is a doomed man." 
"You can kill my body and you can take my life but you can never kill my soul. My soul will live forever." 
"It's better to oppose the forces that would drive me to self-murder than to endure them." 
"The nature of a panther is that he never attacks. But if anyone attacks or backs into a corner, the panther comes up to wipe that aggressor or that attacker out." 
"The racist policemen must withdraw immediately from our communities cease their wanton murder and brutality and torture of black people, or face the wrath of the armed people." 
"Black power is giving power to people who have not had power to determine their destiny." 
"Youths are passed through schools that don't teach. Then forced to search for jobs that don't exist and finally left stranded to stare at the glamorous lives advertised around them." 
"To die for the racists is lighter than a feather, but to die for the people is heavier than any mountain and deeper than any sea." 
"My opinion is that the term "God" belongs to the realm of concepts, that it is dependent upon man for its existence. If God does not exist unless man exists, then man must be here to produce God. It" 
"No longer dependant on the things of the world, I felt really free for the first time in my life. In the past, I had been like my jailers. I had pursued the goals of capitalist America. Now I had a higher freedom."
"You can tell the tree by the fruit it bears. You see it what the organization is delivering as far as a concrete program. If the tree's fruit sours or grows brackish....-bury it and walk over it and plant new seeds." 
"We've never advocated violence; violence is inflicted upon us. But we do believe in self-defense for ourselves and for black people." 

"Laws should be made to serve the people. People should not be made to serve the laws." 
"There's no reason for the establishment to fear me. But it has every right to fear the people collectively - I am one with the people." 
"By surrendering my life to revolution, I found eternal life." 
"We have to realize our black heritage in order to give us strength to move on and progress." 
"You can run a freedom fighter around the country, but you can't run freedom fighting around the country." 
"...It's hard to get the masses of people to believe or accept that a socialist government will relieve them of most of the problems." 
---------------- 
Through the quotes of Huey P. Newton, he showed us his sincerity, love for his fellow human beings, and determination for justice and freedom for black people. We've carefully crafted a variety of great family-friendly quotations for everyone to appreciate here at the MELANINFUL Blog! If you liked our Huey P. Newton Quotes, you might be interested in our Fight Back T-Shirt.