Melaninful Blog
How Did the Views of Marcus Garvey Differ from Those of Booker T. Washington and W.E.B Dubois?
Feb 13, 2022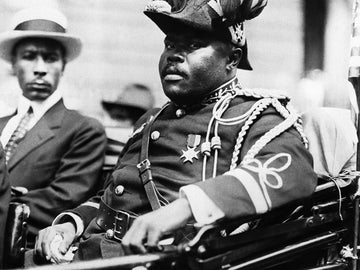 It is unclear at first what made the views of Marcus Garvey differ from those of Booker T. Washington and W.E.B Dubois to choose Negroes in the United States in his first earnest fight for black liberation and separation of black history. 
 As he was not the offspring of American Slavery, he did not appear to have been a direct victim of it. Instead, he was born in Jamaica twenty-two years after black slavery in America ended, and ten years after Reconstruction in America failed. So, how did the views of Marcus Garvey differ from those of Booker T. Washington and W.E.B Dubois? Let's find out! 
Marcus Garvey Timeline 
Marcus Garvey, full name Marcus Moziah Garvey, (born August 17, 1887, St. Ann's Bay, Jamaica — died June 10, 1940, London, England) was a charismatic Black Leader, who organized the first significant black American nationalist movement (1919–1926), based in New York City's Harlem. 
Marcus Moziah Garvey was born on August 17, 1887, in the Gulf of St. Ann, Jamaica with Marcus Garvey Sr. and Sarah Jane Richards. His father was a stonemason and his mother was a maid. Although the couple had 11 children, only Marcus and one other sibling survived into adulthood. 
Garvey attended school in Jamaica until the age of 14 when he left the Gulf of St. Ann went to Kingston, the island's capital, where he worked as an apprentice in a print shop. He later said he first experienced racism in high school in Jamaica, mainly from white teachers. While working in the printing press, Garvey joined a labor union for the printer in Kingston. This work would set the stage for his active work later in life. 
Garvey then spent time in Central America, where he had relatives, before moving to London in 1912. While in England he attended University College London's Birkbeck College, where he studied law and philosophy. He also worked for a Pan-Africanism newspaper and led debates at Speakers' Corner in Hyde Park, London, a popular spot in the city for public speaking, even today. 
Universal Negro Improvement Association 
After two years in London - where he received an education unavailable in the Americas because of the color of his skin - Garvey returned to Jamaica. It was during this time that he started the Universal Negro Improvement Association. In 1916, speaker Garvey boarded a ship bound for the United States to attend an overseas lecture tour. 
At the age of 29 in 1916, he first set foot on the shores of the United States, after dating for a time with Booker T. Washington, who is considered one of the chief Black leaders and spokespeople from 1895 until he died in 1915. By the time he arrived, however, Washington had been dead for about a year. It is believed that the writings of Booker T. Washington had a powerful impact on Marcus Garvey and may have been the catalyst, transforming him into the African nationalist. 
He eventually settled in New York City, where he first spoke at St. Mark's fame before embarking on a tour of 38 cities. He also took a job at a print shop to make ends meet. While in New York, he authored the "Declaration of the Rights of the Negro Peoples of the World," which was ratified at the convention of the Universal Negro Improvement Association at Madison Square Garden in 1920. It was during this meeting that Garvey was also elected as the "Interim President" of Africa. 
Black Star Line 
Garvey founded the first American chapter of the Global Society for the Improvement of Blacks in 1917 in Harlem and began publishing Black World newspapers. Soon after, his speeches took on an angry tone, in which he questioned how the United States could call itself a democracy when people of color across the country were still marginalized. oppressive. 
In 1919, he and his associates founded the shipping company, Black Star Line, under the umbrella of the Universal Negro Improvement Association, which has since grown to more than four million mmbers. Not long after Black Star Line purchased its first ship, the S.S. Yarmouth, and renamed it, S.S. Frederick Douglass. The company that started the Liberia "Africa Redemption" program, with the idea of ​​​​founding a nation on the west coast of Africa for African Americans who were born into slavery or descendants of enslaved people.
During this time, Garvey has married twice: His first marriage to Amy Ashwood, an activist in the Universal Negro Improvement Association, ended in divorce in 1922. Later that year, Garvey is married to Amy Jacques, who is also active in social activities. The couple had two sons together, Marcus Mosiah Garvey III and Julius Winston Garvey. 
Marcus Garvey's death 
Although Marcus Garvey's views were powerful at the time, his influence eventually waned when he began to engage in questionable business dealings to fund his other businesses. He was indicted for mail fraud in 1922 and sentenced five-year in prison. He spent two years in prison; President Calvin Coolidge ended his sentence early, but Garvey was deported in 1927. He continued to work for United Nations causes after he went into exile from the United States, but he never can return. 
In 1935, Garvey returned to London, where he lived and worked until his death at the age of 52. Marcus Garvey died on 10 June 1940 from complications brought on by two strokes. Due to World War II travel restrictions, he was initially buried in the Roman Catholic cemetery of St. Mary & aposs at Kensal Green, London. But on November 13, 1964, his body was buried beneath the Marcus Garvey Memorial in National Heroes Park in Kingston, Jamaica. 
How Did the Views of Marcus Garvey Differ from Those of Booker T. Washington and W.E.B Dubois? 
The Philosophy and Opinions of Marcus Garvey 
In 1916, Garvey moved to Harlem, New York, and UNIA began to grow. With eloquent speeches, Garvey's voice spread throughout the United States. He urged African-Americans to be proud of their race and return to Africa - the land of their ancestors, and he also convinced thousands of supporters. Garvey believed that white society would never accept black Americans as equals. Therefore, he called for the separate self-development of African Americans within the United States.  
Garvey's goal was to create a separate economy and society run for and by African Americans. The UNIA set up many small black-owned businesses such as restaurants, groceries, a publishing house, and even a toy company that made black dolls. To facilitate their return to Africa, in 1919 Garvey founded the Black Star Line to provide transportation to Africa, and the Negro Factories Corporation to encourage them to become economically independent. Garvey also tried to convince the Liberian government in West Africa to give land so that blacks returning from America could settle down but failed. 
Ultimately, Garvey argued, all black people in the world should return to their homeland in Africa, which should be free of white colonial rule. Garvey had grand plans for settling black Americans in Liberia, the only country in Africa governed by Africans. But Garvey's UNIA lacked the necessary funds and few blacks in the United States indicated any interest in going "back to Africa." 
A poor economy and the near-bankruptcy of the Black Star Line caused Garvey to seek more dues-paying members for the UNIA. He launched a recruitment campaign in the South, which he had been ignored because of strong white resistance. 
In a bizarre twist, Garvey met with a leader of the Ku Klux Klan in Atlanta in 1922. Garvey declared that the goal of the UNIA and KKK was the same: completely separate black and white societies. Garvey even praised racial segregation laws, explaining that they were good for building black businesses. Little came of this recruitment effort. Criticism from his followers grew. 
How Did the Views of Marcus Garvey Differ from Those of Booker T. Washington and W.E.B Dubois? 
Marcus Garvey's style of Negro nationalism clashed with that of the Negro of the 1920s, especially with WEB Du Bois, head of the National Association for the Advancement of Colored Peoples of Color. Garvey is a Black separatist, while the establishment hopes for a self-sustaining Black ecosystem in a predominantly white America. 
It depends on which side of the liberal coin one decides on Marcus Garvey's impact on Black Americans and on racism in America. Of course, white supremacist racists like J. Edgar Hoover will put Garvey straight into rival as soon as he discovered Garvey seemed to have amassed a fortune large enough to found a shipping company and two million members of his organization. 
It can be said that Elijah Muhammed's movement has its roots in the nationalism of Marcus Garvey, and to a certain extent, the Black Panther Party. However, people like WEB Dubois, head of the NAACP at the time, once declared, "Marcus Garvey is the most dangerous enemy of the black race in America and in the world." 
When evaluating Dubois' claim about Marcus Garvey, many people may not realize the period in which Garvey and Dubois were operating in the era known as the Nadir of Race Relations in America. The term nadir literally means "lowest point". Thus, Garvey toured American cities with his eloquence and witnessed the Greenwood Massacre of Black Wall Street on May 31 and June 1, 1921, and The Rosewood Massacre in the first week of January 1923. 
The entire period from the end of Reconstruction in 1877 until the mid-20th century saw thousands of murders, and other state-recognized violent and deadly events occurring among American Africans. Is Marcus Garvey the mastermind? Is he considered an agitator? Is he somehow instrumental? 
Much of Garvey's ideology has been criticized for being similar to Washington's, whose rhetoric about accepting the segregation of whites while at the same time elevating themselves economically, thereby earning the respect of whites. However, DuBois, whose rhetoric of agitation and protest and fierce opposition to the philosophy and opinions of Marcus Garvey, showed more in common with Washington than Garvey did. 
--------------------------- 
The legacies from the philosophy and opinions of Marcus Garvey are still influential and pervasive in the African-American community. Garvey's main idea is all about the Pride of Africans, love yourself and your heritage no matter what.  
The philosophy and opinions of Marcus Garvey may be controversial, but his words will influence generations of activists and promote change globally. Black History Month 2022, let's fly the Liberation flag and fight for the philosophy and opinions of Marcus Garvey.