Melaninful Blog
All You Need to Know about Dashiki for Men In 2022
Jan 13, 2022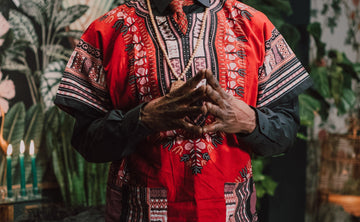 Men's fashion is often underestimated and seen as less diverse. But the truth is that men's fashion is also extremely diverse and interesting. 
Dashiki, a colorful African outfit that is by default an endless source of inspiration for Afro girls. How about Dashiki for men? There certainly have. Let's learn about this fashion style with Melaninful today and equip yourself with some one-of-a-kind Dashiki tips for your stunning outfits. 
Dashiki for men: From tradition to modernity 
Dashiki's Timeline 
Dashiki is a word that comes from the Yoruba language dàńṣíkí, a Hausa loanword meaning 'shirt' or 'inner clothing' (compared to outerwear, babban riga). This form of garment is the colorful traditional shirt of the people of West Africa. However, this garment is also found in other parts of Africa under various names. It is known as the Kitenge in East Africa and has become a dominant garment in Tanzania and later Kenya and Somalia. It is also known as Java by the indigenous Indonesians. It has been made popular worldwide by the widespread adoption of the African diaspora, especially African Americans. 
Traditionally, the shirt is associated with the Kufi, a rimless, circular shirt worn by men in North, East, West Africa, and some parts of South Asia. The official and unofficial versions of Dashiki range from simple ruffles to tailored suits. A popular form is a loose pullover, with ornate V-necks, tailored necklines and sleeves, and plain embroidered hems, necklines, or gauze prints stretching all over the shirt.
Emilio Labrador, CC BY 2.0, via Wikimedia Commons
The innovative Dashiki was born after textile designer Vlisco - Toon van de Manakker created Angelina print in 1962, a design heavily influenced by the silk tunics of Christian aristocratic women. in the mid-1800s in Ethiopia. It became an iconic fabric in the early 1960s and 1970s and to this day it is one of Vlisco's most recognizable patterns. 
Angelina prints later became quite popular in West Africa, in countries such as Ghana, Nigeria, Togo, and Benin. In the Democratic Republic of the Congo, it is called "Miriam Makeba", after the South African female singer who is much loved in the country. In Ghana, it is known as Angelina and known as Kitenge in East Africa and is very popular in Tanzania and Kenya. 
In addition to the shirt, Dashiki also has unofficial versions, flexibly changing from tops to dresses, short and long skirts for women. The most popular version is the loose pullover, with an ornate V-neck, tailored necklines and sleeves, and fine embroidery/printing. For men's fashion, Dashiki is often paired with a rimless Kufi hat and trousers. 
Men in Dashiki during Civil Rights Movement 
Dashiki found a market in the United States in the Civil Rights Movement and Black Power. The term dashiki started appearing in US prints at least as far back as 1967. Reporting on the 1967 Newark riots in the Amsterdam News on 22 July 1967, George Barner mentioned a new type of clothing by Africa is called "danshiki". An article by Faith Berry in The New York Times Magazine included it on July 7, 1968. 
Dashiki then officially appeared in Webster's New World Dictionary, 1st College Edition 1970/72. It cited J. Benning with the first written use of the word in 1967. J. J. Benning, M. Clarke, H. Davis, and W. Smith are the founders of the New Breed of Harlem in Manhattan, New York City, where the first Dashiki were manufactured in the United States. 
Dashiki was featured in the films such as Uptight (1968), Putney Swope (1969), and the weekly TV series Soul Train (1971). In the Sanford and Son episode "Lamont Goes African" there is a scene where Sanford's son Lamont wears a Dashiki as part of his attempt to return to his African roots. 
OBS onthemove, CC BY-SA 3.0, via Wikimedia Commons
Jim Brown, Wilt Chamberlain, Sammy Davis Jr., and Bill Russell are among the famous African-American athletes and entertainers who have worn dashiki on talk shows. Hippies also use dashiki in their wardrobes as a means of expressing countercultural values. Former District of Columbia mayor and council member Marion Barry is known for wearing dashiki before the election. 
Furthermore, Dashikis has appeared on many musicians, rappers, and singers, mostly African-American, including Beyoncé, Rihanna, Chris Brown, Wiz Khalifa, ScHoolboy Q, Q-Tip, and many others. 
Popular Dashiki Genres 
To date, there are three officially worn versions of Dashiki. The first traditional dashiki will be worn with sokoto (drawstring pants) in a matching color and kufi. This style, also known as the dashiki suit, is worn mostly at weddings. Today, innovative dashiki models are also designed as a modern suit with strong, sharp lines but no less disruptive and unique. This style of wearing is also present today in special and formal events. 
The second dashiki version consists of an ankle-length shirt, combined with kufi and sokoto, and is known as the Senegalese kaftan. This traditional style of Dashiki is often used on formal occasions as a special kind of traditional dress. However, today, the wearing range of this style of clothing is increasingly wide with bold innovative designs. The new outfits are simply designed with shorter shirts, neat outfits, suitable for even casual outfits. 
Photo by Askar Abayev from Pexels
The third category consists of dashiki and correspondingly matching trousers, incorporating a cape. This variety is called grand boubou or agbada. This type of shirt is currently not so popular in African-American communities because of its pedantic and complex purposes. However, this is also a very interesting costume on special occasions to attract people's eyes and show pride and respect for traditional cultural values. 
In Africa, Dashiki is worn by some grooms and best men to a wedding ceremony. Gray is said to be the traditional color for West African weddings. In some communities, white is the preferred color of the groomsmen while other couples choose to wear non-traditional colors. Purple (representing African royalty) and Blue (signifying love, peace, and harmony) are the most popular non-traditional colors. One can also give Dashiki for funerals. The traditional Dashiki colors for funerals are Black and Red. 
Nowadays, Dashiki colors are no longer limited to special occasions. One can wear dashiki in any color and material. Modern colors such as neon green or blue, lotus pink are also widely worn. The fabric also changes from the traditional cotton raw fabric to materials such as cotton, plain, satin, and more. In addition to diversifying the design, the usual plain or traditional textures are also innovated into new and more diverse cuts or symbols. 
Stunning Dashiki for Men Designs 
Dashiki Style for Casual Wear 
Short-sleeved Dashiki Shirt 
These are the traditional loose-fitting dashiki worn over trousers, shorts, or skirts. These latest Dashiki styles usually have short or three-quarter sleeves. Collars are often designed to be simpler, more spacious than T-shirts to provide the most comfortable wearing experience. If you are a fan of personality shirts, go with simple undergarments. A short-sleeved dashiki shirt with airy, loose fabric will be a great choice for your summer outfit. 
Photo by RODNAE Productions from Pexels
Long-sleeved Dashiki Shirt 
These latest Dashiki styles have long sleeves. They are suitable for cold climates or simply as a style enhancement. A simple and elegant style for gentlemen. You can be badass and man at the same time. 
Photo by RODNAE Productions from Pexels
T-shirt with Dashiki Patterns 
This is a fresh and modern twist to the garment. It simply is a T-shirt created with the ornate necklines and embroidery of the dashiki. It is great streetwear. Different from the above styles, the dashiki T-shirt is suitable for many ages and more occasions. This style is suitable for both casual wear as well as formal occasions because it goes well with many other fashion accessories. A pair of jeans and a simple windbreaker will be very suitable for active men. 
Dashiki Polo Shirt by Melaninful
Sweatshirt with Dashiki Patterns 
Same as the T-shirt, this one also has a modern twist. It merges the style and fabric of a sweatshirt with the traditional dashiki to achieve this style. 
Stylish Unique Dashiki Outfits 
Dashiki Trouser 
If you want your top and bottom to be the same, then you pair them with matching trousers or simply wear the vibrant colored trouser alone with simple a T-shirt. This is a very unique fashion style variation from the traditional Dashiki. A little out of the way and explosive as a fashion statement! 
All-Over Hoodie And Joggers Set by Melaninful
Dashiki Jacket 
When the Angelina print is used to make suit jackets, it is called a Dashiki jacket. A great choice for elegant gentlemen. Dashiki is also modified on luxurious tux suits. Try them on to your next prom and feel the gazes from everyone around. 
Hoodies 
To achieve this, you can use pieces of the fabric to style the hoodie at strategic points such as the cuffs, pockets, neckline, etc. However, it can as well be made with the full fabric and still look great. A simple but equally impressive and dynamic outfit. 
Dashiki All-Over Hoodie by Melaninful
Last But Not Least 
The dashiki has evolved into a ready-to-wear carrier of ebony, uniting the diaspora via a common belief in the worth of an original Afro invention. Its fundamental symbolism stems from a battle against white supremacy and an embrace of African culture as its antitheses—yes, a considerable giant burden to place on a piece of garb, but the symbolism is genuinely powerful. 
Hopefully, the aforementioned Dashiki versions are different enough that you can wear them at any time of year. When men try a dashiki, he is displaying one of the most commonly recognized meanings of the words "I'm Black and I'm Proud" without saying a word.