Melaninful Blog
A collection of Fantastic Black-owned Bars across the US
Dec 09, 2021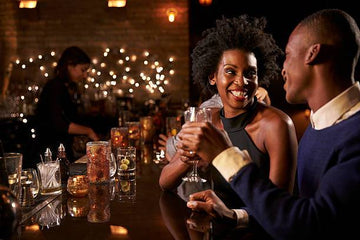 Tired of a busy day? You would like to find a place to chill out? I have a collection of Black-owned restaurants and bars here for you. These recommendations below won't let you down because they have a variety of delicious foods and fantastic drinks which could help you unwind. Not only foods and drinks, they also offer live music and other entertainments. Explore them now!
Alabama AL
Sleek Sports Bar
🍸 1005 20th St S, Birmingham, Al
Sleek Sports Bar is your Family Friendly enthused bar to celebrate, relax, and socialize. Whether you are a party of one or a party of many they are here to accommodate your taste buds with their delicious drinks and food options.
We open their doors 7 days a week giving everyone the opportunity to let us serve them. If you are a Hookah fan come try out their spacious patio bar where they service hookahs every day during normal business hours. they are a family at Sleek and they consider all of their guest as family.
The Honeycomb Sports Bar and Grill
🍸 202 S Seale Rd suite B Phenix City, AL, US 36869
The Honeycomb Sports Bar and Grill is the perfect place to relax, and unwind. Great Drinks, Great Food, And the ONLY 144 INCH HD SCREEN for ALL SPORTS FANS.
Facebook: https://www.facebook.com/TheHoneyComb202/
Urban Smoke Bar & Grill
🍸 7100 Aaron Aronov Dr, Fairfield, AL 35064-1814, United States
"Been a fan of urban smoke for a while! The food truck never disappoints and the restaurant doesn't either! Great customer service, great vibes, AMAZING food and great drinks! Definitely check them out!"
Alexia M.
Arkansas AR
Club Trois
🍸 4314 Asher Ave., Little Rock, AR, 72204
Club Trois is the premiere night club for Little Rock, Ar catering to mature adults looking for a great nightlife experience with a sexy atmosphere. Club Trois is the place to unwind, enjoy great music, drinks, and food all under one roof.
Facebook: https://www.facebook.com/Thenewclubtrois
La'Changes Restaurant And Lounge
🍸 3325 W. Roosevelt Rd., Little Rock, AR, 72204
Private Club of La'Changes. Must be 21+ to Enter. Membership packages available. 18 Years strong in the Metropolitan area of Little Rock
Facebook: https://www.facebook.com/clublachanges/
Arizona AZ
Concierge Bistro Bar
🍸 1140 E. Washington St. Phoenix, AZ 85034
Phoenix, AZ. Concierge is a charming and tucked away bistro lounge located in downtown Phoenix. they offer their patrons tasty handcrafted cocktails and delicious bites. their food menu offers an array of savory items; such as their popular catfish po'boys. If seafood isn't of your liking, then they suggest their equally popular spicy wings. Feel free to view their online menu items.
California CA
Hambone's Bar & Grill
🍸 9825 Belmont St Bellflower, CA, US 90706
Hambone's Bar & Grill is the home of Real California Barbecue. their prime cuts of Angus beef and the highest quality of chicken, pork, and seafood will leave you asking for more. Co-Owner and Pitmaster Chef Keenan Handy has spent over 20 years developing a secret blend of aromatic woods and spices. The tender meats are paired with your choice of one of their original home-made all natural Barbecue Sauces. Come in and see for yourself why Hambone's Bar & Grill is the home of Real California Barbecue.
Lavender Blue Restaurant Lounge
🍸 3310 W Manchester Blvd Inglewood, CA, US 90305
"The Rebirth of Cool in Inglewood..."
Lavender Blue Restaurant Lounge is the kind of place that marries comfort, elegance, live music, and great food!
Post & Beam
🍸 3767 Santa Rosalia Dr, Los Angeles, CA 90008
With an open kitchen, a spacious, warm-hued main dining room, and a verdant garden patio, Post & Beam is designed to make you feel at home. they frequently feature live music on the patio, and the soundtrack, curated in house, is always pitch-perfect.
Colorado CO
African Grill and Bar
🍸 955 Skipling Parkway Lakewood, CO, US 80226
AKWAABA is their way of welcoming you to "The Osei– Fordwuo family restaurant" in their native Akan dialect - Ghana. Since 2004, Sylvester and Theodora have served Colorado with real authentic food, beers, root drinks, bitters, wine, good African music and amazing drummers & dancers from the continent of Africa. they have specialized in most popular cuisines from the continent of Africa, such as South African "pap" and Chakalaka, East Africa "samosa and chapatti, North Africa "Couscous", West Africa "Fufu" and "Jollof" Central Africa "Cassava, Plantains and peanut dishes.
Mateo
🍸 1837 Pearl St., Boulder, CO 80302
Opened in 2001 in Boulder, Colorado, Mateo is a Chef and Owner operated restaurant, featuring simple dishes with local ingredients inspired by the Provence Region in Europe. The wine list focuses on small batch French and Italian Varietals and compliments the seasonally changing menu. The space is bright and streamlined revealing a clear, uncomplicated aesthetic.
Connecticut CT
Sun Splash Bar and Grill
🍸 428 Franklin Ave Hartford, CT, US 06114
Offering top-notch services, Sun Splash Bar & Grill is dedicated to providing their customers with fresh ingredients and excellent tasting Jamaican and American cuisine. Located near Trinity College, their bar and grill have a great atmosphere offering a live entertainment on the weekend and karaoke every Thursday. Open for lunch and dinner, Sun Splash has remained the locals' destination for casual dining with friends or family.
Offering an extensive menu, you're sure to find something that will suit your appetite. their staff is dedicated to providing you with high quality food, refreshing drinks, and a fun atmosphere, and they promise to provide you with complete customer satisfaction on every visit. they hope to see you soon!
Facebook: https://www.facebook.com/SunSplashBarAndGrill/
Miss. Thelma's Soul Food Restaurant
🍸 140 Fairfield Ave Ste 1 Bridgeport, CT, US 06604
Miss. Thelma's is a southern American dining restaurant and bar, specializing in comfort food. It is family-owned in which they cook with Heart & Soul! they continue to be #1 in Fairfield County serving the Bridgeport area. Located on 140 Fairfield Ave, Bridgeport, CT for over 18 years.
Delaware DE
The Boulevard
🍸 1036 Lafferty Lane Dover, DE, US 19901
When it comes to entertainment and fun, The Boulevard Live Entertainment Restaurant in Dover has to be high up on anybody's list. The Boulevard Live Entertainment Restaurant is an all-day-dining entertainment restaurant that promises to delight guests with its variety of top-notch food that can accommodate small parties, as well as large groups. The Boulevard Live Entertainment Restaurant defines the meaning of fun with mouth-watering eats and amazing entertainment, all packed under one roof!
The Boulevard Live Entertainment Restaurant is open for lunch on weekdays and dinner from Tuesday to Saturday. Whether it be a business occasion, social get together or just being with your favorite person The Boulevard Live Entertainment Restaurant has everything to make a memorable occasion.
1861 Southern Kitchen And Bourbon Bar
🍸 423 N Broad St Middletown, DE, US 19709
Authenticity, Distinction, and Creativity are the core of the 1861 philosophy. 
Tastee D's African Restaurant
🍸 110 Troubador Way, Newark, DE 19702
Tastee D's is a contemporary African restaurant that serves traditional African Cuisines. their restaurant is a fusion of sophistication and elegance that allows you to encounter the ultimate dining experience.
We are open six days a week, Tuesday to Sunday. they feature a daily special to appreciate other cultures and Chef Specials to align with the trend, and seasons. their dinners are at affordable prices. they have a unique selection on the menu and on the bar, from their succulent soya, tender oxtails to their divinely inspired and refreshing drinks such as their very own tastee D's Tropical Thunder, a blend of Mango, Guava and Pineapple Juice, Rum Punch and many more.
Florida FL
800 Degrees (Aventura, Fl)
🍸 2956 NE 199th Street Aventura, FL, US 33180
800° Woodfired Kitchen is taking every effort to ensure the health and safety of their guests and staff. they are open seven days a week and offer both indoor and outdoor seating. For those who prefer to enjoy their woodfired pizza, salads, wings, rotisserie plates and more from the comfort of their homes, they offer delivery through their partners, like Uber Eats and Doordash, as well as pickup by ordering direct through their website.
Tomorrowland
🍸 1368 N. Miami Avenue Miami, FL, US 33136
One family, diverse culture, different upbringings, SAME passion. People. Food. Drinks. In a one-of-a-kind environment, for all to enjoy. Working in unity toward what tomorrow may bring, vision meets opportunity and IT has arrived…welcome to TOMORROWLAND! Miami's NEW local hangout. Tomorrowland opened in 2019 and is located in the heart of Miami. Delicious food, craft beer, cocktails, and an ongoing happy hour which they proudly offer around the clock at any time of day/night they are open.
Georgia GA
Bqe Lounge
🍸 262 Edgewood Ave NE, Atlanta, GA 30303
The BQE bring a unique and chic addition to The Historic Old Fourth Ward, marks a new era in soul food, with dishes characterized by old recipes of the south combined with dynamic contemporary flavors.
Ms. Icey's Kitchen and Bar
🍸 1371 Clairmont Rd, Decatur Ga 30033
Ms. Icey's innovative yet comfort-filled menu, is a fusion of Southern & Caribbean cuisine, sprinkled with a little global flare to take it over the top. Chef Yusef & Chef Lorenzo are both from a cultural melting pot. Lorenzo's Cajun styles from his birth place of New Orleans & Yusef's Jamaican & Latin Caribbean back ground, together are a recipe for culinary genius. A roasted sweet potato salad drizzled with a rosé vinaigrette. Fresh blackened trout over barley & farro risotto, a take on a northern Italian dish. Chicken & waffles with a heavenly house made praline butter. Hearty seafood étouffée & grits. Savory Domincan saltfish mangu. Succulent jerk lamb ribs. House made peach butter biscuits. Sinful strip club wings. Mouth-watering chocolate mud pancakes. These are just a few menu items that will surely leave your taste buds dancing.
Fin And Feathers
🍸 Edgewood: 360 Edgewood Ave SE. Atlanta, GA
🍸 Douglasville: 7430 Douglas Blvd. Douglasville, GA
🍸 Riverdale: 6340 HWY 85 Riverdale, GA
Newly opened restaurant franchise, Fin & Feathers, was founded by restaurant extraordinaire Damon A. Johnson. Originally from Los Angeles, he made a name for himself in the restaurant-hospitality industry in Atlanta, GA. honing his skills in every area of the restaurant-hospitality industry with the ambition of creating the ultimate dining expierience.
Facebook:
Hawaii HI
Maya's Tapas and Wine
🍸   66-250 Kamehameha Hwy D-101 Haleiwa, HI 96712
It is their mission to showcase locally sourced ingredients on a worldly platform, with emphasis on Spanish and Mediterranean cuisine.  Visit their restaurant in Haleiwa for the perfect date night, or a great time with friends.
Illinois IL
Mr. Brown's Lounge
🍸 2301 West Chicago Avenue Chicago, IL 60622
This West Town destination for authentic Jamaican dishes, culture and nightlife was immediately embraced by the city. Recipes passed down through generations… Jerk chicken, rice and peas, fried plantains and Jamaican style cabbage have become mainstays for Chicagoans in the know. Authentic spreads including a Jamaican spiced mac & cheese has guests all likky-likky, a Jamaican term that captures the feeling of a meal so good that you are greedy about eating everything in sight. These secret family recipes have also graced the taste of American favorites, giving Mr. Brown's jerk Caesar salad and the jerk burger an island touch. Reggae rockas, rum punch and Red Stripe accent the evening at Mr. Brown's Lounge. A mood, a scene, a culture is celebrated with global live music, DJ's and events.
Website: https://mrbrownslounge.com/
Ethiopian Diamond Restaurant & Bar
🍸 6120 N Broadway St Chicago, IL, US 60660
Experience the exotic elegance of Ethiopian Diamond Restaurant & Bar, in the heart of the Edgewater neighborhood in Chicago. Executive Chef & Owner, Almaz Yigizaw welcomes you to her namesake Ethiopian restaurant (Almaz means diamond in Amharic). The Ethiopian Diamond Restaurant & Bar is known for its extensive, menu of authentic, Ethiopian dishes and is open for lunch, dinner and weekend brunch. All of the Ethiopian food is served in a welcoming, comfortable, and hip and inviting cultural setting.
Opening their doors in 1996, Ethiopian Diamond Restaurant & Bar has long been a destination for authentic Ethiopian cuisine served in a vibrant atmosphere.
Indiana IN
18th Street Indy
🍸 2829 E 10th Street Indianapolis, IN, US 46201
18th Street Indy is an all-ages, counter service tap room with 20 beers on tap, craft cocktails, a rotating food menu, and beers to-go.
Michael's Soul Kitchen
🍸 115 E Ohio St Indianapolis, IN 46204
A Swanky Jazz Club and Soul Food Restaurant in The Heart of Downtown Indianapolis. they Represent Class, Elegance and Sophistication.
The Block Bistro And Grill
🍸 115 W Market Street, Indianapolis IN 46204
The Block Bistro and Grill merges classic American cuisine with an urban twist that is an affordable option. This is a place that looks and feels like every block in America with people and food from multiple different ethnicities and cultures
Kansas KS
Mesob Restaurant & Rhum Bar
🍸 3601 Broadway Blvd Kansas City, MO 64111
Mesob is a traditional Ethiopian and Caribbean restaurant, located in the heart of Midtown, dedicated to serving authentic delicacies with homemade quality flavors. The menu offers beef, poultry, seafood, and a wide variety of delectable vegetable dishes, which also meet the western standards of vegan food preparation. they offer the opinion of an individual or the traditional communal serving to its valued clientele. Don't forget that Mesob also have rum, cocktails and wine which bring your foods better taste.
John's Java & Jazz
🍸 2003 1/2 N. 5th Street Kansas City, KS, US 66101
A Downtown KCK destination for good coffee, conversation, and community. Find a comfy spot to sit down with a drink, a tasty treat and enjoy the jazz. Bring a friend or make a new one.
Kentucky KY
Flavour Restuarant & Lounge
🍸 1767 Bardstown Rd. Louisville, KY USA
Flavour Restaurant & Lounge in Louisville is a chic and stylish restaurant and lounge located in the heart of the highlands. They have a bar and outdoor seating to enjoy weekly events and live music.
Website: http://flavourlouisville.com/
Louisiana LA
The Revolution
🍸 1840 Thalia St. New Orleans, LA, US 70113
The Revolution is New Orleans' newest cultural experience. Located on Oretha Castle Haley Boulevard, The Revolution is a breath of fresh air in the heart of this historic uptown neighborhood. Stop by and grab a specialty cocktail during one their highly buzzed about happy hours, or enjoy live DJ sets and musical performances.
Maine ME
207 Bar & Restaurant
🍸 337 Cumberland Avenue Portland, ME, US 04101
Serving fine world cuisine such as Caribbean and African. Bar and restaurant with dancing and music located in Portland Maine.
Maryland MD
13.5 Wine Bar
🍸 1117 W. 36TH ST., BALTIMORE, MD 21211
More than 40 wines by the glass, over 200 by the bottle and an impressive yet affordable menu of Italian- and Asian-influence cuisine.
Ida B's Table
🍸 235 Holliday Street Baltimore, MD, US 21202
Ida B's Table is a modern soul food restaurant with four distinct areas for guests to enjoy: the bar, the parlor, the drawing room, and the main dining room. The restaurant serves lunch, small plates during happy hour, and dinner. Weekend service extends from brunch through dinner. Located in a landmark building, the historic CJ Youse Candy Box Factory was originally designed by prominent Baltimore firm Archer & Allen. Confectionary (candy-making) businesses were hugely important in 19th century Baltimore, and CJ Youse made beautiful paper boxes for gifting. Many of the original fixtures — including the doors — have been reclaimed and reused for Ida B's Table. This mixture of classic 19th-century design and modern comfort reflects the historical era and contemporary impact of their namesake, Ida Bell Wells-Barnett.
Trinity Grill & Bar
🍸 3010 Hamilton St. Hyattsville, MD, US 20782
Great new spot in West Hyattsville with a grown and sexy vibe. American/Soul Food. Good music and good drinks.
Serenity Wine Bar and Café
🍸 1121 Hull Street Baltimore, MD, US 21230
Serenity is a self-serve wine bar located in Locust Point just steps away from Under Armour headquarters. Check out their self-serve dispensing wine machines and Pour Your Own Pleasure!
Massachusetts MA
Darryl's Corner Bar & Kitchen
🍸 604 Columbus Ave., South End, Boston
Soul food meets soulful music at this longtime fixture, where live entertainment is the soundtrack for dinner and brunch service featuring dressed-up southern comforts like country-fried chicken wings with sweet peach chili and oh-so-perfect collard greens. The bands play on thanks to still-new owner Nia Grace, who not only stewarded the storied spot to the other side of a pandemic, but — as cofounder of the recently launched Boston Black Hospitality Coalition — uses her significant stage to advocate for a more equitable restaurant industry in the city.
Restaurante Cesaria
🍸 266 Bowdoin Street, Boston, MA 02122
Restaurant Cesaria's services are all delivered in an extraordinary atmosphere featuring wall murals, ethnic, African-influenced paintings, and autographed photographs of famed musicians who performed at the restaurant. The ambiance is designed to provide an authentic, colorful surrounding to complement the rich, flavorful cuisine.
District 7 Tavern
🍸 380 Warren Street Boston, MA, US 02119
Roxbury neighborhood bar, pool hall & juke joint. This small gem is rich with history & potential.
Join them for a drink!
La Fábrica Central Restaurant
🍸 450 Massachusetts Ave Cambridge, MA, US 02139
Welcome to La Fabrica, where life is celebrated through their Spanish Caribbean cuisine and lively atmosphere! Feed your soul with Chef Giovanna's flavorful dishes of Puerto Rico, Cuba, and the Dominican Republic.
Michigan MI
Grnoir Wine & Jazz
🍸 35 Division Ave S. Grand Rapids, MI 49503
GRNoir will leverage wine, a growing point of interest amongst Americans, with jazz, a significant marker of African American culture, into a relaxing space to create community. GRNoir welcomes folks to enjoy wine, small plates and jazz.
Minnesota MN
Taste Of Rondo Bar & Grill
🍸 976 Concordia Ave Saint Paul, MN, US 55104
Taste of Rondo Bar & Grill is a Family Restaurant in Saint Paul. Today, they see their vision being realized with each guest who walks through the door, and every new friend who orders up their famous Cajun Catfish or Aurora Avenue Shrimp and Grits. This restaurant, this community gathering place, is a labor of love and a nod to the neighbors who have long called Rondo home.
So, what is the Taste of Rondo, you might ask. It's live music on a Friday Night, a Rondo Ave. Punch in hand and some Southern cooking in the kitchen.
Pimento Jamaican Kitchen
🍸 2524 Nicollet Ave S Minneapolis, MN, US 55404
Winner of Food Court Wars on Food Network. Authentic Jamaican Street food using family recipes and true to form rum cocktails
Mississippi MS
M-Bar Sports Grill
🍸 6340 Ridgewood Court Dr Jackson, MS, US 39211
The capitol city's premier sports bar is none other than the M-Bar Sports Grill! they specialize in the best quality entrees, appetizers, and premium drinks in the city. their food and drink specials are one of a kind. There's never a bad seat in the house at the M-Bar. The M-Bar is equipped with twenty 55-inch LED TV's and two 80 inch LED TV's for your viewing pleasure of any major sporting event. We're open 6 days a week. Join them!
Facebook: https://www.facebook.com/TheMbarJxn/
Missouri MO
Bar Italia Ristorante
🍸 13 Maryland Plaza, Central West End, St. Louis, Missouri
Bar Italia brings a piece of Europe to the Central West End. Whether you are looking for a patio to sip wine and enjoy a cheese plate or sit down to a fine Italian dinner, Bar Italia is bound to have something for you. Pasta options range from fettuccine with fennel sausage, veal and chicken to rigatoni with an assortment of wild mushrooms. If you're looking for fewer carbs, other entrees include steak medallions, grilled New Zealand lamb chops and roasted salmon with polenta.
Nebraska NE
Stur 22 Lounge
🍸 2110 Winthrop Road, Lincoln NE 68502
Stur 22 is an attractive and vibrant gathering place located in beautiful Lincoln Nebraska. The lounge is a chic and welcoming space serving a unique and colorful array of cuisine's incorporating Caribbean and West African flavors. their drinks and cocktails menus features a lively and tasty selection of mojitos and their own hand crafted signature cocktails.
The great room has a stylish and attractive bar and the soft and inviting furniture represent a mixed of colors from Africa and countries in the Caribbean. The artistic and electric environment will also feature upbeat music diverse from the 80's, 90's, today's, Jazz, Caribbean, and African playing in the background but always at an appropriate and reasonable level. Stur 22 Lounge is a place where mature adults can mingle, network, and socialize with people of like minds and like ideas in a respectful, clean, and enjoyable environment.
Nevada NV
Old Soul
🍸 495 S Grand Central Pkwy Suite A116, Las Vegas, NV 89106
Pre-Prohibition American Kitchen & Whiskey Bar. A twist on classic cocktails, while eating on grandma's good China. By Chef Natalie Young.
#goodfoodforgoodpeople made with LOVE.
New Jersey NJ
Delta's Restaurant
🍸 19 Dennis St. New Brunswick, NJ
Over the last 20 years, Delta's has become a soul food landmark in Central Jersey. their own food dude Pete Genovese calls the restaurant one that "isn't your ordinary soul food" joint.
Delta's is one of the O.G. Black-owned restaurants in the Garden State — ask anyone what soul food restaurant you should try, and this is often the first name you'll hear.
Their menu boasts everything from fried chicken to seafood to gumbo. On Tuesday, Friday and Saturday nights, it's hard not to get up and dance, when Delta's has live jazz and R&B music bringing the house down.
Kelsey's
🍸 1545 Pacific Ave, Atlantic City, NJ
Located in the heart of Atlantic City. Whether it's date night, birthday dinner, business lunch, brunch with old friends, happy hour or an opportune time to get out and listen to good o'l music and have an awesome time, Kelsey's is the place to be.
Website: https://www.kelseysac.com/
First Republic Lounge (Elizabeth)
🍸 1204 E Grand St, Elizabeth, NJ 07201
First Republic Lounge and Restaurant is committed to an environment that provides the best customer service, quality food, art, culture and entertainment. The concept of First Republic Lounge and Restaurant is inspired by Haiti, the First Nation to free itself of slavery in the western hemisphere.  Representing over 200 years of independence, First Republic Lounge and Restaurant showcases Haitian Food, Art and culture of this iconic Caribbean island.  First Republic Lounge and Restaurant not only creates a great environment but also creates a great conversation piece and experience for all.
Republic 23 Lounge
🍸 87 South Washington Avenue Bergenfield, NJ, US 07621
NYC vibes without the hassle of the travel! A laid back atmosphere where you can hear music, have a meal and a few cocktails all while having a great time.
The City Lounge And Restaurant
🍸 225 Washington St, Newark, NJ, 07102
Modern opulence meets vivacious nightlife…Located on 225 Washington street in the heart of Newark's historic district. Select renowned DJs and surprise guests. A captivating ambiance, interior, and a stellar standard of service. The City Lounge caters to day and nightlife partygoers. Embodies the true essence nightlife.
New Mexico NM
50/50 Coffee House & Pub
🍸 2122 Central Ave SE, Albuquerque, NM 87106
When Amber, Carmen & Chad opened 50/50, they wanted some very specific things.  they wanted an unpretentious place with really good food, organic fair-trade coffee and craft beer.  they wanted an inclusive community space that almost feels like home;  where children are welcome and their customers become extended family.
Hollow Spirits
🍸 1324 1st ST NW, Albuquerque, NM 87102
Hollow Spirits Distillery is a craft distillery opening in 2018. Just blocks from downtown in Albuquerque, NM their convenient location will serve all things craft and local. their handmade artisan spirits will be at the base of their seasonal craft cocktail menu but Hollow Spirits will also feature a selection of the finest beers New Mexico has to offer, delicious local wines, and non-alcoholic drinks.
New York NY
Ode To Babel
🍸 772 Dean Street Brooklyn, NY 11238
Ode To Babel is a cool low-key chill cocktail bar and lounge in Crown Heights Brooklyn. They refer to their space as an extension of home- a place to sip, enjoy the vibe, and nosh on bar bites.
Ode to Babel also provides a platform for local and/or independent creatives to showcase their art- whether in the form of film, music, mixed media, and performance- it's the perfect spot for a chill vibe- no pretense- no posing- all love.
Sisters BKLYN
🍸 900 Fulton St. Brooklyn
At Sisters BKLYN, it is excellent restaurant which offer full day menu including breakfast, brunch, luch and dinner. Their foods are amazing. A cozy vibe with fantastic drinks will bring a relaxing night with your friends and your family.
Sally's
🍸 151 Tompkins Ave Brooklyn, Ny 11206
At Sally's, vacation is their lifestyle. their Caribbean-Asian menu and friendly staff will keep you smiling and their laid-bake vibe will set the tone right. So come, kick back and enjoy a little slice of paradise right here in Bed-Study.
Soco Restaurant
🍸 509 Myrtle Avenue Brooklyn, NY 11205
SoCo is equal parts restaurant and cocktail bar. The designer Andres Aladin, describes the restaurant as "the Brooklyn Bridge turned into a restaurant. they wanted to play off of the design cues of the space and the history of the neighborhood being very industrial. The trick in designing this space was to keep it relaxed enough for casual lunches but sexy enough for dinner dates."
North Carolina NC
Stats Restaurant & Bar
🍸 3425 David Cox Rd, Charlotte, NC 28269
"My first time visiting Stats and I must say not bad but def could of been better. My waitress Punkin was sweet and friendly. She made sure they was good, told us what was good on menu and etc.
We ordered the spinach dip with crab in which was really good. Need more crab but overall wasn't bad, the drinks was a little weak but tasted. I ordered a shrimp Caesar salad it was a nice size salad but the shrimp was a little salty. However the DJ was great, the game was on but once the game went on commercial they played music and once the game was over the music was on and it was a vibe. they also ordered a hookah and that was pretty good as well."
Ashley R.
The Darby
🍸 180 E Davie St. STE 170 Raleigh, NC 27601
Ohio OH
Talis Southern Bar & Grill
🍸 5579 OH-741 Mason, OH, US 45040
Talis Southern Bar and Grill is serving up traditional American food! Their Happy Hour specials can't be beat, and their patio bar is the best in the area. Join them for cold beer, fantastic food, live entertainment, trivia, karaoke, and more!
Facebook: https://www.facebook.com/TalisSBG/
Copa Lounge
🍸 1133 Sycamore St, Cincinnati, OH 45202
COPA Lounge will you the best nightlife with dope food, dope vibes and fantastic drinks. Come and enjoy it now!
Medusa Restaurant & Lounge
🍸 1437 ST. CLAIR AVENUE, CLEVELAND, OH 44114
Let's save a date for nightlife. Medusa have a variety of drinks serving with fantastic foods which brings you a legendary night. A lot of coming events is waiting for you.
Networkz Restaurant & Lounge
🍸 3560 Mayfield Rd, Cleveland Heights, OH 44118
Networkz is where the cultured and sophisticated mingle, wine and dine. Relax, sit back for a night of business and pleasure. Close that deal over dinner, avoid cocktail or while jamming on the dance floor. Good people**Good food**Good wine**Good music.
Frederick's Wine And Dine
🍸 22005 Emery Rd, Warrensville Heights, OH 44128
Located in the heart of Warrensville Heights, Frederick's is changing the way that local residents…Wine and Dine! This newly renovated 110+ seat restaurant attracts a diverse crowd and creates an upbeat atmosphere where guests can enjoy signature cuisine coupled with the smooth sounds of live jazz talent. Owner and Head Chef Frederick Parks prepares his unique dishes with creativity and passion. "My concept behind cooking and being a good chef starts with high quality ingredients from local markets, and not limiting myself to rules but rather using the basic principles of cooking along with a well-trained staff." Frederick's Wine and Dine serves fresh, wholesome and savory entrées for lunch and dinner, as well as daily food and drink specials in a welcoming environment. they are committed to offering a personal dining experience that makes you feel right at home.
Nostalgia Wine & Jazz Lounge
🍸 1432 Vine Street Cincinnati, Ohio 45202
Nostalgia is an intimate wine bar & live music lounge located in the heart of OTR, offering over 40 wines by the glass/bottle with a focus on highlighting women & minority winemakers and spirit producers.
Oklahoma OK
Club One15
🍸 115 E Sheridan Ave Oklahoma City, OK, 73104, US
Club one15 is one of the midwest premiere ultra-lounges, night clubs, and light shows. From its European style decor, to its massive led walls throughout the club, one15 is your one stop for nightlife in Oklahoma. Every weekend you can enjoy different music selections from local to international acclaimed dj. They have two large dance floors to keep the people jumping and dancing all night!
Oregon OR
Amalfi's Restaurant
🍸 4703 NE Fremont Street Portland, OR 97213
Amalfi's is one of the first restaurants to serve pizza in Portland. Classic Italian comfort-food, hand-crafted cocktails, rotating brews and ample wine.
Working Hands Beer
🍸 1021 12th St. #102 Hood River, OR 97031
Our mission is to share a gathering place for enjoying fine fermented beverages while deepening connection to the community. their Heights Taproom crew values supporting others through dedication to diversity and inclusivity.
Capitol Bar
🍸 1440 North East Broadway Street, Portland, OR, United States, Oregon
Capitol is a karaoke bar with elevated neighborhood cocktails with craft drinks and sophisticated Floribbean cuisine in colorful surrounds.
Pennsylvania PA
The Big Easy Bar and Grill
🍸 215 Main St Royersford, PA 19468
"When you want food in Royersford, PA, come to The Big Easy Bar and Grill! they offer a wide array of delicious cuisine such as burgers, seafood, Cajun food, and much more. they pride themselves on the excellent service they provide to their customers and their affordable rates. their food is prepared with the freshest ingredients and their staff is friendly. For a great restaurant in Royersford, PA, call on The Big Easy Bar and Grill."
Booker's Restaurant & Bar
🍸5021 Baltimore Ave Philadelphia, PA 19143
Walk into Booker's Restaurant and Bar and take in one of the largest venues on Baltimore Avenue -- a two-room dining area with a refined, yet laid-back atmosphere. You're in West Philadelphia's latest gathering spot, an urban bistro serving up New American comfort food with Southern flair. Enjoy a glass of bourbon, wine, or beer as you explore their eclectic menu, made for the diverse community they serve. Omnivores, vegans, kids, and adults alike will all find something to love, so join us for their famous weekend brunch, their daily happy hour, or dinner and drinks. their mouth-watering dishes, their comfortable vibe, and their neighborly service will give you a meal you won't soon forget.
Gojjo Ethiopian Restaurant
🍸 4540 Baltimore Ave, Philadelphia, PA, United States, Pennsylvania
Gojjo is an Ethiopian restaurant, bar, but as a destination that hones in on a dynamic familial experience. their ethnic background dabbles in a variety of spices sure to please even the faintest of taste buds. their journey began in the Fall of 1996 in West Philadelphia on a robust commercial corridor on Baltimore Avenue in between 45th and 46th st.
Level Up Bar & Lounge
🍸 1330 Walnut St, Philadelphia, PA 19107, USA
Level Up Bar & Lounge is fully dedicated to providing a welcoming safe space for you to enjoy happy hour, a show, or your own private event. As the only LGBTQ+ bar that is 100% minority owned they are fully committed to this promise!
Rhode Island RI
Black Sheep Providence
🍸 397 Westminster Street Providence, RI, US 02903
Black Sheep is the product of a few local fellas, who wanted a neighborhood spot, to eat good food and listen to good music.
Conveniently placed in the middle of the Downcity, just steps away from Dunkin Donuts Center, Trinity Repertory Theatre & Providence Performing Art Center.
They have 6 Flat Screen Tvs to fill with your favorite New England sporting events.
South Carolina SC
The Blue Note Bistro
🍸 7550 Dorchester Road North Charleston, SC 29418
The Blue Note Bistro is North Charleston's newest restaurant and cocktail bar that promises to give you an experience that will be at a "slightly different pitch than standard." The Blue Note's unique formula of Carolina's top southern cuisine, live entertainment, charming atmosphere, accompanied by great customer service equals an excellent dining experience!
Graft Wine Shop & Wine Bar
🍸 700 King Street, Suite B Charleston, SC, US 29403
Graft is a wine shop and wine bar in uptown charleston, south carolina. Created by two long-time friends, it is a celebration of good wine, community, great times and the best music.
Republic Garden And Lounge
🍸 462 King St Charleston, SC 29403
Located in the heart of Charleston's upper King Street district, Republic Garden & Lounge is a modern venue setting the Gold Standard in hospitality through great food, great drinks, luxurious surroundings and exceptional personalized service.
To book bottle service, special events, or venue rentals please contact on their website or email them at info@republicreign.com
Savi Cucina + Wine Bar
🍸 1324 Theatre Drive Mount Pleasant, SC, US 29464
A coastal Italian restaurant with a world class wine bar and cocktail program serving from cuisine of local seafood, Italian classics, chophouse favorites, house made pastas, pizza, antipasti, charcuterie, and Mount Pleasant's best happy hour!
Tennessee TN
Willie B's Kitchen & Lounge
🍸 918 Buchanan Street, Nashville, TN 37208
Trendy restaurant and lounge featuring fresh Creole seafood + daiquiri, and hookah bar in Nashville located in the Buchanan Arts District.
The German Town Pub
🍸 708 Monroe St, Nashville, TN 37208
Not Your Average Sports Bar
Laid-Back Vibes. A Step Above Bar Food. The Best Drink Specials in Germantown. If You Know; You Know.
Indulge Lounge Memphis
🍸 5959 Winchester Rd., Memphis, TN, United States, Tennessee
Indulge Lounge offers a premium lounge experience that caters to every type of patron.
Flava House Lounge
🍸 95 South Main Street Memphis, TN
American cuisine southern style restaurant that provide drinks, hookahs and great music in the heart of downtown Memphis.
Mahogany Memphis
🍸 3092 Poplar Ave Suite 11 Memphis, TN, US 38111
Mahogany is known for its Upscale Southern Cuisine with a Dash of Creole. they are located at the widely acclaimed Chickasaw Oaks Village Mall. Mahogany offers lunch and dinner Wednesday through Saturday, 11 am-8pm. Brunch is offered on Sunday. (10am-3pm)
Texas TX
Habesha Ethiopian Restaurant & Bar
🍸 6019 Interstate 35 North Austin, TX 78723
Habesha is a family business established in 2013. Habesha is situated in IH 35, Austin, TX and is owned and managed by husband, Yidnekachew Fantu and wife, head chef Selam Abebe.
Habesha is a term Ethiopians and Eritreans use to refer to themselves. Habesha is a term of pride and used to eliminate the distinction between different tribes and celebrate unity as people of the same region.
Ethiopian cuisine is traditionally served on a large, thin, sourdough pancake called injera. Injera is a yeast-risen flatbread with a unique, slightly spongy texture, made from teff.
Big Easy Bar & Grill
🍸 1806 E. 12th St. Austin, TX 78702
Located Austin, Texas, they serve beer, wine and authentic Cajun-Creole cuisine. This is the "Home of Sucking Heads and Eating Tails". They also have live music every night such as Blue night, R&B night or Parties with DJ.
Utah UT
Policy Kings Brewery
🍸 223 N 100 W, Cedar City, UT 84721, Hoa Kỳ
 One pint at a time, they are waking up the pallets of their Community through creative & innovative sessionable style beers. From their signature tea beers, to their classic Westcoast IPAs, their main goal is to always deliver a crushable beer.
Virginia VA
Aces Sports Lounge
🍸 110 N 18th St, Richmond, VA, 23223
20+ Draft beers and TVs, Patio with full bar. Large parties welcome Open Mon 4-11p Weds-Fri at 4, Sat 2p, Sun Brunch 12-6p
Boogaloos Bar And Grill
🍸 2602, 210 West Brookland Park Boulevard Richmond, VA 23222
Boogaloos Bar & Grill is a small, family owned restaurant located in the heart of Richmond, VA on Brookland Park Blvd. they promise their customers great food and drinks and impeccable service. their ultimate goal is that every guest who chooses Boogaloos leaves happy and looks forward to their next visit. Enjoy delicious Cajun crab cakes, shrimp salad, shrimp and grits and more.
Washington WA
Footprint Wine Tap
🍸 1222 E Madison St, Suite C Seattle, WA 98122
Footprint Wine Tap is Seattle's first and only sustainable keg wine on tap bar and shop sourcing fine PNW wines and food for your palate pleasures
Plum Bistro
🍸 1429 12th Ave Seattle, WA 98122
Our newly designed catering program offers three tiers of service for events big and small. Whether you are looking for a private multi-course dinner with Chef Makini, an unforgettable and interactive experience with their artful food truck, or a DIY family feast– Plum Bistro Catering has a plant loving option for everyone.
Wisconsin WI
The 4th Quarter Sports Bar and Grill
🍸 1300 W Keefe Ave Milwaukee, WI, US 53206
The 4th Quarter Sports Bar and Grill is a pub with good food, music, and drinks.
Facebook: https://www.facebook.com/The-4th-Quarter-Sports-Bar-And-Grill-640065242864514/
Oasis Milwaukee
🍸 3120 W Villard Ave Milwaukee, WI, US 53209
An extravagant club that delivers live entertainment, happy hours, new school and old school music for mature adults.
Special events, banquet room, and much more.
Great food, drinks & friendly staff.
Facebook: https://www.facebook.com/oasismilwaukee/
Brownstone Social Lounge
🍸 524 N Water Milwaukee, WI, US 53202
The Brownstone Social Lounge is a beautifully decorated relaxed lounge space with delicious small plates, craft cocktails, premium hookah, and live music most nights of the week
Garfield's 502
🍸 502 W Garfield Ave Milwaukee, WI, US 53212
Great drinks, food, even better company and the best in live Jazz music.
------------------------------------
Either chilling night with Jazz or with DJ, I bet you're so excited now. Find a restaurant and bar nearby and save a date! Let them help you to flow the stress away.