Melaninful Blog
Stunning Dressing Technics to Rock Black Men Fashion In 2022
Mar 21, 2022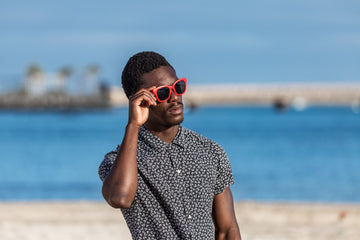 Clothing and dressing are the way of determining your thoughts and feelings. A well-dressed-up guy always makes the surroundings awesome and charismatic. When it comes to a black man, they often find it difficult to get adequate and suitable black men fashion ideas, especially those with a heavier dark complexion. 
If you are a guy with a dark skin complexion and worrying about your dress or outfit style then keep reading. You will find a plethora of suggestions for dressing that are extremely detailed, economical, and effective. 
Let's dive into it! 
Casual Ideas For Black Men Fashion 2022 
Below, Melaninful has listed the best casual fashion ideas for black men. While black men fashion is a broad area, there are some common elements to keep in mind. Check them out! 
Swag Style 
Swag-style fashion outlooks are also great for black men, especially if you choose the right color according to the skin tone. More importantly, the swag style outfits give you the added benefit of customizability. That is, you can attach as many accessories as you want until you achieve the looks you need. 
For instance, while some people are pairing the swag-style clothes to a hoodie or a cap, others go for a chain that looks awesome. If you are wondering, there are so many color options as well. 
Classic Casual Celebrity Style 
If you can learn something from Kanye West, it could be how he dresses. We call this the classic casual celebrity style for obvious reasons. As you can see, any black man would look fabulous with that top-class bomber jacket and a silent t-shirt underneath. 
This outlook is pretty awesome if you are getting ready for the Fall season. Even when the season changes, you can swap that bomber jacket for something better. It's better to stay away from accessories on this outlook, though. 
Casual Dress For Work 
Would you like to get the best of casual work culture and sensible fashion choices? 
In that case, you must check out the casual work dress design for black men. The best part about this fashion outlook is that you'd have many options to experiment with. It's just that you should have a denim shirt and a casual pair of specs that can accompany your skin tone. 
All the labels aside, this outlook would be an incredible choice for black men who are a little nerdy. Also, did we say that you can bring in accessories according to your taste? 
The Easy-Going Outfit 
Idris Elba has been showing us how well black men can look in the right clothes. Now, here is a casual and classy outlook that would make your date night look awesome. Without putting much stress, you can pick a white or black t-shirt and a pair of chinos. 
Possible accessories in the outlook include a good pair of sneakers and a cooling glass option. While some of these elements are common, the overall design would make black men stand out from the crowd. 
Black yet impressive outfit 
You cannot ignore the power of black apparel when you are looking for the best casual fashion ideas for all men. In the case of black men, these outlooks add more charm as well. A plain T-shirt and a blazer, combined with trousers will be a safe but impressive choice. Indeed, the outfit does not stay in the complete casual domain. 
You are, instead, looking at a semi-casual way of dressing. As for the elements, you can choose a black blazer, to begin with, and add the other options as you please. 
The Classic Summer Style 
Getting ready during the summer season is relatively easy, and you can still look classy by being picky about what you wear. Some guys have blended well a high-quality t-shirt and a casual pair of trousers. 
While the outlook doesn't scream anything, it is classy, no matter where you look at it from. In the end, when you throw in a hat and a cooling glass, this outlook would outshine any other in the whole crowd. 
Some Tips for Casual Black Men Fashion 
Now that you have seen some of the best casual fashion ideas for black men, you should check out some of the top tips. These tips will help you keep the flaunting fashion in sync with utility. Of course, the options here depend a lot on what kind of body you have. 
For instance, let's say that you have a bigger body. In this case, you can avoid softer clothes and choose one that works like a frame for the body. Choosing darker colors such as rock black will also help you create a more suitable outfit, as long as you keep a fair amount of contrast within the system. 
Black Men Fashion Colors for This Summer 
If you have a dark skin tone and usually get trouble choosing the right hue for your outfit, try the colors introduced by Melaninful below, you will see a huge difference. 
Navy Blue – Safe Choice 
Men with dark skin can also choose to wear attires with cool colors such as navy blue, gray, green, etc. The most prominent is navy blue, this is an option worth considering if you are divided. Although it is a cold shade, navy blue can adapt to dark skin quite well. 
With a navy-blue item, you have a lot of options to choose from. You can mix your navy t-shirt with gray jeans and add a pair of sneakers for a summer outfit. In addition, another perfect choice is to combine with personality shorts to walk around the city or go out with friends. Why not? 
Gray - Extremely Easy To Coordinate 
One more cold color option is gray. As a neutral color, a hybrid between two black and white colors, but unlike its parents, gray is very suitable for people with dark skin. Do you want to choose clothes that match your skin tone and help to flatter your skin and are easy to mix and match? So cannot ignore these popular gray hues. 
Gray garment has the general characteristic that is very easy to coordinate. You can team it with almost any pair of pants, but opt for traditional ones like blue jeans or khakis, and don't wear a whole unfashionable gray pack. 
Green – Fancy, Definitely Worth Trying 
The third cool color you can try is green. However, be careful when wearing these colors, because just a little carelessness is enough for you to become a fashion disaster. 
The only note you need to remember and avoid is never to wear a full set of green. Mix it with shorts, jeans, or khaki pants of different colors. 
Brown - The Savior Of Dark Skin 
Besides cold colors like navy blue, gray, green, the choice of warm colors like brown is also an excellent choice, because brown can flatter the skin very well. If you have dark skin, you can't help but buy yourself a brown t-shirt. It not only helps you look healthier but also enhances the masculine beauty of the characteristic dark skin. 
You can mix a brown t-shirt or hoodie with shorts, jeans, or khaki pants, combined with a pair of stylish sneakers, and you'll have a satisfactory outfit for an active and exciting day. 
Orange Yellow – Best Friends Of Sporty Guys 
Along with brown, yellow-orange is a typical warm color, and of course, it is extremely suitable for men's dark skin. If you're looking for a summer outfit that matches your skin tone, opt for yellow-orange t-shirts. They both help to enhance the skin and make you look young, dynamic, and not lacking in masculinity. 
With these orange-yellow tops, you just need to mix & match them with traditional and stylish blue jeans, elegant beige or cream khaki pants, or a dynamic pair of shorts and you can be ready for the day. already in motion. 
Red Or Colorful Item – Strongly Express Individuality 
Not only bold but most shades of red can make your top items more suitable for dark skin. This is one of the colors recommended by fashion experts for guys with tanned brown skin. 
If you feel that bright red T-shirts are too bright and colorful, you can choose darker colors such as wine red, dark red, or orange-red for your t-shirt. A more innovative way to mention is colorful outfits with unique and eye-catching designs. Add a pair of shorts or jeans and you've got a set of casual fashion! 
---------------- 
Those who outrightly reject fashion trends often forget that staying true to fashion is often about identity, body positivity, and more things. For instance, for black men, the right casual fashion trends are a great way to express themselves better by choosing a suitable outfit.  
However, randomly selecting an outfit from one store isn't going to help you be the best version of yourself. Instead, you have to choose an outlook that can complement your body and style. As you can guess, though, there is no single fashion idea that we can give out to all black men. Nevertheless, what we can do is narrow things down to the best options in town. And that is precisely what we've done here. Stay simple, stay cool!