Melaninful Blog
Betty Shabazz – All You Need to Know about The Great Wife of Malcolm X
Nov 10, 2021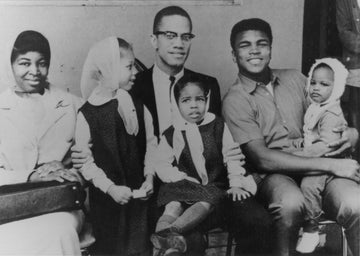 In the shadow of the great man Malcolm X's wife, few people know that Betty Shabazz is also a black civil rights activist who has made many contributions and influences. Her achievements and efforts were only properly recognized after the assassination of Malcolm X. 
History has always praised black activists for their role in promoting and leading civil rights movements, but the role of mothers and wives is often underestimated. These women, despite sacrificing themselves for their husbands' families and careers, demonstrate great leadership abilities, courage, intelligence, and nobility. They also played a pivotal role in the advancement of black history. 
While Malcolm traveled the country making his renowned and inspiring talks, his wife Betty X was always standing by his shoulder, strongly pushing her husband in his pursuit of black liberation. Betty X, also known as Betty Shabazz, has a life that is as courageous and inspirational as her iconic husband's. 
Let's dive into!
Table of Contents
Childhood  
Betty Dean Sanders is the birth name of Betty Shabazz. She was born in 1934 in Detroit, Michigan. Her father and mother are Ollie Mae Sanders and Shelman Sandlin. Her mother became pregnant under the age of marriage and her father was only 21 years old. Betty was up in Detroit and was adopted by middle-class couple Lorenzo and Helen Malloy when she was approximately 11 years old. 
Her foster parents were important members of society who were deeply committed to supporting the well-being of Black people. Helen Malloy was a founder member of the Housewives League of Detroit, an African-American women's organization that coordinated campaigns to promote black-owned companies and boycott establishments that refused to recruit black workers. She was also a participant of the NAACP and the National Council of Negro Women. 
Betty was reared in a relatively protected setting, free from racism and discussions about racial unfairness and injustice. Despite their lectures on black self-sufficiency, the Malloys never mentioned discrimination with Sanders. At the time, the question of race was a highly charged one. Anyone who publicly discussed race issues were immediately labeled a "troublemaker." Betty then left her foster home, despite her adoptive parents' restriction on her pursuing higher study. 
Education 
Shabazz opted to leave the affluent environment of her adoptive families in Detroit after high school to attend Tuskegee Institute, a famous black college in Alabama. There she had her first real encounter with Jim Crow-era discrimination, which she carried with her for the rest of her life. Racism, which she not only watched but actually experienced in the south, severely troubled and tormented her. 
Sanders' academic performance decreased as a result of her rising dissatisfaction. She chose to switch her major from teaching to nursing. Lillian Harvey, the dean of nursing, suggested Sanders explore enrolling in a Tuskegee-affiliated course at Brooklyn State College School of Nursing in New York City. Sanders gave up her ambition of being a schoolteacher to a nurse, despite the displeasure of her parents. She left Alabama in 1953 to attend the Brooklyn State College School of Nursing in New York City, where she graduated as a registered nurse. 
Betty was severely affected by the prejudice she witnessed in New York, even though it was less overt. Nothing had equipped Sanders for the prejudice she encountered in the South. She could avoid dealing with racial people as long as she limited her safe circle to dorm and campus, but weekend visits into Montgomery, the nearest city, pushed her away from her tolerance. Before black pupils got served, they had to wait until every white customer in the store had already finished—if they were served at all. 
Sanders experienced a different type of prejudice after graduation. Black nurses were given poorer duties than Caucasian nurses at Montefiore Hospital, where she completed her medical experience. White patients were occasionally disrespectful and rude to black nurses. While the racist culture in New York was less tough than in Alabama, Sanders kept wondering whether she had simply traded Jim Crow bigotry for a more civilized prejudice. 
Marriage to Malcolm X 
Betty was taken to a supper gathering at the National of Islam church in Harlem by an older surgeon's assistant during her sophomore year of nursing course. She had a good experience but refused to endorse the group for the first time. A short time after that, in the second meeting, Sanders encountered Malcolm X, her friend's pastor. Betty started going to Malcolm X's services. He gave all of his followers the surname "X," which stood for the African forefather's surname. 
She was captivated and fascinated with Malcolm X from the moment she lay eyes on him. The two clicked almost immediately, and Betty eventually found herself visiting all of Malcolm's presentations and having long, in-depth discussions with him. The couple then went on group dates because one-on-one dates were forbidden by the Nation of Islam's principles. She became a Muslim in 1956, changed her surname to "X" to signify her African roots, and embraced the Nation of Islam.  
In January 1958, the pair married in Lansing, Michigan. Malcolm lauded her 'intelligence' and status as a "decent Muslim woman." The couple and their four kids moved to East Elmhurst, New York, after marrying in 1958. Malcolm X and his wife left the Nation of Islam in 1964, and Betty took the surname Shabazz while Malcolm became a Sunni Muslim. 
Betty and the children were always on guard after that, due to the hostile intentions of the white superiors and the danger of the old brothers. Things began to deteriorate, ending in Malcolm's assassination in early 1965 while lecturing at Harlem's Audubon Ballroom.
Betty Shabazz, who was pregnant with twins at the time, was among the throng and covered her daughters on the ground as gunshots burst and the crowd became wild. She was the first to come to Malcolm's side after learning of his death. Malcolm died while their oldest children were just six years old. 
Endeavors after Malcolm's assassination 
Betty stopped public attendance after her husband was assassinated in 1964 to protect her kids, but she stayed engaged in civic engagement and eventually had national speaking engagements in the 1970s and '80s. 
After Malcolm's death, Betty was left to bring up their six daughters: Attallah, Qubilah, Ilyasah, Gamilah, and the last twin Malikah and Malaak. Betty was blessed to be capable of winning the bread for the whole family, which was exceptionally challenging for black women at the time. She did an excellent job parenting the children. She got some money through Malcolm's memoirs and the sale of his film rights.  
Shabazz attended university after her husband's assassination, getting a doctoral degree in teaching from the University of Massachusetts in 1975, and finally served as an administrator at Medgar Evers College in New York. She also traveled all over the world and gave a plethora of speeches, some of which echoed Malcolm's message and some on her behalf. 
"One of the things Malcolm always said to me is, 'Don't be bitter. Remember Lot's wife when they kill me, and they surely will. You have to use all of your energy to do what it is you have to do'". 
Betty Shabazz 
Shabazz remained to contribute during the 1970s and 1980s. She accepted President Ford's invitation to serve the American Revolution Bicentennial Council in 1975. She then also become a member of the family planning advisory council for the U.S. Department of Health and Human Services. She also addressed the National Council of Negro Women's conference in New York in 1984.  
At the time, she also made friends with Medgar Evers' widow, Myrlie Evers-Williams, and Coretta Scott King, the wife of Dr. Martin Luther King. The three became known as the "Movement widows" after making several united media interviews. The two other widows were frequent visitors to Medgar Evers College and Shabazz was also a familiar face of the King Center in Atlanta. 
In 1994, Shabazz stated officially about her long-held suspicion that Louis Farrakhan, the new chairman of the Nation of Islam, was responsible for her husband's murder. However, she later corrected her suspicions and reconciled with Farrakhan, but Qubilah still had to go to a rehabilitation camp to treat her alcohol addiction. Betty adopted her grandson Malcolm when her second daughter Qubilah was jailed for attempting to assassinate Louis Farrakhan.  
Malcolm was 12 years old when, due to an unfortunate occurrence, he started a fire that burned down the house and burned up to 80 percent of Betty, who was then 60 years old. She remained in serious condition, enduring numerous procedures while physicians fought over how to repair lost skin and preserve her life. After three weeks of fighting against death, she passed away at the end of June 1997. 
Her death was received with an outpouring of mourning, emphasizing her significance in the civil rights struggle. 
A nurse, an exemplary mother, a dedicated wife of a great man, Betty Shabazz will be remembered by anything but what she deserves - black women civil rights activist. Her efforts and sacrifices are overshadowed by the great successes of Malcolm X. 
"The most disrespected person in America is the black woman. The most unprotected person in America is the black woman. The most neglected person in America is the black woman."  
Malcolm X
Hidden in the flow of history, the sacrifice and dedication of Betty Shabazz as well as other black women activists have not been credited to the triumphs of civil rights movements. However, the achievements we have today are the result of the long struggle of so many regardless of age, gender, and race.