Melaninful Blog
5 Styling Tips to Dress More Afrocentric Just Like A Fashionista
Sep 14, 2021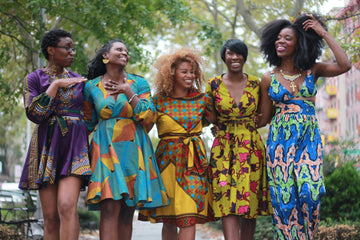 Afrocentric clothing has now become Africans' favorite statement to express their traditional heritage. As a style-conscious African American, what's your relationship to this style? Perhaps you already adopted the style as an Afrocentric fashionista. Or maybe you feel strongly attracted by this African-inspired clothing, but aren't quite ready to wear it. 
No matter what the answer is, there always has an Afrocentric personalized for you.
Table of Contents
The History Conventional Afrocentric Garb 
First, let's learn the basis of Afrocentric, how this traditional dress evolves to its modern reinvention. 
Afrocentric style intertwines with the history of Africans. In 1940, Afrocentricity first appeared derived from the original "negritude" to describe the effects of Western colonization upon black people. It then quickly caught Black people's attention and became a 20th-century African-American fashion trend. 
Africans do not accept traces of Westerners creeping into their Afrocentric. Therefore, Afrocentric fashion is considered the standard for beauty, and Western clothing becomes the minority and exotic. The national pride of blacks is expressed in Dashiki, Abacos, kufi hats, Buba skirts, etc. All are usually made from plain cotton, spandex, or other colorful fabrics, leopard, or zebra print.
African Fashion in the City by Kelechizuvaa is licensed under CC BY-SA
During the Civil Rights Movement of the 1960s, Afrocentric dress culture was considered an exclusive fashion style for people of African descent throughout the United States. 
The better you get acquainted with this style, the better you'll be at pulling together Afrocentric outfits to create both stylish and meaningful looks. 
A Glance at Most Familiar Types of Afrocentric Apparel 
Africa is a vast continent embracing many ancient and complex cultures. As a result, traditional Afrocentric clothing is a treasure of fashion that reflects the very cultures of the regions. Let's focus on the types of most popular dressing items of the 21st century African American woman. 
Caftans 
Caftans appeared in the US market in the early 20th century and were loved by Black women. It's a long and floaty dress that is made of lightweight materials to cover the entire body. The sleeve length is different but the length of the dress usually reaches ankles. The patterns were printed on the Caftan to celebrate Black culture and highlight the style and grace of African women. 
Yoruba Costumes 
The Yoruba men's traditional clothing is Agbada. Agbada is a four-piece outfit including a large loose-fitting outer dress, an underwear jacket, drawstring trousers, and a cap. Meanwhile, Yoruba women's traditional clothing consists of Buba, Iro, Gele.  Buba is a long-sleeve blouse, Iro is a wrap skirt tied on top of the Buba, and Gele is a woman's headwrap. 
Headwraps 
In ancient African history, the headwrap symbolizes female sophistication and beauty. Whether you call it a dhuku (Zimbabwe), doek (South Africa), or gele (Nigeria), a growing number of African American women become so excited with this traditional African item. 
Dashiki Apparels 
The word "dashiki" indeed comes from the Yoruba word "danshiki" meaning a short-sleeved shirt worn by men in West Africa.  It is a loose-fitting pullover shirt that is usually sewn from colorful fabric and has patch pockets and embroidery at the neckline and cuffs. In the late 1960s, Dashiki became popular in the US as a symbol for the fight against racism and the equal rights of African Americans. 
African Prints 
African printing design is not a style of apparel. It is a set of distinctive pattern designs retrieved from ancient textiles of Africa. Today the models are printed or woven into modern textiles, often in bright colors, or black and white.
Tips to Find Your Sweet Afrocentric Look 
Today, innovative fashioners have mixed conventional aspects of traditional African clothing with modern western style to produce new and interesting styles suitable for business, churches, and social occasions. Here are some suggestions to explore your unique Afrocentric style. 
Are your preferred vibrant and stylish dresses? Find yourself a bunch of afro-centered dresses with variable lengths and designs. For example, a flattering, flattering wrap-style dress will make an impressive outfit for work. For a unique look, a maxi dress with full-skirted in beautiful Ankara print or a heritage-inspired jacket dress would be best suited for egregious occasions. 
African Fashion in the City by Kelechizuvaa is licensed under CC BY-SA
If your go-tos are formal pantsuits, let's take a look at elegant, sophisticated African pantsuits like dashiki patterns and richly-embellished jackets. Wanna be more outstanding? Try some beading, embroidery, appliques for a breakthrough appearance. 
African Prints is licensed under CC BY-SA
Do you like simple, comfortable but still impressive fashion style? Innovate your t-shirt and hoodie collection with stylized heritage-inspired tops. An impressive t-shirt, hoodie, or tank top will always mix well with any pants or skirt, suitable for any occasion. 
Black Girl I Am The Storm T-Shirt by Melaninful
If you're a conservative dresser, ease into your new look by adding Afrocentric accessories to renew your casual appearance. You may be surprised to find out how effective a new pair of Kente fabric shoes or an African-flavored jewelry bag can impress your friends. 
African bags and jewelry aburi gardens by Nkansahrexford in licensed under CC BY-SA 
Don't be afraid to try a new fashion style. Try a traditional caftan on, you'll be surprised how good it looks and how great it feels to wear. If you've always admired African American women who can rock a headwrap, why not challenge yourself to take a step further?
In short, Afrocentric is a wonderful reflection of African heritage and roots. Fulfill your American attire with some Afrocentric garments and dress them with pride—in whatever way feels right for you. 
"Creativity has no limits". One can draw inspiration from anything that exists or does not exist in this world. Colorful patterned dresses, Afri-style hoods, or animal prints are still put on their catwalks by young designers. That creates a new and liberal breeze so that the world will less forget a costume that is considered the quintessence of a nation.
1 comment