Melaninful Blog
15 Black Non Profit Organizations for You to Support
Feb 17, 2022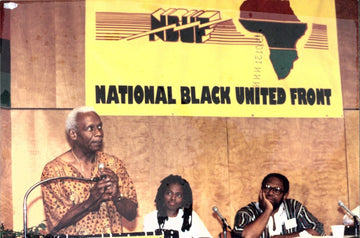 Many people have started non-profit groups to remember and celebrate Black History Month with purposes such as finding support for black-owned businesses, honoring achievements. neglected in every Negro sector and empowered the Black community year-round
If you're looking for Black Non Profit Organizations, here's a list of 15 associations/group that serve multiple black communities.
1. National Association for the Advancement of Colored People
The National Association for the Advancement of Colored People's objective is to guarantee that all people have equal access to political, educational, social, and economic opportunities in order to abolish racial discrimination and ensure their health and well-being. Political lobbying, public awareness campaigns, and litigation methods created by the NAACP's legal staff are among the organization's national endeavors.
2. Black Girls Code
Black Girl CODE (BGC) is a non-profit organization dedicated to assisting African-American girls with technical education. Kimberly Bryant, an electrical engineer with over 20 years of experience in biotech, launched Black Girls Code in 2011 to address African-American girls and women's underrepresentation in the technology industry.
3. African American Leadership Forum
Over 1,500 African Americans who self-identify as thought leaders, influencers, builders, and ambassadors make up the African American Leadership Forum (AALF). These leaders work together to construct a just society that works well for everyone by donating their time, talents, and treasure.
4. Black Lives Matter
Black Lives Matter (BLM) is a decentralized political and social movement that aims to raise awareness about racism, discrimination, and injustice that black people face. When the group's followers join together, it's mostly to oppose police brutality and racially motivated violence against black people. The objective of this member-led group is to create local power and intervene in state and vigilante violence against Black communities.
5. Sister Love
Sister Love, a non-profit established in Atlanta, is dedicated to teaching women of color about reproductive health, safe sex, HIV/AIDS, and rights and justice in public health and preventive policies and initiatives.
6. Black Women's Blueprint
Black Women's Blueprint (BWB) was formed by survivors for survivors who are devoted to healing and transformation. BWB provides assistance to black women who have experienced sexual violence, abuse, or incarceration.
7. Association for the Student of African American Life and History
In 1926, ASALH established "Negro History Week," which coincided with the birthdays of Frederick Douglass and Abraham Lincoln. In 1976, the American Society for the Study of African-American History (ASALH) renamed "Negro History Week" "Black History Month" for the whole month of February. Carter G. Woodson was the son of enslaved people and has been referred to as the "Father of Black History" since his death.
The National Park Service has designated Dr. Woodson's residence in Washington, D.C. as a historic site. It also houses the Association for the Study of African American Life and History's headquarters (ASALH). Visitors and guided tours are welcome at Woodson's house.
8. Fabulous Independent Educated Radicals for Community Empowerment 
A group of mostly LGBTQ adolescents of color created Fabulous Independent Educated Radicals for Community Empowerment (FIERCE) in 2000. FIERCE was formed on the belief that in order to alter our circumstances, create our futures, and become effective change agents in our communities, LGBTQ youth must recognize and express their inherent social and political power. While many groups provide assistance to LGBTQ children, few provide a city-wide platform for LGBTQ youth to lead our own social change agendas. FIERCE remains one of the few grassroots groups in the country whose aim is to involve LGBTQ adolescents of color in community organizing.
9. Butterfly Dreamz
Butterfly Dreamz utilizes tales to alter lives and empower young female leaders. Girls improve their communication skills, receive access to a network of inspiring women, and discover that they can change the world. They are also equipped to be confident leaders who challenge the status quo.
Joy Lindsay's younger sister, Kimberly Anyce Lindsay, was killed in a terrible firearms accident in 2012. She was adamant about preserving her sister's legacy. Since the program's inception in 2015, we've helped hundreds of girls develop as leaders and realize their ambitions. Butterfly Dreamz will grant thousands of dollars in scholarships to middle and high school girls as part of the #2200by22 program.
10. Mill Creek Farm
Mill Creek Farm is a community-based educational urban farm run by people of color. We grow and distribute fresh food, offer farm-based learning programs for people of all ages, and demonstrate environmentally friendly methods to meet fundamental requirements.
11. Tannery World Dance & Cultural Center
Tannery World Dance & Cultural Center (TWDCC) provides a home for the professional world and contemporary dance performers, as well as dance education that is dedicated to accessibility, equity, and excellence. TWDCC is fostering a community throughout Santa Cruz and the Bay Area
12. Black PAC
BlackPAC is an independent, Black-led organization that uses the power of year-round political engagement and elections to change our economic, justice and political systems. A focused effort to engage, mobilize, organize, and build political power in our communities is a necessary part of expanding our democracy.
13. National Urban League 
The National Urban League is a historic civil rights organization that advocates economic development, equality, and social justice. The Urban League, which was founded in 1910 and is based in New York City, strives to improve the living conditions of African Americans and other historically underprivileged populations. The Urban League and its affiliates provide direct services that benefit over two million individuals each year.
14. Grassroots Law Project
the Grassroots Law Project is a political organizing group in the United States that works to resist racism and intolerance. They bring millions of people together to confront the system's most pressing and egregious failings, hold powerful players responsible, and push for profound structural change, bridging the gap between grassroots organizing and legal knowledge in criminal justice reform.
15. Phenomenal I Am, Inc 
Phenomenal I Am, Inc. organizes youth-led empowerment and enrichment workshops to investigate and solve prevalent challenges among the next generation of females, such as self-respect, effective communication, greater ambitions, being a girl, healthy relationships, and body image. self-esteem, self-confidence, and other factors to meet at-risk female youth's emotional, social, and overall student participation requirements.
-------------------
Hopefully through MELANINFUL Blog can help you know more non-profit organizations to refer to and join.